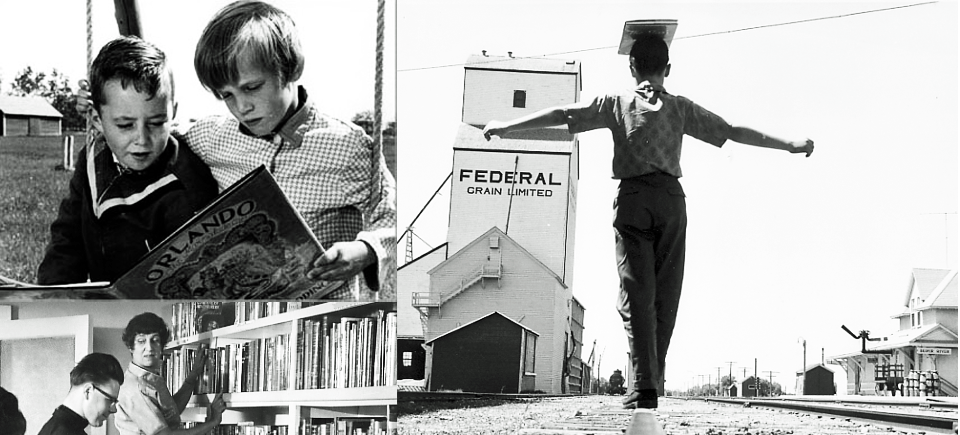 Celebrate World Book Day with 10 Essential Films on Literature
Happy World Book Day! Celebrated yearly on April 23, World Book Day is organized by UNESCO to promote reading, publishing and copyright.
As it turns out, 23 April is a symbolic date for world literature. It is on this very date that Cervantes, Shakespeare and Inca Garcilaso de la Vega all died in the year 1616. It is also the date of birth or death of other prominent authors, such as Maurice Druon, and Vladimir Nabokov.
Mark the day, and maybe even get inspiration for your next read, with these 10 films about words and those who devote their lives to smithing them for our delight.
Check the films out below:
First Novel
First Novel, Donald Wilder, provided by the National Film Board of Canada
In this retro fiction short from 1958, newspaper reporter Harry gives up his steady job to tackle the freelance writing life. In conversations with various figures including his wife, a publisher, a television producer and an established older writer, Harry uncovers and experiences various aspects of the wordsmith trade. How does one get a first novel published? What sort of livelihood can the freelance writer expect? Though some of the dialogues may today seem a tad stiff and unlikely, the film offers an honest look at a profession which, at base, hasn't fundamentally changed since 1958. For if modern audiences are fragmenting and technology has forever changed the way we produce and consume literature, the writer himself remains unchanging: a head full of stories, and on good days, the quiet confidence in one's ability to touch and move others with words.
Ten Million Books
Ten Million Books: An Introduction to Farley Mowat , Andy Thomson, provided by the National Film Board of Canada
Author Farley Mowat (1921-2014) has sold more books than any other Canadian writer – 10 million copies in 22 languages in 50 countries. Mowat achieved fame with the publication of People of the Deer and Never Cry Wolf, an account of his experiences with wolves in the Arctic, which was made into a film in 1983. In this short doc, Mowat fondly recalls some of his key life experiences that have snuck their way into his books.
Poet: Irving Layton Observed
Poet: Irving Layton Observed, Donald Winkler, provided by the National Film Board of Canada
Long masked in controversy, poet Irving Layton (1912-2006) unexpectedly agrees to be unmasked by the camera in this feature documentary. The 1981 Nobel nominee not only reads and explains his own writings, but also speaks incisively about Canadian literature, defining it metaphorically as a "double hook" combining "beauty and terror." Layton is considered Leonard Cohen's literary mentor. "I taught him how to dress," Cohen once said of Layton, "he taught me how to live forever."
Jack Kerouac's Road: A Franco-American Odyssey
Jack Kerouac's Road – A Franco-American Odyssey, Herménégilde Chiasson, provided by the National Film Board of Canada
Immerse yourself in the life and work of Jack Kerouac (1922-1969), an American writer with Québec roots who became one of the most important spokesmen of the Beat Generation. Intercut with archival footage, photographs and interviews, the film studies Kerouac's heroic myth, linking it to the cultural, sexual and social revolutions of the 1960s.
Ladies and Gentlemen: Leonard Cohen
Ladies and Gentlemen… Mr. Leonard Cohen , Donald Brittain & Don Owen, provided by the National Film Board of Canada
See poet, novelist and songwriter Leonard Cohen in a fresh new light with this informal black-and-white portrait that shows him at age 30 on a visit to his hometown of Montreal, where he comes "to renew his neurotic affiliations." Cohen reads his poetry to a crowd, strolls the streets of the city, relaxes in this three-dollar-a-night hotel room and even takes a bath.
Volcano: An Inquiry into the Life and Death of Malcolm Lowry
Volcano: An Inquiry into the Life and Death of Malcolm Lowry , Donald Brittain & John Kramer, provided by the National Film Board of Canada
Both fervently loved and hated, Malcolm Lowry (1909-1957), author of one of the major novels of the 20th century, Under the Volcano, is the subject of this powerful Oscar-nominated doc. Born and educated in England, Lowry moved to Mexico in 1936, where he lived near the volcano Popocatepetl. There, between drunken bouts, he started writing Under the Volcano, a novel he'd only complete 8 years later, while living in a shack in British Colombia. Shot on location in 4 countries, the film is interspersed with readings of Lowry's work by Richard Burton.
In the Footsteps of Marguerite Yourcenar ($)