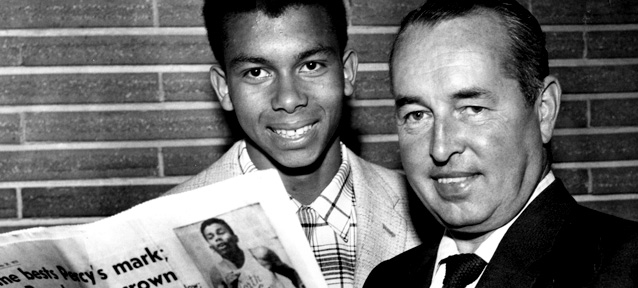 Mighty Jerome to air on CBC Television this Saturday June 18
After screening at Hot Docs and other festivals this spring, Mighty Jerome, a doc about the little-known story of one of Canada's greatest sprinters, airs on CBC television this Saturday June 18 at 2pm EST.
It appears CBC has scheduled the broadcast that date to kick off the coverage of the Canadian Track and Field Championships, which begin the following week (June 22-25) in Calgary, Alberta.
Here's a short yet enthusiastic review of the film, courtesy of Alex Rogalski:
In 1960, at the age of 19, Harry Jerome was the fastest man on Earth, running the 100-metre sprint in ten seconds flat. A tribute to an inspiring individual, Mighty Jerome addresses issues of race, nationalism and perseverance through the accomplishments of one of Canada's finest and fastest athletes. Not only a biography of a deserving public figure, Charles Officer's feature documentary debut is also a powerful aesthetic achievement. His monochromatic palette profiles the highs of Jerome's athletic feats and the lows of injury and media scorn, framing a story of redemption against impossible odds, described by his coach as "the greatest comeback in track and field history." A soul soundtrack and dramatic re-enactments of Jerome's struggles out of the limelight enhance archival race footage. Featuring stylized interviews that reveal deep respect and rare insight from those who knew Jerome, this portrait is as profound and passionate as its subject.
For screening information, see the CBC program guide