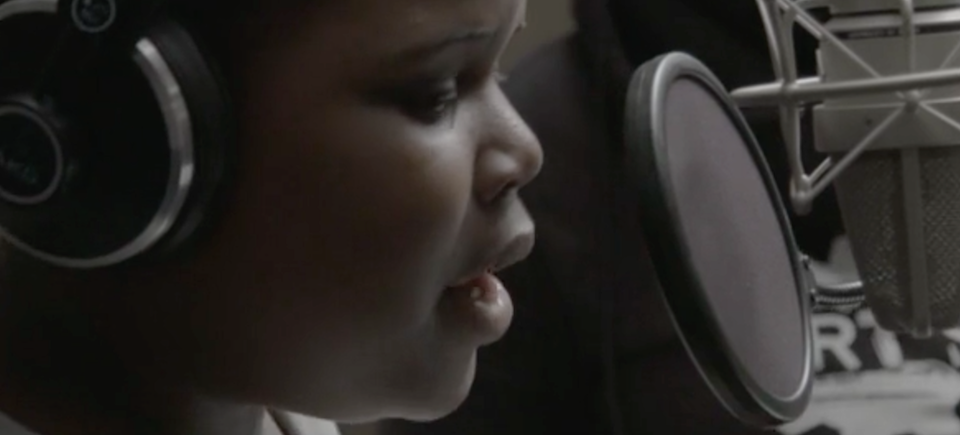 Unarmed Verses: Singing their Own Song
13 year-old Francine Valentine and the other kids from Villaways Park rarely get to come downtown, let alone record their own songs in a professional studio.
Updated February 28, 2016.
Yet here they are: laying down some tracks. Making their own kind of music.
Filmmaker Charles Officer is on hand to capture the moment – and the scene is sure to make it into Unarmed Verses, his documentary about the young people of Villaways, a little-known Toronto neighbourhood on the brink of historic change.
Watch Unarmed Verses:
Unarmed Verses, Charles Officer, provided by the National Film Board of Canada
Initially programmed by the Ontario Studio as a short doc, the film has evolved into a long-format documentary. "As I got to know the kids in the neighbourhood, I got a better sense of what's really at stake in Villaways right now," says Officer, pictured below.  "And at the same time I realized we had the makings of a feature-length film."
Located to the north of Toronto's Great Divide, Highway 401, Villaways Park occupies an underserved patch of the city's vast suburban hinterland. Growing up there has never been easy, but Francine and her peers now face a new set of challenges.
The Toronto Community Housing Corporation recently confirmed its plan to 'revitalize' Villaways, and while residents welcome the prospect of better housing, they're also anxious. Their current homes are slated for demolition and redevelopment could take years. In the meantime people will be relocated throughout the city – separated from life-long friends and neighbours.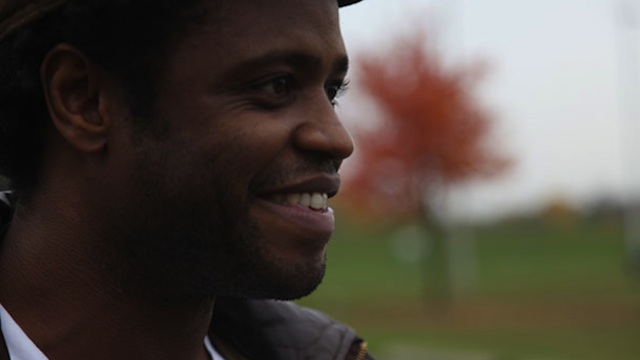 "A world about to change"
"Their whole world is about to change," says Officer, who spent over two years building relationships within the community before he started filming. "I wanted to know what's breaking their hearts, to hear their stories and put them onscreen. I grew up in the city but I'd never heard of Villaways before starting this project. It's kind of hidden, off the radar, and that's another motivating factor. I want to give these kids their moment."
Producer Lea Marin began developing Unarmed Verses back in 2012, following the death of Trayvon Martin and subsequent acquittal of his accused killer George Zimmerman. "It seemed like a good time for the NFB to explore how issues of race and class were playing out in the lives of young people here in Canada," she says.
"Charles has established a great rapport with Francine and other young people in Villaways," says Marin. "Over time he's won their trust and affection. He's making a film with them, not about them, and that makes for great footage — candid and moving, and full of rich human detail. We're able to focus on actual lives, not just the issues. "
"I'm a fan of the Dardenne brothers"
Officer comes to documentary from fiction. His first feature Nurse.Fighter.Boy, based his sister's experience with sickle cell anaemia, premiered at TIFF in 2008 and went on to earn 10 Genie nominations. His first documentary project Mighty Jerome was produced by the NFB's Selwyn Jacob. A feature-length biography of track-and-field legend Harry Jerome, it would win a 2012 Regional Emmy Award.
"With Mighty Jerome I was focussing an historic personality, with access to amazing archival material, but this is a very different kind of documentary project," says Officer. "My experience with feature fiction has been surprisingly useful. Working with the kids in this documentary not that different from working with young actors. I need to connect with them, observe and maintain some distance. I'm a fan of the Dardenne brothers. I love the naturalism of their work, how drama is anchored in the real world, and I'm going for that tone and feel."
Original performance occupies a central place in Officer's project. "Music plays a huge part in youth culture, and it's become an important component in our story and our soundtrack." Along with documenting day-to-day neighbourhood life, Officer has been sitting in on song-writing workshops run by Carleen Robinson and Krystle Chance, programmers with Arts Starts, a non-profit agency that specialises in community-based arts education. In addition to filming live performances by workshop participants, Officer is working with Art Starts to develop an informal youth choir that will contribute to film's soundtrack.
Art Starts' Carleen Robinson has emerged as a key supporting character in the story. "Carleen is a powerhouse, and contributes to the community beyond her job description" says Officer. "She left the corporate world to do this kind of work and she has a natural authority with the kids. They see her as a big sister, tough and demanding, but always there for them."
Arts Starts has been an essential partner on the project from the beginning, says Marin. "The folks from Art Starts have demonstrated an enduring commitment to the Villaways kids, and it has really paid off. It's amazing to witness how art and artistic expression can build cohesion and resilience within a community."
The director of photography on the project is Mike McLaughlin whose credits include the 2012 NFB release The Auctioneer. Andres Landau is editing and post-production is due to be complete by April. Unarmed Verses is produced by Lea Marin for the Ontario Studio and is scheduled for a release in late 2016.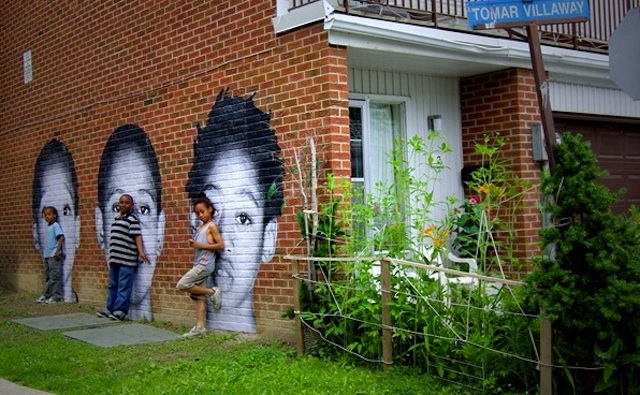 Above: The Arts Starts project Live Large, a collaboration between Villaways youth and artist Dan Bergeron. Photo by Liz Forsberg.
Portrait of Charles Officer: John Price.