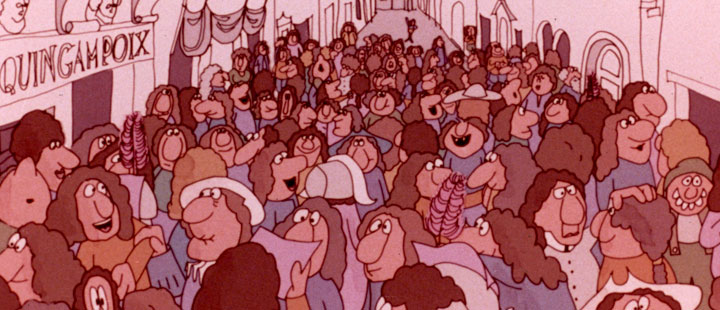 John Law and the Mississippi Bubble: The Madness of Crowds
When most people think about Richard Condie's films, his classic Oscar-nominated short The Big Snit (1985) immediately springs to mind. While I agree that it is brilliant, I prefer his earlier film John Law and the Mississippi Bubble, released in 1979. I love the way it combines Condie's zany animation with an incredible history lesson. I was so intrigued with this film that I contacted Condie and his sister Sharon to find out more about its making.
It turns out that this was Condie's first film at the NFB—I had always thought that the first was Oh Sure in 1977. Condie explained that he produced Oh Sure in 1972 with the help of a grant from the Canada Council for the Arts and later sold the completed film to the NFB.
Condie graduated from the University of Manitoba in 1967 and worked as a musician, a social worker and at a YMCA before trying his hand at animation. He then worked for two years as a writer and animator for Canadian Sesame Street in Winnipeg, animating segments that taught kids how to speak French. Sharon Condie had just finished a Fine Arts degree at Concordia University in Montreal; trained as an artist, she was eager to try animation. She had read Extraordinary Popular Delusions and the Madness of Crowds, a nineteenth-century book by Scottish journalist Charles Mackay that describes why otherwise intelligent individuals form seething masses of stupidity when they engage in collective action. One of these cases of mass hysteria involved John Law and his Mississippi Company Bubble. This intrigued her so much she read ten more books on the subject.
The NFB Winnipeg production studio had just opened and its producers were looking for film ideas. Sharon submitted a proposal to make an educational film on John Law. Richard had proposed another film, one of the sixty odd ideas the Winnipeg studio received. Richard's film was not accepted but Sharon's was; it was one of only three proposals retained by the studio. The producers assumed she would work with her brother and gave the film the go-ahead in late 1975.
Over the next couple of years they worked on the film together. Stanley Jackson, who had been writing, directing, producing and narrating NFB films since the 1940s, visited the Winnipeg studio periodically and agreed to help the Condies on their film. He tightened the script and provided the commentary and ultimately the voice-over. Richard Condie is very effusive in his praise of Jackson, who he says taught him a lot about comic timing. He also appreciated the help of NFB legend Colin Low who, as head of Regional Production at the time, was very supportive of the project.
During the editing process, the film was shortened and the character voices re-recorded, with filmmaker Robert Duncan providing the voice of John Law. Jackson replaced the original narration with his own distinctive voice.
The completed film played in theatres throughout Canada, starting in September 1979 with a four-week run in Victoria. Over the course of the following year, it also screened in Winnipeg for seventeen weeks, as well as Montreal, Regina, Vancouver, Kenora, Prince Albert and Saskatoon, among other cities.
Television sales were made to the United Kingdom, Germany, Portugal, Ireland, Italy and Austria. Educational TV networks in Yugoslavia and the United States also bought the film, which was selected for several festivals and won an award at the International Short Film Festival in Tampere, Finland.
If you haven't already seen it, I invite you to watch this zany film based on an equally zany true story. It illustrates that as long as money is involved, people will lose their common sense and back crazy, get-rich-quick schemes proposed by so-called experts. Hmm. I wonder if we can draw a parallel with the economic crisis that we have just lived through?
Enjoy the film (I'm off to buy Charles Mackay's book).
John Law and the Mississippi Bubble, Richard Condie, provided by the National Film Board of Canada