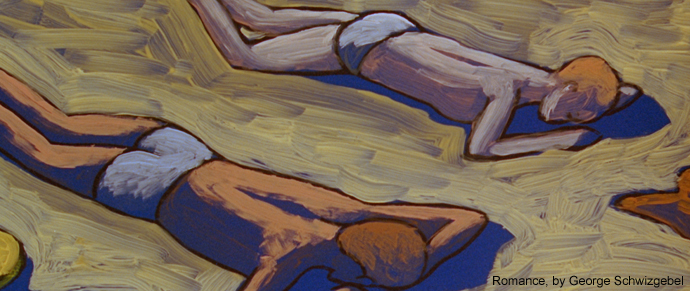 The Ottawa International Animation Festival is here
The Ottawa International Animation Film Festival (OIAF) is upon us. The largest animation film festival in North America kicked off this past Wednesday and continues until Sunday, 25 September 2011.
For its 35th edition, the festival is presenting a great selection of international co-productions and brand new animated shorts by Canadian talent. The screenings themselves are complemented by a wide array of "Special Presentations"; workshops, masterclasses as well as the creation of a unique mural, courtesy of our friends at La Moustache/En Masse.
On the Film Board side of things, 9 NFB shorts will be presented at the festival, including 3 in official competition: Oedipus, by Paul Driessen; Romance, by George Schwizgebel; and Muybridge's Strings by Koji Yamamura.
The 6 other films screened include Amanda Forbis' Wild Life, Co Hoedeman's 55 socks as well as 2 films spawned by our Hothouse apprenticehip program, namely Fred Casia's Marvin Parson's Inner Wild Wilderness and Zane Kozak's Blind Evolution. (Well played, gents!)
In other NFB news, the OIAF will pay homage to veteran NFB animation producer David Verrall. As honorary president of this year's edition of the festival, Verrall is programming a film series called "Ten Reasons to Love Animation." David Verrall is retiring from the Film Board this month after a remarkable 34-year career (including 14 years as Executive Producer), during which he produced or executive produced over 240 films.
As in previous years, the NFB will also host Meet the Filmmakers sessions. Held in the morning (9:30-10:45 am), Meet the Filmmakers are an opportunity to ask filmmakers in competition questions, exchange comments and share opinions about films featured the night before. All sessions are free and open to the public.
If you can't make it to the festival this year, join us in spirit with this OIAF playlist we concocted for the occasion. All films in the playlist are NFB animations that screened or won awards in Ottawa.
A great festival and a lovely weekend to all!
—
For more info, visit the Ottawa International Animation Film Festival