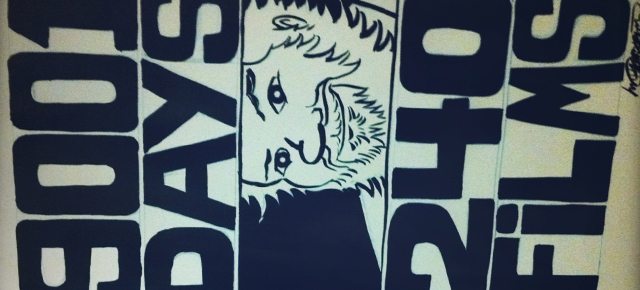 Top 10 reasons David Verrall is leaving the NFB
As you may have read before on this blog, animation filmmaker and producer David Verrall has retired from the NFB after 34 fruitful years.
Last week, friends and colleagues (including John Weldon, Chris Landreth, Sven Erik Eriksen, Bob Verrall, and many other distinguished guests) gathered in Montreal for David's retirement party. Between stories, reminiscences and the obligatory roasts, was this list, penned by senior NFB producer Gerry Flahive (and emailed to us on the sly by a smirking Michael Fukushima.)
So, why, indeed, did David Verrall leave the NFB?
Here's a top 10 list of reasons – as tongue-in-cheek as it gets – according to Gerry Flahive:
10. David is starring in a pixillation film, which requires him to walk from Montreal to Oregon, one frame at a time.
9. Expects to be tied up in a 'road rage' court case for years, the result of his methodical and logical curbside dissection, using charts, graphs and venn diagrams, of an aggressive truck driver's incoherent cursing.
8. Died of embarrassment after discovering the NFB's plans to erect a 50-foot bronze and acetate statue of him as a log driver from THE LOG DRIVER'S WALTZ, straddling Côte de Liesse Blvd.
7. Generous civil service retirement incentives expire in 2012, so he has to leave now to get the free microwave oven and steak knife set.
6. His experiments using potatoes and yams as sources for animation stories and inks was an intriguing but expensive disaster.
5. Can't get the goddamn music from Pixar's CARS 2 out of his head.
4. Finally admitted he has never really understood that whole 'persistence of vision' thing.
3. In a well-meaning but dangerous team-building exercise, he decided to recreate Jules Verne's Journey To The Centre of The Earth with a terrified group of Hothouse animators.
2. Scientists have determined that he has been working at 25 frames per second all these years.
1. With his MacArthur Genius grant, he can finally buy that llama farm in Hawaii he's been dreaming of.
—
HAPPY RETIREMENT, DAVID!