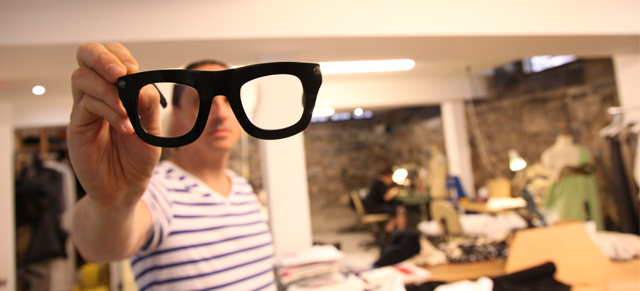 BARCODE.tv – Designer Denis Gagnon's glasses
The following is a guest post by Anne-Marie Lavigne.
* This post is a translation. Read the French original here.
BAR CODE hinges on the concept of "mining" everyday objects for the stories they harbour. Through the project's website and iPhone app, explore the secret world of day-to-day items by watching the short films triggered by their bar codes and by sharing your own stories about the objects in your life.
We asked fashion designer Denis Gagnon to tell us about an object of significance to him. He chose his glasses.
These are Lanvin glasses, a limited-edition frame that's no longer available. They belonged to my friend, the designer Renata Morales. She walked into an opening wearing them and I knew straight away I had to have them. I said to her, "Those glasses don't suit you. They're too big. Look at how they sit on your nose." This wasn't entirely true, but it was a great strategy for getting her to give them to me.
I've been wearing them for three years and I've become very attached to them. I've become very attached to them. I treat them like gold. The varnish has dulled over time and the lenses are scratched; if I were to try to change them now, the frame might break. Last year I stopped by Lanvin in Paris to see if I could buy a new pair, and was told they're no longer available. I now face a dilemma: keep on wearing them at the risk of breaking them, or stop wearing them altogether. I might be able to find a used pair somewhere or come up with a new design. I've got lots of ideas already.
The glasses had an impact on my career as soon as I began wearing them. They quickly became the trademark for my brand. Marketers and the media zeroed in on my face — which, being a shy guy, I found a bit hard to take.
I'm dyslexic. School was really hard and being gay didn't make things any easier. As a boy, I used to dress up dolls and play with clothes to feel better. It was pretty deep-rooted. I didn't choose my line of work — it chose me. It's part of who I am.
I love being a designer. Each collection takes a huge amount of research and testing to come up with creations that have soul. The woman who invests in a garment has a vision: she projects who she is onto her self-image. That's what I do with each collection. I create the identity, the spirit of the upcoming season.
A little of who you are always shines through what you wear. In my case, if I could have had any say, I probably wouldn't have chosen to associate my face with the Denis Gagnon brand. I would have preferred it to stand on its own — for there to be two distinct identities. The emphasis on these glasses has made it otherwise. They correct a disability and I need them, but they're now part of the persona.
Bio
Known for his couture approach to leather (his favourite material), his skilful cuts and his spectacularly airy silk creations, Denis Gagnon is one of the top Canadian designers of his generation. 2010 marked his first decade in the business and on October 18 of that year, he became Quebec's first couturier to be the subject of an exhibition at the Montreal Museum of Fine Arts.