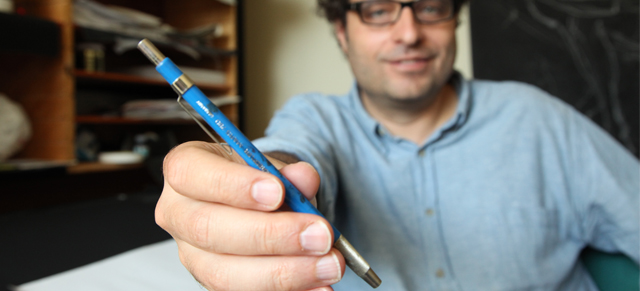 BARCODE.tv – NFB animator Theodore Ushev tells the story behind his favourite pen
The following is a guest post by Anne-Marie Lavigne
* This post is a translation. Read the French original here.
BAR CODE hinges on the concept of "mining" everyday objects for the stories they harbour. Through the project's website and iPhone app, explore the secret world of day-to-day items by watching the short films triggered by their bar codes and by sharing your own stories about the objects in your life.
We asked artist Theodore Ushev to tell us about an object of significance to him. He chose his pencil.
In 1971, fresh out of art school, my father Asen Ushev and his best friend Alzek Misheff decided to mount an exhibition. Unfortunately, the Communist Party took a dim view of their abstract paintings. They sent their men in to destroy the work and close the show. The next day, Alzek told my father that he was going to escape to the West.
Just before setting off, Alzek gave my father all of his artist's materials — including this pencil. He left the country that very night and reached Yugoslavia. He got to the coast, then swam across the Adriatic for nine hours, coming ashore in Italy, where he's now a famous artist. He's particularly well known for his sensational swimming performances, like the one he did on board the Queen Elizabeth II during the London-to-New York crossing. Swimming across the Atlantic… in a pool!
I only heard the story of his escape much later, in 1983, when my father gave me this pencil on the day I was to take the art academy entrance exam. He said: "I was the only person who knew Alzek was planning to escape. If anyone asked me what was going on with him, I had to lie. If I'd told the truth or if they'd found his art supplies at my house, he and our entire family would have been in danger. Remember, Theodore, anything you receive can cost someone's life. Always keep quiet and wait."
I used this pencil very little during my studies. I don't like mechanical pencils nearly as much as wooden pencils, which let you feel the line more as you draw. From time to time I used it to make illustrations. Then in my final year, I lost it. Unable to find it, I stopped looking. A few days before my entrance exam to another school, I stopped by the administration office just by chance. There was a woman, writing with my pencil! So I got it back.
I immigrated to Canada in 1999 and began working in new media and the creative industry. I had left my country with nothing. One suitcase, and this pencil. Many memories of Bulgaria, but no other objects. Now I make the first drafts for all my projects with this pencil. It's become my talisman.
Thanks to my father's silence, Alzek was successful in his bid for freedom and went on to become a great performer. And, with this pencil, I passed my exam and became an artist, like my father.
Bio
Theodore Ushev is an animator, graphic designer and illustrator. Born and raised in Bulgaria, he studied fine arts and worked as a designer in Sofia before immigrating to Montreal in 1999. He has made numerous animated films, including Vertical, The Man Who Waited, Tower Bawher, Tzaritza, Drux Flux and his most recent work, Lipsett Diaries.