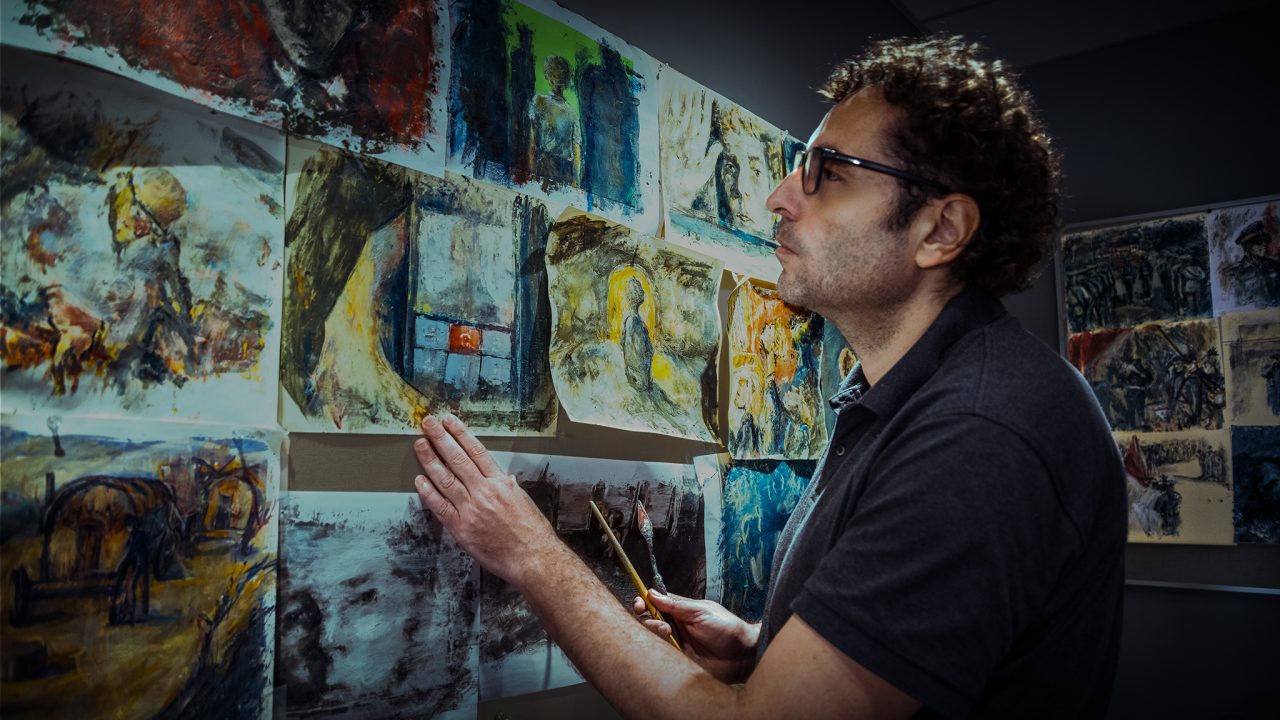 The Many Sides of Theodore Ushev, a.k.a. My Father
Guest writer Alexandra Ouchev heaps praise and some playful shade on her distinguished dad, world-renowned animator Theodore Ushev.
---
"Alex, my daughter, I love you!" is the message I receive from Theodore Ushev, the filmmaker. 

"What do you want?" is what I reply.

"NFB wants you to write a text about me?"
I honestly don't know why they would ask me to do this, because I will make fun of him, but I can only accept such a request. This is my once-in-a-lifetime opportunity to embarrass him in the most respectful way possible.
But let me introduce myself first, before we make this all about my dad, because I also want attention as an artist. I'm Alexandra Ouchev. Theodore Ushev's daughter. I make live-action fiction films in university and animation films on the side. I paint. I play and compose music. I basically do everything Ushev does, but better. Except music. He doesn't have any talent in that sphere. He's a terrible, compulsive singer.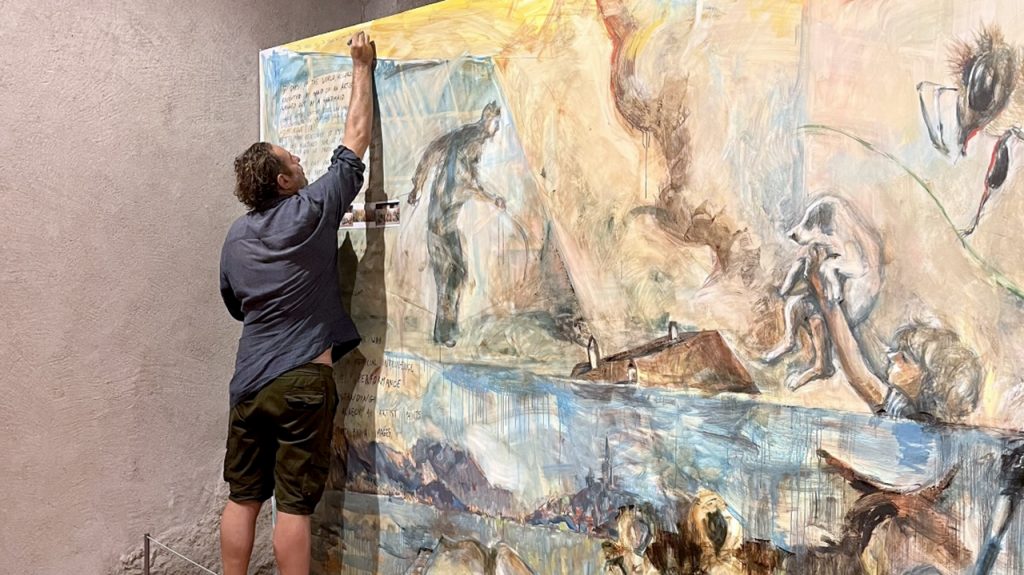 However, even with his bad musical pitch, I can't deny that dad has a very polished sense of rhythmic understanding, which he incorporates annoyingly well in all of his films. For me, the animated trilogy of Tower Bawher, Drux Flux and Gloria Victoria, which uses classical pieces alongside constructivist and expressionist art, is composed of the most significant films he's made. The combination of visuals and soundtrack is hypnotizing, and as each film reaches a crescendo of chaotic geometric shapes and loud orchestral climaxes, I'm left with this intense feeling of being thrown into the Soviet, brutalist propaganda world that I grew up hearing about. Ushev has an exceptional and passionate way of talking about society, war and death, that I adore and am fascinated with, but which always makes me want to ask him, "Dad, are you okay?"
I often hear the conversation about children not knowing who their parents were before they had kids. I think I know my dad pretty well because he always talks about his childhood, his family, his teachers, living in socialist times, his work, etc. However, having an artist dad who's a public figure can be quite confusing and can often make you question who that person really is.
There are a few instances where his public status perplexed me, such as the first time I watched a documentary made about him, Theodore Ushev: Unseen Connections. Watching a doc about your dad is a weird thing. I have my own personal image of him as an artist, but it's the artist at home who I know. The film revealed a lot of personal information that I wasn't aware of, such as certain elements of his childhood that he hadn't previously talked about, and how that shaped him into the person he is today.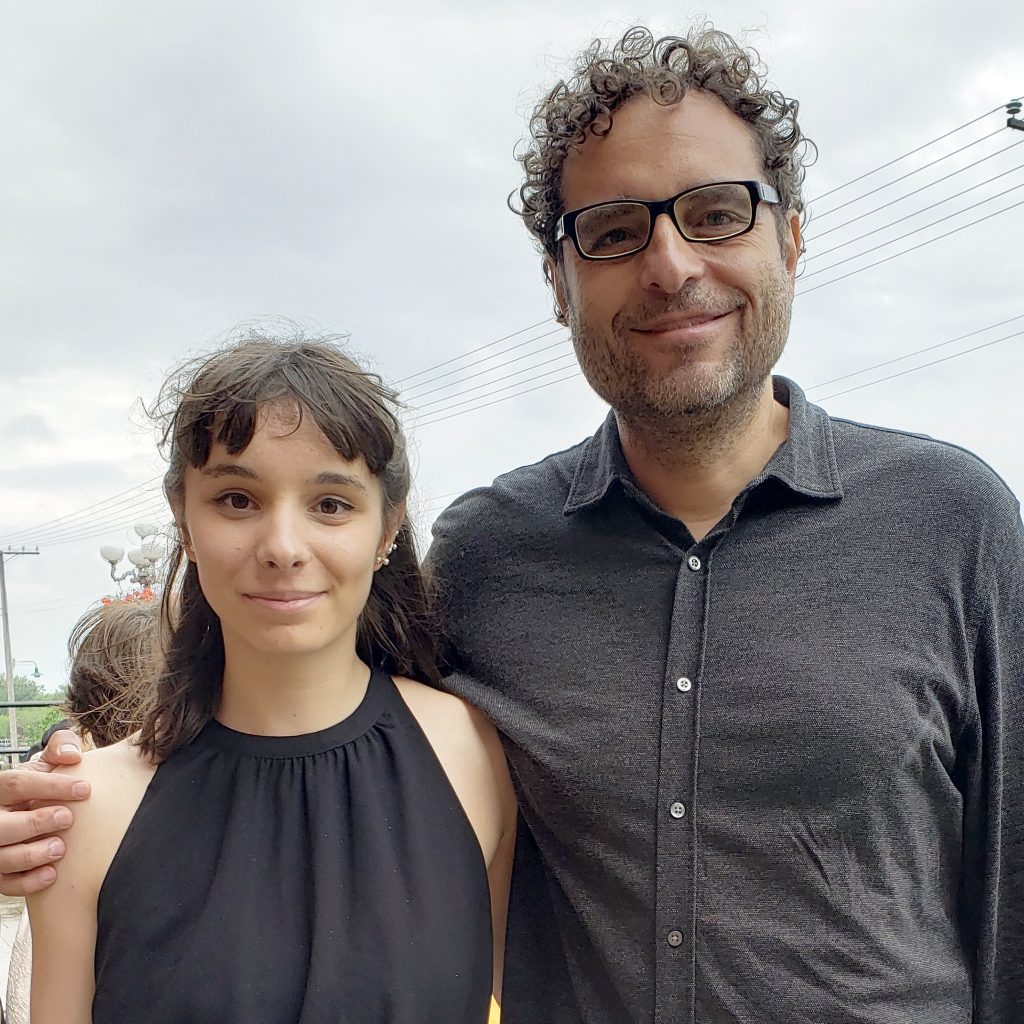 I had recently seen him teach an animation masterclass and I had the same weird feeling, watching him from a more professional point of view. I'm used to the artist who talks informally about art and politics all day long, at the dinner table, and the artist with whom we go to museums, concerts and the movies. It's a bizarre sensation watching him present films and seeing people approach him. Naturally, with all that praise he receives, I'm always there to keep his ego in check when it goes a bit over the respected limit.
Unseen Connections shows him being hardworking, doing all these creative things. From a young age, I've only seen my dad work non-stop in his room, never taking a break. Theodore Ushev is someone who doesn't play safe, whether it's in art or politics. He never listens to people who tell him to tone it down. On the contrary, that will inspire him to do it bigger. He's unapologetic in his principles as an artist and loves to irritate, and provoke. He is incredibly strong headed, driven, passionate and intense. The last word I would use to describe him is "neutral." He always has to pick a side and be vocal about it. Being apolitical is a big insult for him. His mother would have been proud of him but would have had a cardiac arrest if she had seen him giving a speech in fluent Russian about the war in Ukraine to a Russian film festival audience.
I'm realizing that this blog post I'm writing is going to please my dad because I'm praising him too much. And that's not good.
So let me throw in a few personal anecdotes about him: his room smells like a beehive from all the melting beeswax that's used for the encaustic painting technique in his films. He disagrees with me way too much but then posts the same statements I made on Facebook. He forgets where he puts important objects all the time and makes the whole house search for them, only for the item to end up next to his bed, under a book. Theodore Ushev is a lazy sloth (you might hear him confess he's lazy in the documentary). And as a final note, please don't ever ask him to sing Mozart's aria "Queen of the Night" (prepare your earplugs).
Watch Borislav Kolev's Theodore Ushev: Unseen Connections now:
Theodore Ushev: Unseen Connections, Borislav Kolev, provided by the National Film Board of Canada