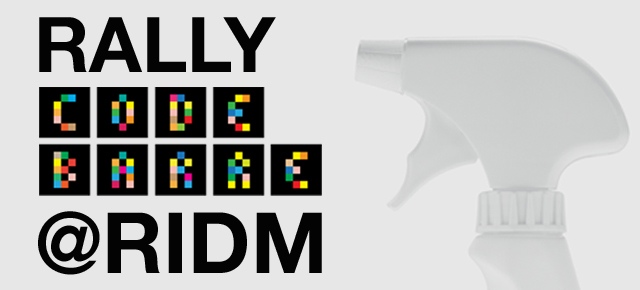 Tell the stories of objects that surround you with the BARCODE.tv rally
The following is a guest post by Anne-Marie Lavigne.
* cet article est aussi disponible en français
BARCODE.tv invites you to dive into the world of the objects that surround us by participating in the Creating Stories About Objects Rally during RIDM, Montréal's international documentary film festival.
The Rally will last 6 days – November 12 to 18. During that time, participants will take on the challenge of creating 14 stories about objects – one per BARCODE.tv's categories.
PARTICIPATION – REGISTRATION
The Rally is open to everyone: amateur and professional photographers, webdoc/interactive fans, Instagr.am addicts, etc.
To participate, simply:
•    Form a team of 1 to 3 members;
•    Give your team a name (ex. #clickers, #the2bozos, #zorophoto, etc.);
•    Register your team between now and midnight, November 11 by sending the team and member names to barcode@nfb.ca or via a message on the event's Facebook page
THE CHALLENGE: CREATE 14 STORIES ABOUT OBJECTS IN 6 DAYS
Every object around you has a story to tell. How did they become a part of your daily life? Do they bring back memories? What do they inspire you to do or feel? Over a period of just six days, the Rally invites you to tell the story of 14 objects based on the 14 BARCODE.tv categories:
Culture, Entertainment, Drinks, Food, Sports and Recreation, Work, Home, Body Care, Animals, Transportation, Health, 18 years+, Communication, Clothes and Accessories.
Your stories need to be about objects that are part of your life or the life of someone you know or admire. They should be compelling and take us into the private world of the person who owns the object. Click here to see examples of stories online at BARCODE.tv.
CREATING STORIES
Photos can be created and posted on Instagr.am
OR
with the barcode.tv iPhone app or any type of camera and posted on the BARCODE.tv website..
Each story entered must contain:
•    A photo (minimum 320 x 320)
•    A short text (140 to 300 characters)
*Incomplete stories will be disqualified.
PROCEDURE
The Rally starts on November 12 at 7 PM following a short reception from 5 to 7 in the RIDM Lounge at the Cinémathèque québécoise. Teams have until noon on November 17 to post their photos for each of the categories. The selection of the best photos and teams will be announced on November 18 between 5 and 7 PM at the RIDM Lounge, during the Rally's closing event.
POSTING PHOTOS
Each team must post its 14 stories on Instagr.am or BARCODE.TV (Web or iPhone).
Teams must identify their stories using the following hashtags. 
**To publish the images, only the French hashtags will be used:
•    Rally name: #Rallye@RIDM
•    Team name: #teamname
•    Category:
– Culture: #cultureCB
– Entertainment: #divertCB
– Drinks: #boissonsCB
– Food: #nourritureCB
– Sports and recreation: #sportCB
– Work: #travailCB
– House & Home: #domicileCB
– Personal Care: #bodyCB
– Animals: #animauxCB
– Transportation: #transportCB
– Health: #santeCB
– 18 years+: #18ansplusCBà
– Electronics: #commCB
– Clothes and Accessories: #habitsCB
As soon as a team posts a story in a category, it is entered in the Rally. If a team posts more than one story per category, only the first photo posted will be counted.
Looking forward to see your stories of objects!