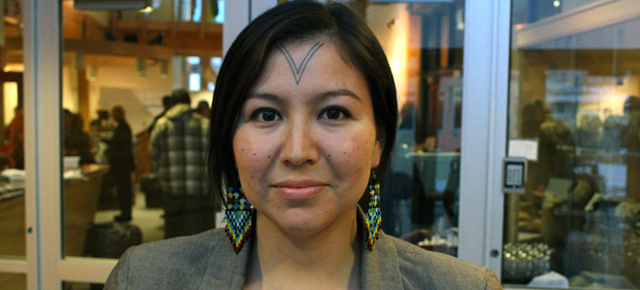 Tracing the lines of identity: an impromptu conversation about Inuit face tattoos
I'm in Iqaluit. There is snow on the ground and the sun sets around 4, but it doesn't feel very cold, perhaps because of the very warm people we are meeting everywhere.
Last night, a couple of Iqaluit musicians invited us into their home for dinner. Ellen Hamilton and Chris Coleman live in a beautiful, art-filled house in what is called "Iqaluit's Plateau", a section of town overlooking Iqaluit's bay.
Chris and Ellen are well-established folk musicians. Recently, they penned the score for Qimmit: A Clash of Two Truths, an NFB documentary investigating the death of thousands of sled dogs between the 1950s and 70s – a disappearance many in the Inuit community attributed to a government policy, enforced by the RCMP, to force their people out of nomadism and into settlements
One of the producers of Qimmit, Charlotte De Wolff, was also around the table, as were many other local musicians and filmmakers.
After dinner, a real Northern feast featuring caribou stew, Arctic char, coleslaw and bannock with cinnamon butter (yum), I chatted with Alethea Arnaquq-Baril a young film director and producer from Iqaluit.
Last year, Alethea participated in the NFB's Nunavut Animation Lab project, where she directed Lumaajuuq, an animated short about the perils of revenge based on a portion of the epic Inuit legend "The Blind Boy and the Loon."
Nunavut Animation Lab: Lumaajuuq, Alethea Arnaquq-Baril, provided by the National Film Board of Canada
The first thing you notice about Alethea, like it or not, are the thin black-line tattoos on her face and wrists. Being someone who is rather interested in tattoos, I asked her if we could talk about them.
By way of introduction, I told her about my own tattoo, a slab of ornate, black-and-white Ottoman tile pattern I have on my left rib cage and side, and about the facial tattoos I'd seen (and loved) in Turkish-Kurdish villages, on the border of Syria and Iraq.
Alethea said that in ancient times, before contact with the White Man, tattoos were extremely common in the North. For a girl, getting a tattoo was a rite of passage, a coming-of-age ritual. The pain of the tattoo was meant to prepare a girl for the pain of motherhood, or "just the general pain of being a mother", Alethea said.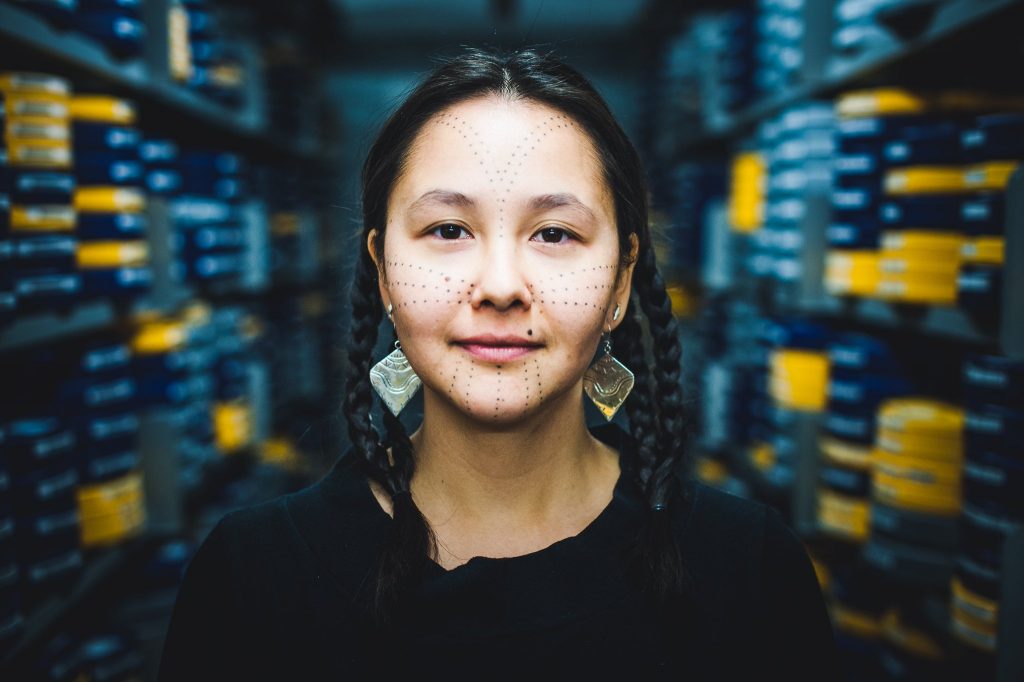 And a painful process it must have been. Traditionally, the tattoos were made by pulling a thin string of caribou sinew covered in soot and seal oil under the skin. To make a line, the artist would pierce the skin with a bone needle at one end, and pulling the thread inside the flesh, come out at the other. All the while, a finger would press down along the thread's trajectory, ensuring the skin didn't break and that the soot stained the flesh underneath.
I mean, ouch.
"We don't have coming of age rituals like that anymore," she deplored. "There's nothing to mark the passage between being a child and being an adult."
Perhaps to remedy that, Alethea started researching face tattoos, a couple years back. At the onset, she encountered a lot of resistance from the young and middle generations.
Some said the markings were shamanistic and witch-y (which is historically incorrect), while others questioned her right to wear such tattoos, saying she wasn't Inuk enough (Aleatha's father is white.) In 2009, against all odds, she got her own forehead, cheeks and wrists tattooed.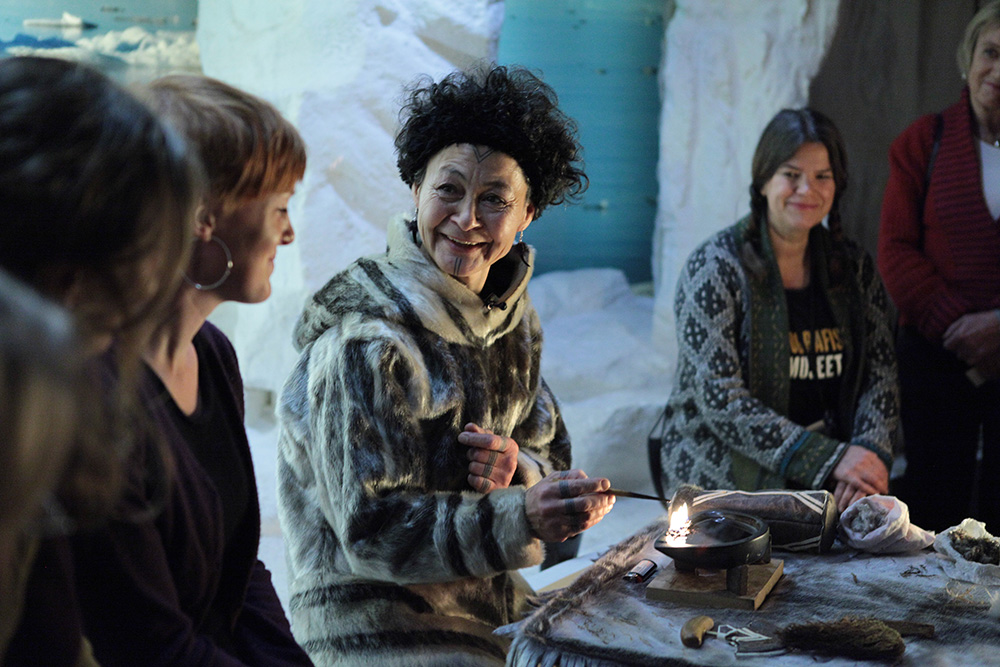 The result of her research and personal experience is Tunniit: Retracing the Lines of Inuit Tattoos, a 1-hour doc she made for APTN with the help of some brave elders who helped her talk about and recover this Inuit tradition that was forbidden for a century and indeed almost forgotten.