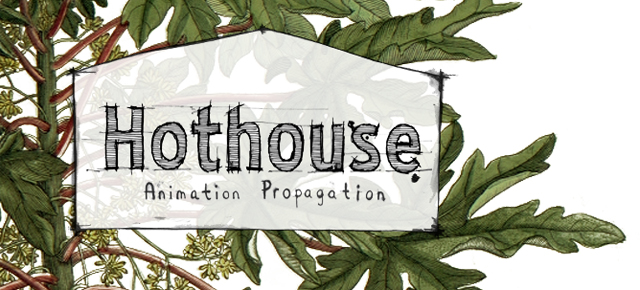 Want to participate in a 12-week paid animation apprenticeship at the NFB?
Attention all budding and blooming animators! Hothouse, our very own "12-week paid apprenticeship in full-on professional animation filmmaking" is once again calling for submissions.
Things are shaping up to look mighty exciting for this 8th edition. I mean, let's be real for a second: how great would it be to get to come work at the NFB and get paid to animate a short film? In Montreal? In the same building giants such as McLaren and Lipsett toiled? Right down the hall from the fabulous NFB web team and yours truly? Yeah, that's right. Pretty, pretty great.
So what is in this year's edition, theme and parameter-wise? Where previous editions experimented with stereoscopic 3D (Hothouse 6) or animating to music (Hothouse 7), this year's parameter is include <emerging-technologies>. (Yes – that's code!)
This means that for Hothouse 8, the jury will be looking for proposals that involve emerging tools and technologies at any (or every) step of the animation process. Curious about the creative potential of generative art, machinima, interactive mobile OSes, or voice recognition, among many examples? So are we. However, do keep in mind that Hothouse is about filmmaking, and that filmmaking is about telling stories. As the official Call for Submissions clearly specifies, "Don't use new tools just because they're cool. We will reject any tech fetish proposal. There must be a very clear artistic rationale for 'why'". So including technology is a must, but so is telling a compelling story.
Which brings me to my next point. Subject-wise, this year's theme is Sheep Dreams. This doesn't mean your film has to be about real sheep, or feature real-world gregarious woolly mammals, but in some tangential way or another (which you will have to make clear in your proposal), your idea will have to fit the theme. (A personal word of advice: go wild.)
A few more things. Although the apprenticeship takes place in Montreal, submissions will be accepted from all across Canada – as long as you are a Canadian citizen or landed immigrant. Also, and this has to be the cherry on this already momentous sundae, Hothouse 8's Mentoring Director will be Theodore Ushev. Yes, that Theodore Ushev.
So good luck to all. We look forward to meeting you and seeing your work.
—
Submission deadline is Tuesday January 24, 2012; apprenticeship dates are March 5 – May 25, 2012.
Find Hothouse 8 submission info