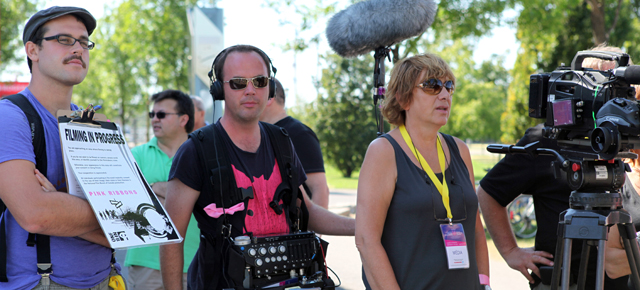 Pink Ribbons Inc.: The people behind the film
*Photo: Filmmaker Léa Pool (3rd from left) on set. Photo credit: Nancy Guérin.
Following is a short bio of each person who appeared in the film Pink Ribbons Inc., a feature documentary that shows how the devastating reality of breast cancer, which marketing experts have labeled a "dream cause," has been hijacked by a shiny, pink story of success.
The film recently celebrated its World Premiere at TIFF, where it was named one of the TOP 10 Films. It opens in Canadian theatres on February 3, 2012.
JUDY BRADY is a San Francisco-based activist and writer who was diagnosed with breast cancer nearly 30 years ago. For the last 25 years, Brady has worked to build a movement that addresses the politics of breast cancer. With the conviction that environmental factors lie behind the cancer epidemic, she has recently focused on environmental concerns and is on the board of Greenaction.
BARBARA A. BRENNER joined the board of Breast Cancer Action in 1994, a year after her first diagnosis with breast cancer, and a year later she became BCA's first full-time executive director, a position she held until 2010. Shortly after, she had a recurrence of breast cancer, resulting in a mastectomy. Her passion is contagious, and her effectiveness as a leader of the breast cancer movement is demonstrated by BCA's growth and achievements during her tenure. The Barbara Brenner Rapid Response Fund was recently created to honour the brand of activism BCA achieved under her leadership. Brenner has been diagnosed with the neurodegenerative disease ALS and now uses social media to promote discussion of how health issues are presented in mainstream media. She also uses text-to-voice software to communicate audibly.
NANCY G. BRINKER is regarded as one of the leaders of the global breast cancer movement. She is the CEO and founder of Susan G. Komen for the Cure, which is now the world's largest fundraising organization for breast cancer. In 2008 Brinker was named one of Time magazine's 100 Most Influential People of the year. She served as US ambassador to the Republic of Hungary from 2001–2003 and most recently, as US Chief of Protocol from 2007–2009. President Barack Obama awarded her the Presidential Medal of Freedom, the nation's highest civilian honour. She recently published the memoir Promise Me: How a Sister's Love Launched the Global Movement to End Breast Cancer.
JAMES BROPHY, PhD, is a Windsor-based researcher specializing in the link between cancer and occupational carcinogens. He has been at the centre of the battle to force industry and government to recognize that "occupational hazards" are a deadly reality for too many people. Brophy's key areas of focus are occupational and environmental cancers, education, awareness and prevention. He is a lead investigator of the Lifetime Histories Research Study, exploring associations between occupational exposures and female breast cancer. He and co-investigators have found evidence of a connection between the development of breast cancer and work in agriculture, health care and automotive-related manufacturing.
JANET COLLINS was key organizer of the first World Conference on Breast Cancer, held in Kingston, Ontario, in July 1997, which drew 650 delegates from 50 countries. The WCBC Committee worked with Bella Abzug, a former US congresswoman and head of the Women's Environment and Development Organization, to create a global action plan to put breast cancer on the centre stage.
CAROL CONE, vice-chairman at Edelman Purpose, is recognized for her work in the cause branding and strategic philanthropy. Known as the "mother of cause marketing," she is committed to building partnerships between companies and social issues. Cone has pioneered new alliances for private/public partnerships to create signature programs for a host of Fortune 500 companies, including the Avon Breast Cancer Crusade, the American Heart Association's Go Red for Women, Reebok's Human Rights Awards, Rockport's Fitness Walking Program, Gillette Women's Cancer Connection, among others. Cone's signature cause programs have raised more than $500 million for various social causes.
DR. CHARLENE ELLIOTT is an associate professor of Communications Studies at the University of Calgary. Her research focuses on the communicative and policy implications of codifying colour, shape and scent. She authored "Pink!: Community, Contestation and the Colour of Breast Cancer," a paper that looks at how the colour pink is strategically used by breast cancer campaigns to soften the harsh realities of the disease. Elliott was recently awarded a new research chair by the Canadian Institutes of Health Research to investigate the connections between food marketing and childhood obesity.
BARBARA EHRENREICH is a social critic and writer. She is a widely read columnist and essayist and the author of nearly 20 books, including the New York Times bestseller Nickel and Dimed: On (Not) Getting By in America. She is a frequent contributor to the New York Times, Harper's, The Progressive and a contributing writer to Time magazine.
CHARLOTTE HALEY was one of the first people to distribute a ribbon to raise awareness for breast cancer. Her daughter, sister and grandmother all had breast cancer. In the 1990s, she began handing out peach-coloured ribbons at local grocery stores with cards that read: "The National Cancer Institute annual budget is $1.8 billion, only 5 percent goes for cancer prevention. Help us wake up our legislators and America by wearing this ribbon." Soon after, Self magazine and Estée Lauder wanted to use Haley's ribbon but she refused, feeling they were too commercial. The magazine went ahead with pink instead and the pink ribbon soon became the worldwide symbol for breast cancer.
JANE HOULIHAN is the senior vice president for research at the Environmental Working Group and the director of Skin Deep, an online cosmetics safety database. The database provides safety ratings for more than 62,000 products on the market and receives nearly 1 million hits per month. Houlihan specializes in toxic and health research and serves as a spokesperson on environmental health in the national media and at conferences around the world.
MARC HURLBERT, PhD, serves as the executive director of the global breast cancer programs of the Avon Foundation for Women and the Avon Breast Cancer Crusade, which has programs in more than 55 countries and provides more than $50 million to the breast cancer cause annually. Dr. Hurlbert is responsible for developing the Crusade's overall strategy, setting funding guidelines, implementing programs and monitoring the progress of grant recipients. Dr. Hurlbert is also chairman of the board of the Health Research Alliance as well as chairman of the Cancer Committee for Columbia University and New York Presbyterian Hospital's Advisory Council.
DR. MARION KAVANAUGH-LYNCH is director of the California Breast Cancer Research Program at the University of California. Her work includes setting priorities and developing strategies for the state of California's research efforts designed to coordinate research and bring an end to breast cancer. Currently, she is leading a national panel that is developing research strategies to explore the role of environmental contaminants in breast cancer.
MARGARET KEITH, PhD, has adjunct faculty positions with the University of Windsor and the University of Stirling in the UK. She has advanced the use of mapping techniques for conducting participatory health research and has co-authored journal articles describing their applications. She has been a co-principal investigator for several epidemiological and qualitative research studies exploring occupational and environmental risk factors for breast cancer. She is currently involved in a project sponsored by the National Network on Environments and Women's Health at York University, which is exploring the possible breast cancer risks for women employed in plastics manufacturing.
SAMANTHA KING is the author of Pink Ribbons, Inc.: Breast Cancer and the Politics of Philanthropy. She is an associate professor in the school of Kinesiology and Health Studies at Queen's University in Kingston, Ontario. Her research and teaching interests focus on the cultural politics of health, sport and the body. She sits on the editorial boards of the Journal of Sport and Social Issues and Qualitative Research in Sport, Exercise and Health and is a member of the board of directors for the North American Society for the Sociology of Sport.
EVELYN H. LAUDER was the senior corporate vice president of the Estée Lauder Companies and the founder and chairman of the Breast Cancer Research Foundation. Estée Lauder was the first cosmetics company to use the pink ribbon as a symbol for breast cancer awareness and is credited with its popularity. In 2000, the company created its Global Illumination Campaign to put the spotlight on breast cancer by illuminating buildings, monuments and landmarks around the world in pink. This past year they illuminated a total of 38 global historic landmarks, achieving a new Guinness World Record—"Most Landmarks Illuminated for a Cause in 24 Hours."
ELLEN LEOPOLD is the author of A Darker Ribbon: Breast Cancer, Women, and Their Doctors in the Twentieth Century, the first cultural history of the disease. She is also the author of Under the Radar: Cancer and the Cold War, which shows how nearly every aspect of our current response to the disease bears the imprint of its Cold War entanglement. She has worked as an economic policy advisor in the US and the UK, where she was employed by the Greater London Council until it was abolished by Margaret Thatcher.
DR. SUSAN LOVE is one of the founders of the breast cancer advocacy movement and serves on the boards of the National Breast Cancer Coalition and Y-ME National Breast Cancer Organization. Since it was published in 1990, Dr. Susan Love's Breast Book has been considered the bible of breast care. She believes that breast cancer may be a virus. In 2008, in partnership with the Avon Foundation, Love launched the Army of Women initiative, which is recruiting 1 million women of all ages and ethnicities, with or without breast cancer, to participate in breast cancer research studies. Love is currently the president and medical director of the Dr. Susan Love Research Foundation and founder and board member of Windy Hill Medical, a breast cancer prevention company.
KIM MCINERNEY was the Primary Brand Sponsorship and Experiential Marketing Manager for Ford Motor Company at the time of filming Pink Ribbons, Inc. She oversaw Ford's Warriors in Pink, a cause-marketing campaign designed to raise money for breast cancer. It sells a variety of pink products, including a pink Ford Mustang. For 17 years, the Warrior in Pink program has been a National Series Sponsor of Susan G. Komen Race for the Cure, committing 1 million dollars a year to the foundation.
DR. OLUFUNMILAYO I. OLOPADE, MD, is a Walter L. Palmer Distinguished Service Professor and Associate Dean for Global Health at the University of Chicago Medical Center. Trained in clinical oncology and cancer genetics at the University of Chicago, Dr. Olopade has conducted research on familial forms of cancer. Her observations on the genetic basis of breast cancer in young women of African ancestry in the US and West Africa has broadened our understanding of the complex interactions of genes, lifestyle and the environment in breast cancer. As a physician and scientist, Dr. Olopade works to translate scientific discoveries at the individual and population level into interventions for women at risk of breast cancer. An international leader in academic medicine, Dr. Olopade has received numerous awards and is a member of the Institute of Medicine of the National Academies, the National Cancer Advisory Board and the American Philosophical Society, and a fellow of the American Academy of Arts and Sciences.
IV LEAGUE is a breast cancer support group in Austin, Texas, for women with metastatic breast cancer. The members meet on regularly and help each other cope with the rigours of the disease and the realities of dying. The group considers the marketing of breast cancer to be insensitive and offensive and does not believe that "strong will" can explain why some individuals survive cancer. They are aware of how many people have succumbed to breast cancer—last year alone they lost 10 members—and they believe it is the disease that kills people and not lack of hope or positive thinking.
THE PLASTICS FOCUS GROUP is comprised of a handful of women who worked in the automotive plastics industry, molding car parts for the Big Three. Sharing grave concerns about the chemicals they were exposed to in the workplace, they agreed to take part in a research project studying the links between occupational hazards and breast cancer. The study used visual data collection techniques to assist the women in recounting their work and health history. They described chemical odours, smoke and vapours throughout their work environment that made them feel light-headed, gave them headaches, sore throats, breathing difficulties and nose bleeds. They spoke of co-workers who had developed cancer or had experienced miscarriages. Many expressed fear that they too would suffer future health consequences as a result of their past occupational exposures to carcinogens and endocrine disrupters.