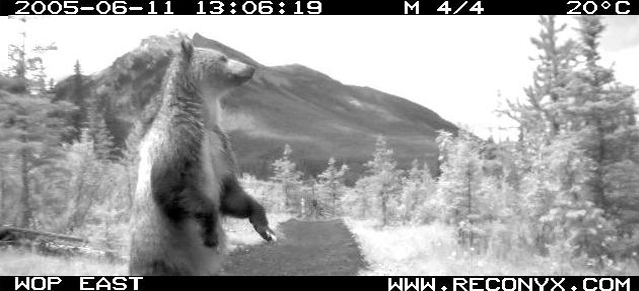 * This is a guest post by Lindsay Wright, Manager, National Education Programs
School's out but our films are still hard at work. The upcoming March break is the perfect time to check out some hidden gems on CAMPUS!
Get started by exploring one of our acclaimed interactive sites, Bear 71. This online documentary premiered at the Sundance Film Festival to rave reviews. Follow Bear 71 through Banff National Park after she is tagged with a GPS tracking device. An interactive map also gives you the option to grant the website access to your microphone and webcam, allowing YOU to now become a part of the story. This unique, moving experience is only 20 minutes long and not to be missed.
1, 2, 3, Coco is a short film from the NFB's Rights from the Heart series. These films were created to bring attention to the United Nation Convention on the Rights of the Child, which came into effect in 1990. The series is made up of 3 parts, aimed at children aged 5 to 8, 9 to 12 and 13 to 18. Each film highlights one of the rights of every child. Can you guess which right this film illustrates?
Flash William Shewchuck is a one-man movie industry with a passion for telling stories in the Yukon. This short documentary, made in 1978, is quirky, one of a kind and a great way to spend 20 minutes. We have yet to meet an audience who didn't get a kick out of this film!
Are you ready for Spring? Count down the days with Four Wings and a Prayer. This beautiful feature-length documentary showcases the stunning and mysterious journey of the monarch butterfly. Watch in awe as they make the impossible 3,000-kilometre journey from Canada to Mexico.
March 21 is the International Day for the Elimination of Racial Discrimination. Begin a dialogue with your students after watching the thought-provoking film Everybody's Children, which follows Joyce and Sallieu, 2 young, unaccompanied refugee minors courageously making new lives for themselves in Toronto. This is a great catalyst for interesting debates surrounding Canada's immigration system and the refugee application process.
To watch any of these films or interactive productions with your students you need to purchase a subscription to CAMPUS, which covers all public performance rights for NFB films online. You may even already have one; to find out, check with the librarian in your school and activate your profile. If you don't have one, you can purchase an individual subscription here, and if you think these essential resources would be of interest to your entire school board, click here to contact one of our sales agents. If you already have a subscription and have activated your profile, enjoy! And be sure to tell your friends and colleagues about CAMPUS.