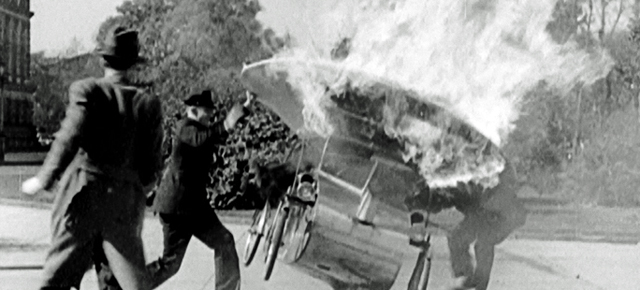 A Trip Down Memory Lane: A Phantasmagoria of the 20th Century Compressed by Arthur Lipsett
May 13th marks the 76th anniversary of the birth of experimental filmmaker Arthur Lipsett. I thought it appropriate to talk about his films and why they have become such cult classics. I could easily write a 200-page book on his oeuvre, so instead of attempting to cover everything I am going to limit myself to A Trip Down Memory Lane (1965), my favourite Lipsett film.
Mention Lipsett's name and most people will immediately think of his first major film, Very Nice, Very Nice, released in 1961. The Oscar nomination it received propelled it into the mainstream and helped put Lipsett on the map. His manipulation of images and sound transformed the ordinary into the unusual. Using snippets of film and audio, he gave an original interpretation of the malaise of the time.
While I think Very Nice, Very Nice is a terrific film, A Trip Down Memory Lane—his "additional material for a time-capsule," as an intertitle puts it—is, in my opinion, his best. The first time I saw it, I felt like he had totally transfigured the newsreel, distilling it to its bare elements and re-working them in some twisted way.
In his film proposal Lipsett wrote that he wanted to make "an experimental treatment of newsreel material treated as an expressive journalistic capsule." He worked with legendary documentary filmmaker Donald Brittain on this film, who acted as Lipsett's producer.
In an interview, Brittain basically said that he ran interference for Lipsett, explaining to NFB programming committee members what Lipsett was trying to achieve, something Lipsett was not able to do. Lipsett ordered a great deal of newsreel footage from various American companies and began to manipulate it over several months. He spent more than $8,500 on footage alone (those are 1964 dollars!).
Years ago I saw the film Gizmo, a compilation of newsreel clips from the 1930s and 1940s that focuses on crazy and unusual inventions. These hundreds of clips are presented one after another and feature such interesting contraptions as a bathing cap for your beard and an alarm clock that whips off your blankets in an effort to wake you up. This film is a great deal of fun to watch, but the night I saw it, I dreamt about it, and my mind totally mashed it all up into a crazy mix of the weird and the twisted.
Watching A Trip Down Memory Lane reminds me of that dream.
I won't dissect the entire film, but here are a few sequences that I find fascinating. The opening footage of a beauty pageant from 1959 would seem quite ordinary if not for the terrifying drums Lipsett has put on the soundtrack, replacing whatever commentary originally existed. It gives the images of the women in competition an eerie and unsettling quality. A beauty pageant is a very mundane affair, but Lipsett has turned it into a voyeuristic, uncomfortable spectacle.
The very next sequence is a clip showing a procession of elephants in India. Lipsett has not manipulated the soundtrack, but by choosing this clip, which starts in the middle of the action, he has made this supposedly glorious procession look simply ridiculous. The music on the original newsreel is overly dramatic and the narration pompous ("…for those who like brave men, bravely dressed…"), which adds to the effect.
Other unsettling sequences include that of the little girl strapped to the top of a high-flying hot air balloon. No need to manipulate anything here; this is simply creepy, and in direct contrast with some of the film's humorous moments, like when the "daredevil" launches his flying machine off a cliff. Lipsett adds a piece of heroic music to underline the silliness of the whole exercise. This is followed by a title card that reads, "It was a nice job while it lasted." All that's missing is Nelson from The Simpsons with a well-timed "Ha Ha!"
Lipsett then returns to a series of serious moments (some downright disturbing), such as shots of people falling to their death from a zeppelin intercut with footage of a religious ceremony and a soundtrack of Gregorian chants. The chants continue as we are presented with spectacular footage of navy ships on exercises. Lipsett's message here is clear: We are worshipping the wrong things. To drive home the point, this sequence continues with a very sick old man lying in a hospital bed wearing his war medals.
Lipsett is especially keen on showing us interesting faces. Witness the sequence in which a tall man stiffly dances with a woman. The looks on their faces are priceless. Since this film was made during the atomic age, it is no surprise to also see a victim of the atomic bomb and footage of radioactive material being handled. This is followed by footage of the principal people involved in the Manhattan Project. Lipsett is content to just show them listening and waiting. There is no way he is going to let them speak after the havoc they have wreaked on the world.
The ending is typical Lipsett. He shows us a sword swallower in slow motion, accompanied by a distorted soundtrack (it is actually composed of carnival noises and music, slowed down and altered to the point of being unintelligible). The reason I find this important is that Lipsett has once again turned the mundane into something odd and surprisingly bone-chilling.
Like all his previous films, A Trip Down Memory Lane was a huge hit, most notably winning awards at the Venice and San Francisco film festivals.
Some readers who have made it this far will no doubt feel that the film I have described is disjointed and rambling. It is, to be sure—but that is what makes it special. There is a clear message throughout: that the 20th century was a crazy, mixed-up time and that, too often, the things we found fascinating were simply ridiculous or grotesque.
Lipsett is presenting his vision of this era, and the beauty is that it can be interpreted in many different ways. What is most important is your instinctive reaction while viewing the film. For me, it resembles a crazy dream, complete with terrifying moments and very silly ones. For you, it could be something totally different. I invite you to watch it and let your senses be wowed.
Enjoy the film.
A Trip Down Memory Lane, Arthur Lipsett, provided by the National Film Board of Canada
For those of you who want to know more about the works of Arthur Lipsett, we recommend the documentaries The Arthur Lipsett Project: A Dot on the Histomap and Remembering Arthur, both available on NFB.ca.