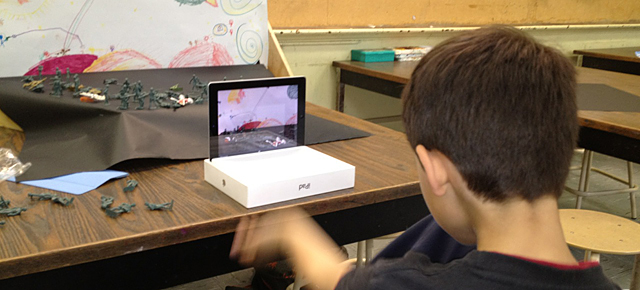 Using the iPad and the NFB's PixStop app in your classroom
Edited on June 5, 2012 to add: The PixStop app works only with later versions of the iPad that include a camera.
This is a guest post by Paul Carrière, Elementary school visual arts teacher, F.A.C.E.
When the iPad arrived in my classroom, it completely changed my daily routine as an art teacher. I realized I had to find the best possible way to integrate this new tool into my art classes and maximize its potential for use during my 50-minute periods. I looked into and installed a number of fascinating applications, but I was immediately drawn to PixStop.
PixStop is a app developed by the NFB. It allows users to easily create animated films using a technique called stop motion. It also offers the ability to add a soundtrack to the film by importing music from your iTunes library. I began by demonstrating PixStop to students using a video projector hooked up to an iPad. My students fell under its spell right away—they would have started making films on the spot if they could have.
But before taking that step, we got a bit more hands-on.
I talked to the students about sugar maples, and then we did a lot of exercises. The class drew sugar maples, painted them using different materials, and made models of them. Finally, I felt that they were ready to start making animated films with PixStop using the classroom iPads. By this point we had about 200 three-dimensional trees in the classroom, and they became our starting point—our theme. We had everything we needed in terms of set decoration for our first productions: all we had to do is make our models move. These were our preliminary exercises. Once we had finished this first step, the students were ready to embark on their second project: animating their own toys, in a set they had created and designed themselves.
One of the keys to teaching is to create a climate of trust, and I am thrilled when I see groups of students joining forces and forgetting all about the clock. I find it very moving to watch the creative process in action. I strongly believe that students learning to work together using a variety of tools—developing their imagination, vocabulary and independence—is a winning formula for both students and teachers!
I know from experience that, with these students, success in creating Information and Computer Technology (ICT) projects depends on good computers and applications or software that are easy to use and stable.
The most recent generation of iPads—which are dependable and outfitted with a camera—combined with the PixStop app, hit that sweet spot. Students can now make high-quality, worthwhile projects without expensive technology. My grade one to four students have been very comfortable using the iPads, allowing them to focus on the creative process rather than on the hardware and software. The iPad is light and does not have a cumbersome cord. It doesn't take up much space on the desk. The camera is incredible, and does not require much light.
One of the things I really appreciate—apart from the technological and educational aspects —is that my students forget they are at school and see themselves more as being in a studio. It always fascinates me to watch my students take on challenges with the openness and confidence of artists, and to listen as they work in groups and discuss their projects among themselves.
In order to develop students' critical faculties, we watched the completed films and offered evaluations of the projects. I asked them to assess the works based on three simple criteria: whether the story can be easily understood, how well it was executed, and its aesthetic value. Secretly, I hope to also hear them offer an analysis based on their own experiences as animation filmmakers. In addition to helping students discover another side of animation, this activity promotes the values of sharing, listening, persevering and (discreetly) humility.
In the field of visual arts, there are moments when work and pleasure come together. During these first forays into animation, I witnessed students immersed in creative work and forging memories that will always stay with them.