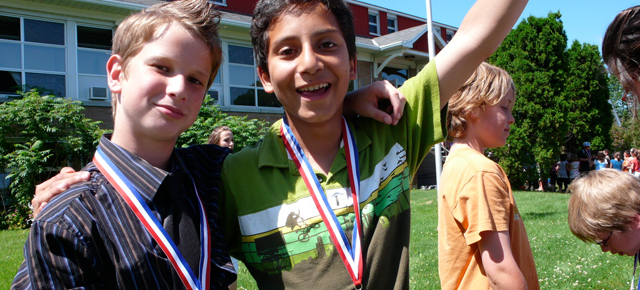 Back to School with NFB Education
It's time to return to the classroom, so we've been working hard to bring exciting films, resources and hands-on activities to you and your students. Here are a few ideas to get you started.
Follow guest blogger Paul Carrière's lead and introduce your students to stop-motion animation with our iPad app, NFB PixStop, which they can use to create short films about their amazing summer holidays. For support, explore our StopMo Studio and learn how to teach stop-motion animation—the online workshop includes video tutorials, an educator's strategy guide, lesson plans and resources.
Inspire your class or school with the film Hope Builders (available on CAMPUS and on DVD), an engaging documentary that follows an incredible teacher and his students, who use an interdisciplinary approach to help identify, analyze and resolve social issues in their community. What do your students want to change about their school? Or their community? Create an action plan and document your successes and challenges along the way.
Want to relive the imagination and adventure of those long summer drives before the era of video games? Watch Big Drive (available on DVD and DTO), a short animated film about 4 sisters in the back of a car on a road trip across the Canadian Prairies, and then explore the creative educator's guide that accompanies it.
In other news, film festival season is upon us. Cruise on over to CAMPUS and create your own mini-festival at school. Choose from over 2,500 films, including shorts, animation, alternative drama and documentary. Simply log in, build your own playlist and bring on the popcorn! There is something for everybody, and all you need is a subscription (your school board or ministry may already have one; to find out, check with your media librarian).
As the school year ramps up, be sure to keep coming back to the NFB.ca blog for tips on using our films and resources to enrich your teaching experience. If you have a minute, leave a comment describing how you're  incorporating NFB resources in your classroom. We would love to hear from you.
—

Learn more about CAMPUS here.