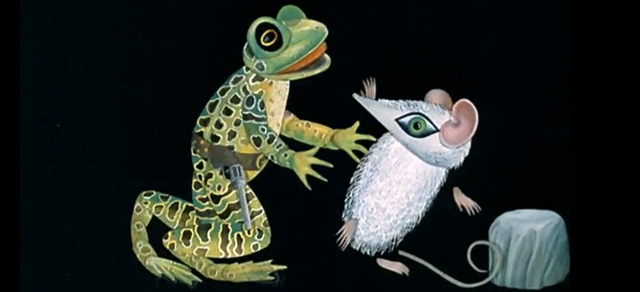 Frog Meets Mouse: Evelyn Lambart's Mr. Frog Went A-Courting
A stunning animator everyone should know more about is Evelyn Lambart.
Lambart, who passed away in 1999, started her NFB film career alongside Norman McLaren. In 1949, they both directed Begone Dull Care, an experimental short that paired bold visuals, painted directly on film, with the jazzy rhythms of the Oscar Peterson Trio. The film went on to win a bunch of awards, including a Genie for "Special Award in recognition of the successful contribution of an experimental approach to filmmaking by Norman McLaren and his associates," in 1950.
Lambart later helped animate the hopelessly ornery chair in McLaren's A Chairy Tale (1957), but she knew the time had come for her to fly solo when McLaren fell into his "ballet period" in earnest.
Ballet dancing, it turns out, held no interest for her whatsoever.
Lambart's disaffection for tutus was a blessing in disguise. Though it would indeed have been fascinating to see what sort of work Lambart and McLaren could've cooked up in later years, the films she created and animated on her own are bright enough gems to warrant the split.
A favourite film of her's we have online is Mr. Frog Went A-Courting, a short animation about the unlikely courtship, marriage and demise of a gun-toting frog and an elegant, pointy-snouted white mouse. The whole adventure, clocking in at under 5 minutes, is narrated in a dangerously ear-wormy song performed by NFB filmmaker, producer and folk musician Derek Lamb.
Though the film, replete with fun rhymes ("sky blue britches with little silver stitches") and fun characters (like the bumble-bee, who plays banjo on his knee) was probably made for children, bear in mind, if watching with the little ones, that the story doesn't exactly end well. (Should you need to know, the bad guy's the same guy who framed Eve, back in Eden.)
Illustrative of the style Lambart perfected for her solo film projects, the film uses paper cutouts that were transferred to a lithograph plate before being painted and animated.
The result – characters, sets and all – is a real treat for the eyes. Check it out.
Mr. Frog Went A-Courting, Evelyn Lambart, provided by the National Film Board of Canada