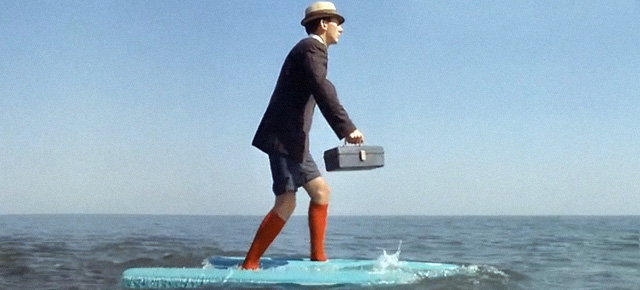 Magic Molecule: A Plastic Love Affair
Life today can be very complicated. The sun equals cancer. Too much fish equals mercury poisoning. Jogging in big cities equals never mind, air pollution will cancel out the run's benefits anyway. Modern existence, in a world where spinach can be an excellent source of both iron and salmonella, and the tamest food of them all – tofu – is rumored to have the ability to mess with your hormones, has become somewhat of a white-knuckle trial and error festival. Can a person just breathe?
It is thus very refreshing to be catapulted back to an earlier, arguably simpler time, when women confidently smoked and drank through pregnancies without ever once thinking twice about it, and synthetic materials seemed nothing if not full of promise.
Cue Magic Molecule, a cheery 1964 short all about plastic and its endless potential and versatility. (Those interested in that other famous "magic molecule" will find more about it here.) Nothing here about how plastic siphons dwindling fossil fuel reserves, leaches harmful chemicals, litters landscapes or destroys marine life. Welcome to the "bright new world of plastic products!"
In 9 colourful, quirky minutes, the film illustrates how these "new molecules that nature never thought of" can be "coated, fabricated, extruded, laminated or foamed" to make anything you can think of. Indeed, the film shows us, plastic can be persuaded to take on any shape we like, from vinyl records to pastel-coloured rotary telephones to slick patio chairs.
Contemporary viewers may have a hard time believing the film is actually that stoked about plastic. First, the distance between what we now know about the noxious material and the film's jolly tone is completely jarring.
Besides, acted sequences showing for example a man in red knee-socks walking on water thanks to odd water ski/buoys (pictured above) or an older gentlemen in a blue synthetic blankie, caught in a heated game of chess with a giant stuffed pink poodle, do nothing to alleviate the notion that maybe, just maybe, directors Christopher Chapman and Hugh O'Connor already had an inkling that this panacea would one day become, in the words of journalist Susan Freinkel, a material we love to hate but can't seem to live without.
Magic Molecule , Hugh O'Connor & Christopher Chapman, provided by the National Film Board of Canada