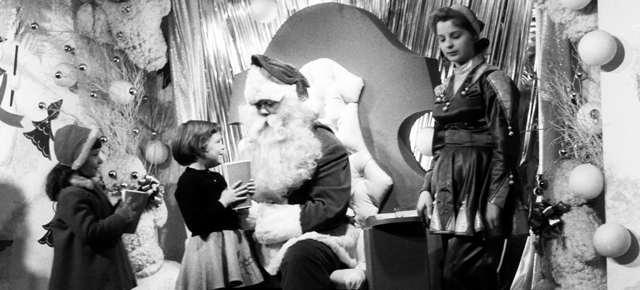 Pre-Christmas Madness, Montreal, 1958
Christmas came exceptionally early for me this year. I was in Haiti at the end of November, and Christmas was in full sway there, already. (Haiti is, amongst other things, fervently Christian.) Businesses, from gas stations to restaurants, were decorated with every manner of artificial fir branches laden with fake snow and shiny ornaments. On the side of roads, people peddled artificial trees, and in the streets, ambulant vendors sold Dora the Explorer paraphernalia and other assorted toys to drivers-by.
The Haitian pre-holiday buzz wasn't only an eye-full. It was also (and perhaps mainly) a treat for the ears. On the radio, every station on the FM dial played Christmas tune after Christmas tune. While some songs were aired in the original (Céline Dion and Mariah Carey, mainly), most were island adaptations of classic carols, like a compas-infused "We Wish you A Merry Christmas," or "Ave Maria" on a groovy rara beat. Very festive.
A bit closer to home, but no less mesmerizing, is the 1958 doc The Days Before Christmas. Directed by 3 NFB heavyweights (Stanley Jackson, Wolf Koenig and Terence Macartney-Filgate), the film, which clocks in just under half an hour, is a sweeping overview of the city of Montreal during the few days leading up to Christmas, in the year 1958.
The film, shot in black and white, is presented without narration. The camera expertly roams and zooms in on various "seasonal" sights and events: overcrowded department stores, choirs, jovial Santas, food shopping, snowy streets, train departures, mail arrivals. (Holy mink coat! People wore a lot more fur back then.) More than any distinct sequence, it is the sum of it all that left me thinking that whenever and wherever, the run-up to Christmas is always pretty much the same: undeniably enchanting, if never particularly relaxing. That's reserved – with any hope – for the days after Christmas.
The Days Before Christmas, Terence Macartney-Filgate, Stanley Jackson & Wolf Koenig, provided by the National Film Board of Canada