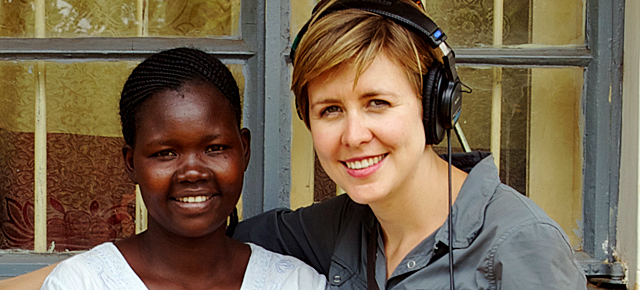 Stronghearted: Inside Uganda's Lord's Resistance Army
* This post was written by filmmaker Jodie Martinson
When Evelyn was a kid, she had big dreams for her future, just like you and me. But she had other dreams, too—nightmares that she would be abducted by the Lord's Resistance Army rebels and stolen away from the future she had promised herself.
In the film's animated sequence, I wanted to show a pivotal moment in Evelyn's life. It happened just weeks after she was kidnapped by the rebels at the age of 12. She was still new to the LRA, trying to understand the rules in their world and clinging to the belief that she could outwit them and escape. But as she crossed a swollen river during a forced march, her hope died. In a statement that I think betrays her naiveté at this young age, Evelyn says she did not consider the armed rebel soldiers watching her, with their strict procedures to prevent young recruits from escaping, to be her biggest obstacle. She believed her biggest obstacle was the size of that river. Even if she managed to break free, how could she cross the river on her own? There was no going back.
And so, as Evelyn nearly drowned, her dream of escape died. She felt herself slipping away. Her dreams for her future died too. Her body would be lost in the water, and no one would ever know what had happened to her. But then, in a twist she could have never imagined, she was saved by the man she most feared in the world: Joseph Kony. The way she saw it, God had intervened. This provoked her to ask this new tough question: God, what are you keeping me alive for? It was a question she would ask over and over again, especially during the most unbearable times of her life inside the LRA.
About 11 and a half years after this first of many near-death experiences, Evelyn finally got her chance to escape. She was captured by Ugandan government soldiers. She returned to her family in a ragged military-green skirt and blouse ripped by bullets that had only narrowly missed her skin, and with 2 daughters fathered by a hated man and the aching memories of another daughter, Winnie, whom she had lost along the way.
But, she also returned with her story. Her story is invaluable. Her story is her only defense against those who want to take revenge on her for what her forced-husband did. Her story is all she has to convince NGOs to support her daughters, so they can go to school and become doctors and lawyers and teachers—the occupations she dreamed of when she was their age. But more than anything, her story says to the world, I, Evelyn Amony, lived through this extraordinary test, and I survived. But why? Could it be she survived to share her unique story in honour of those who did not? Could it be so that we are moved to say "never again"—again? Could it be for some great purpose still in Evelyn's future, something we can't even imagine yet? In Evelyn's words: "Maybe there is something I must do."
As the storyteller who has spent the past four years getting to know Evelyn and her story, and making my own meaning from it, I believe that yes, Evelyn, there are so many things you must do.
Stronghearted , Jodie Martinson, provided by the National Film Board of Canada
For more, listen to To Have & To Hold: Evelyn Amony's Story on CBC's The Current.