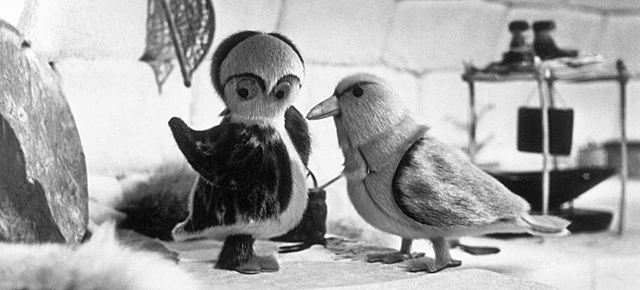 Sealskin Stop Motion: Co Hoedeman's Inuit Legends
According to Wikipedia, prolific Dutch-Canadian animator Co Hoedeman was an unusually plucky young man. At 25, he immigrated to Canada with his then-wife, "on the chance that the National Film Board of Canada might hire him."
(I don't want to depress you, but kids: don't try this at home.)
His aplomb, it turns out, wasn't delusional. Showing up at the NFB with a reel of his previous work under his arm, he landed a production assistant job in a matter of days.
After a stint in Czechoslovakia, in 1970, where he traveled to study puppet animation, Hoedeman returned to Montreal where he produced the ingenious children's film Tchou-Tchou, a stop motion short entirely made from building blocks.
It wasn't much later that the animator started working on a series of films animating Inuit legends, as part of a project sponsored by Indian and Northern affairs.
The first of these was The Owl and the Lemming, a slightly psychedelic short about a vainglorious and hungry owl named Ookpik, who comes across a possible snack (in the form of a lemming) and yet ends up with nothing but an empty stomach and an irate wife.
The Owl and the Lemming: An Eskimo Legend, Co Hoedeman, provided by the National Film Board of Canada
The second, The Owl and the Raven, illustrates the legend that explains how the raven got its jet-black feathers. The story involves our friend Owl, a less-than-heated Inuit bone game he plays with Raven inside an igloo, and a pair of kamiks (sealskin boots) that end up having pretty extreme repercussions.
Owl and the Raven: An Eskimo Legend, Co Hoedeman, provided by the National Film Board of Canada
In both these films, both around 6 minutes long, the delight resides as much in the narratives as in the charming, highly expressive sealskin puppets that give them life.
(Francophone readers who grew up in the late 70s and 80s may be reminded of Biscuit, Cannelle's baby seal toy in Quebec children TV show Passe-Partout.)
A remarkable thing about these films, above and beyond the excellence of Co Hoedeman's animation, is that they were produced with strong participation from Inuit artists in the Frobisher Bay (now Iqaluit) and Povungnituk communities. These Inuit artists wrote the texts and screenplays and contributed their voices to the puppets, lending the resulting films a true Arctic look and feel.
Hoedeman went on to create a great many more animated gems, including the 4 Ludovic films, The Sandcastle (1977 Oscar®-winner for Best Animated Short Film), Marianne's Theatre and The Sniffing Bear, a film about the hazards of huffing gas, which he made in collaboration with a group of Native and Inuit inmates at La Macaza Penitentiary in Northern Quebec.
*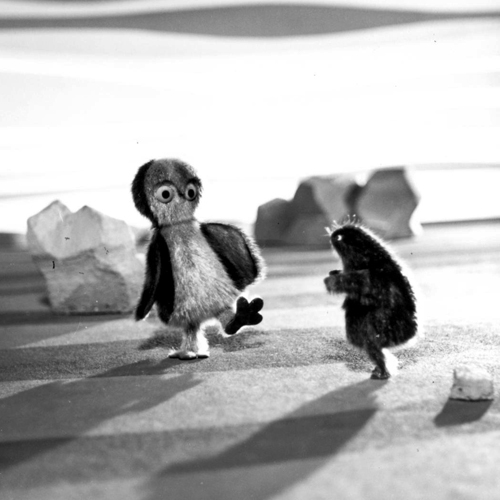 Owl meets Lemming. (The Owl and the Lemming)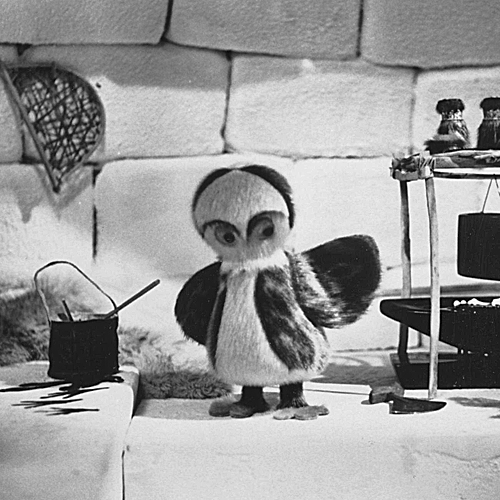 Owl in the igloo, checking out his fine feathers. (The Owl and the Raven)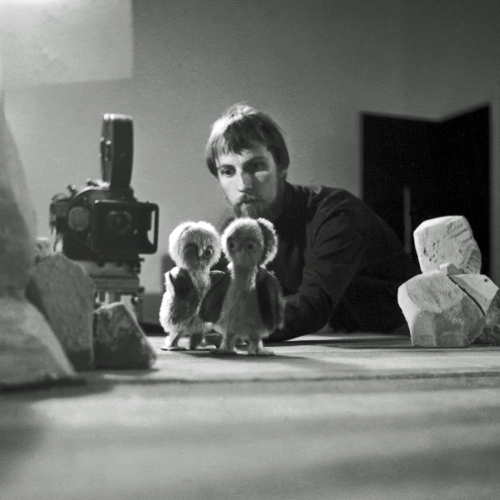 Co Hoedeman, with Ookpik and Mrs. Ookpik on the set of The Owl and the Lemming