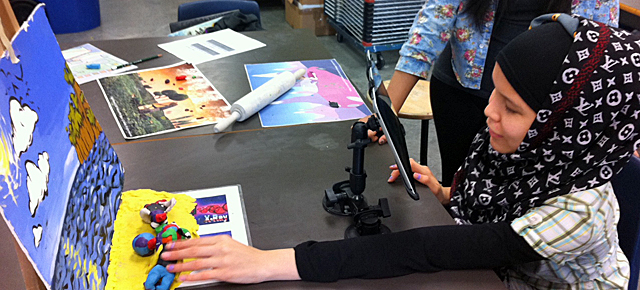 The Power of Social Media to Connect: NFB Education visits Byrne Creek Secondary School
Iha Farquhar, Byrne Creek's Community School Coordinator, tells the tale of NFB Education's February visit to Byrne Creek Secondary School in Burnaby, BC.
There is much discussion about the negative aspects of social media, for a host of reasons. I will not argue against these points, because many of them are valid. However, I have found that there are also very positive reasons to engage with and utilize social media platforms—such as social media's power to connect and build community.
Here's an example: A few months ago, I was reading through my Tweets and saw a message from the NFB, saying something like, "Excited to start our animation workshops in Toronto and Montreal this morning." I quickly responded, "We'd love animation workshops in Vancouver too, please!"
And guess what? The NFB replied, tracked us down and sent a crack team—Ashley and Claudia from the NFB Education Toronto offices—to lead a Stop-Motion Animation Workshop at Byrne Creek on Valentine's Day. How lucky are we?
Luckily one of our fabulous art teachers at Byrne agreed to participate! A few exemplary NFB stop-motion works, such as Andrea Dorfman's Flawed, were shown in her art class. In teams, students then worked with Claudia and Ashley to storyboard their own films and assign production roles among the group members. It wasn't long before the students got down to the best part: inventing and building their clay animation characters and animating their creations. Our students used PixStop, the free iPad 2 app developed by the NFB, and within a very fun hour and a half, they'd created stop-motion animation pieces of their very own. Here they are below, ready to be enjoyed by all.
Our students are more able to flourish, find their creative spark, and discover the excitement of learning with partners like the NFB sharing their resources and expertise with us. Thank you to the NFB, and to social media!
To take part in your own workshop session and other NFB  Education opportunities, join our NFB Education mailing list, and follow us on Twitter to find out when we'll be near your school!