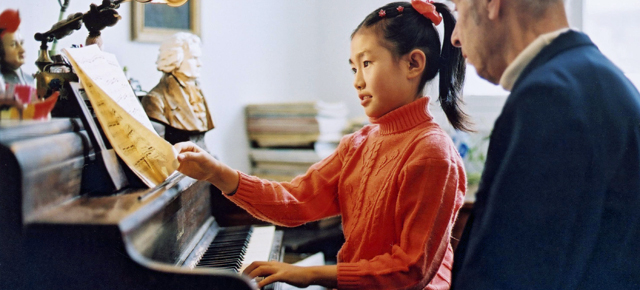 Watch 4 Films About Kids and Music
Everyone knows music is good for kids. Music helps children develop language skills, listening skills and even math skills. Music promotes children's self-esteem, helps stimulate brain connections and relieves stress. Music also encourages creativity in children, and teaches them the virtues of hard work and discipline.
All that goodness considered, it seems impossible that films about kids and music could be bad for you. So here are 4 such short films for you to watch and enjoy.
Mr. Mergler's Gift (2004)
Mr Mergler's Gift by Beverly Shaffer, National Film Board of Canada
This half-hour long documentary by Oscar®-winner Beverly Shaffer tells the wonderfully moving story of a dying piano teacher, Daniel Mergler, and his last pupil, a 9-year-old called Xin Ben Yu. The film opens as Mergler, bedbound in the hospital, reminisces on his chance meeting with Xin Ben and her father, one day in the park. The aging teacher knew he was sick with cancer and had vowed not to take on any more piano students. But as life would have it, the girl is beyond gifted, and he cannot refuse, although his health is already in steady decline. The rich and joyful relationship that is born between teacher and pupil is what the film explores, and although there is great sadness in this narrative (if Mergler tearing up on his deathbed doesn't move you, I am not sure what will), the film is first and foremost a celebration of life and music, and of the surprising, sometimes unforeseen human relationships that enable the passing down of musical knowledge and the blossoming of true talent. A beautiful little film.
An Artist (1994)
An Artist by Michèle Cournoyer, National Film Board of Canada
This short, lyrical film is part of Rights to the Heart, a series of short animation films created to promote children's rights. Based on Article 29 of the UN Convention on the Rights of the Child, this film illustrates children's rights to develop their talents and abilities to their fullest potential. The talent considered here is a young girl's musical inclination, which she showcases in the kitchen and in the middle of chores, to her father's great irritated dismay. But when she takes her pots-and-pans orchestra outside, to a neighbouring tree, both her father and brother realize that perhaps they've judged the girl too fast. (For those familiar with Michèle Cournoyer's work, it must be said this is her softest offering to date – by far.)
Gaston's Recital (1981)
Gaston's Recital by André Melançon, National Film Board of Canada
When I was a kid, I played the violin and my brother played hockey. Gaston, the kid in this short André Melançon fiction film does both. Instead of highlighting what a multi-talented, multi-tasking genius he is, the film focuses on a sticky situation Gaston's great versatility has brought forth. On the very same Sunday afternoon, you see, Gaston has both a hockey game and a violin recital. At the same time! The situation appears completely hopeless, especially given's Gaston's Mom's hard-nosedness. Gaston practiced all year for this recital. No way on earth he is missing it. So how can Gaston possibly rise to both occasions? With a little help from grandpa, and 2 neighbourhood friends, there just might be a way.
The Chinese Violin (2002)
The Chinese Violin, Joe Chang, provided by the National Film Board of Canada
This 8-minute short hails from the NFB's Talespinners series, a collection of cartoons created for children aged 5 to 9 that use vibrant animation to bring popular stories from a wide range of cultural communities to the screen. This one is about a young daughter-and-dad duo who immigrate from China to Vancouver with an erhu, or Chinese violin as only possession. Though the girl dreads the big change, for the dad, moving to Canada is a dream come true. But when the going gets tough (no work, difficulties making friends), the instrument from the motherland – and the haunting sounds it produces – become a living link back to life in China, and ultimately, a beacon of hope. Because as everyone knows, to know where you're going, you need to know where you came from.