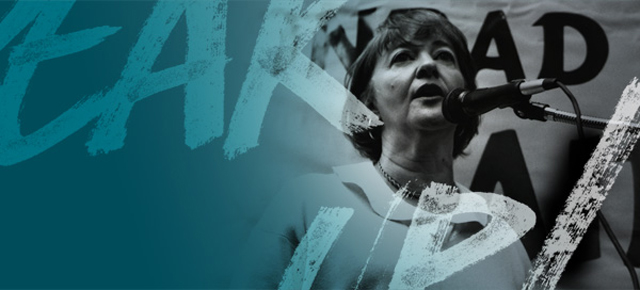 Speak Up! A New Thematic Spotlight to Explore on NFB.ca
The world wouldn't be what it is today if every time someone had had a brilliant idea, they would've bit their tongue instead of speaking up.
This is the idea behind Speak Up! a new thematic spotlight now offered on NFB.ca. Loosely inspired by Megaphone, an ongoing interactive installation that invites Montrealers to literally "light up the city with their idea," Speak Up! is a specially curated selection of online content celebrating public voice.
There, you'll find a recent release to watch for free (Status Quo? The Unfinished Business of Feminism in Canada), a clip from an unreleased Alanis Obomsawin doc premiering at TIFF 2013 (Hi-Ho Mistahey!), an interactive project (Flub and Utter) as well as short clips addressing self-expression in the realms of the arts, politics, protests and community.
Speak Up! marks our first very thematic spotlight. Stay tuned! There will be many more of these monthly specials to come – on top of our regular curated programming, of course.
Status Quo? The Unfinished Business of Feminism in Canada, Karen Cho, provided by the National Film Board of Canada