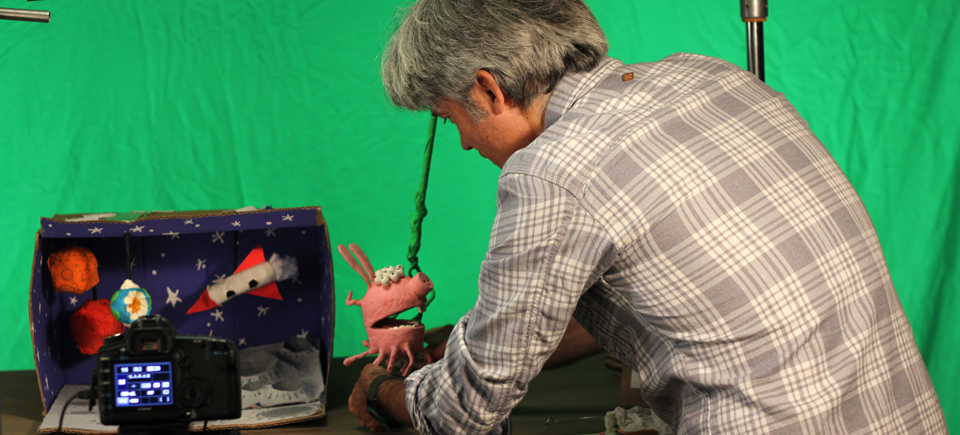 Cordell Barker on working with others
I just got back home to Winnipeg after working in a big dark room for six weeks at the National Film Board of Canada in Montreal. I was there to shoot the stop-motion puppets and props component of my latest film, tentatively titled If I Was god… In it, I recall a specific incident that occurred when I was a 12-year-old in Grade Seven science class and speculate on what it would be like to have the powers of god. The film primarily consists of stop-motion puppet animation but makes use of various other forms of stop-motion, as well as my usual brand of 2D hand-drawn animation. I wanted this film to have a somewhat eclectic sprinkling of different animation techniques throughout. And since the film is also being shot in stereoscopic 3D, I had to go to Montreal to shoot my puppets and props with the special camera rig that makes the 3D stereoscope image possible.
While there, I shared one corner of the building with a whole raft of other animators, all working on their own projects in varied animation disciplines: stop-motion puppets, 2D drawn animation, paint on glass, wet clay under camera, many forms of CGI (computer animation). It was a fascinating array of styles. Not that I got to see the other filmmakers much. Every day, I would enter through the back door of the building, go directly to my darkened studio and get straight to work. It was a bit secluded. And there's something about the stop-motion environment that seems to not welcome visitors. I suppose it's the big, darkened room with the huge black curtain inside it surrounding your work space. Anyone approaching the curtain can see escaping slivers of bright light, illuminating god-knows-what beyond it. I suspect it all gives off a "Do not disturb: fragile artiste at work" vibe. When anyone does dare to draw near, they call out in a demure, tentative way, using an "Are you decent?" tone of voice—presumably allowing me enough time to re-button.
The high-ceilinged room I worked in is the stereo-lab (focusing on projects created in stereoscopic 3D) and was separated in half by the aforementioned curtain. I was on one side of it and on the other was Munro Ferguson, who is finishing up work on his terrific-looking film Minotaur. We would periodically converse in the darkness. This is a big step up from the past 30 years of my working alone in my spare-bedroom studio.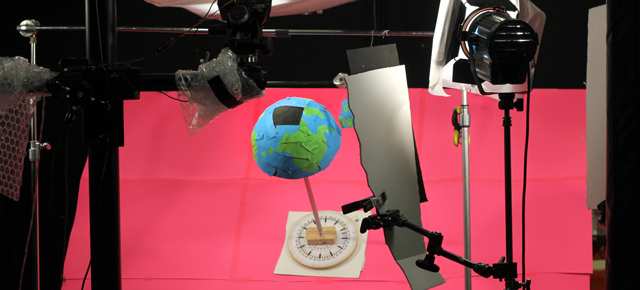 Barker's papier mâché earth spins on the graduated rotation device he built.
Within my six weeks of allotted time in Montreal, I didn't finish what I had set out to achieve on my stop-motion agenda, but I did overcome the seemingly daunting clay-mation hurdle, creating an animated flipper-card device (you'll have to see my film to know what that's all about) and shooting all my papier mâché astronomical items: Earth, Moon, Sun, Saturn, stars, etc.—all spinning on the graduated rotation device I built for that very purpose. I still have paper characters to re-rig at home, and then I go back to Montreal in early February to finish up the last of the stop-motion. I realized that because of my inexperience with stop-motion I had made the paper puppets in such a way that I knew I'd be fighting with them to get what I wanted—I had made the same mistake with the clay-mation puppet. So I decided that I should head home and re-think their scale and rigging.
I am sooooooo looking forward to finishing up all this stop-motion work. I find it a bit stressful. But I know that as soon as it's done (and assuming it all looks good), I'll look back very fondly on my little foray into the painstaking stop-motion world. And on working alongside of others—albeit from behind a discreet, isolating black curtain.
Cordell Barker is a director, screenwriter, and animator best known for his Oscar®-nominated short animations The Cat Came Back (1988) and Strange Invaders (2001). He is currently working on a new project at the NFB.