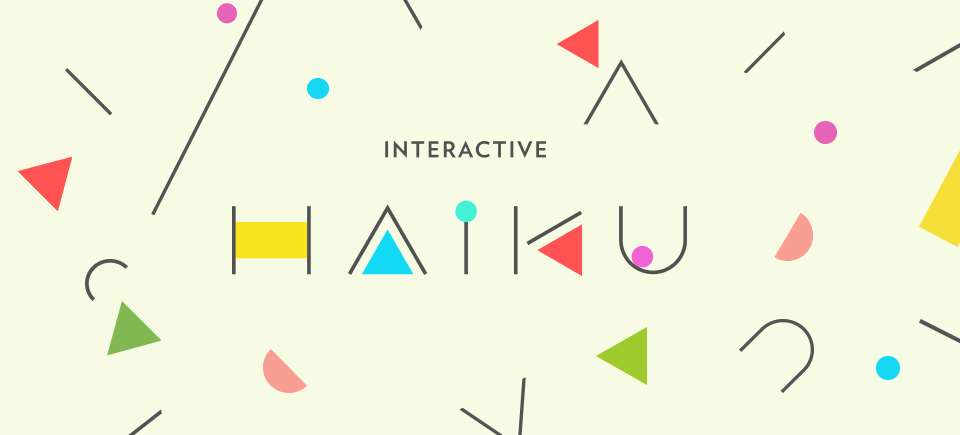 Haiku! Calling all interactive creatives: explore the short form… the very, very short form
Online and digital media can offer such fleeting and fast-paced experiences these days—but short experiences don't have to mean an absence of quality or depth. Just think of poetry and news, short films and comic strips… of haiku!
Short and sweet: a call for proposals
The NFB and Arte are partnering on a call for proposals in a new interactive creative project called Haiku. If you were to bring this short form to life, how would you design an interactive haiku? If you're a creator, designer, or team working in interactive digital media arts, this call for proposals is for you: pitch a surprising, stirring and thought-provoking short interactive project, and 12 projects will be selected, produced, and gradually rolled out online starting in February 2015.
The details
You should read the full call for proposals carefully to make sure you meet all requirements, but here is a breakdown of the most important info:
Registration for the call for projects is compulsory and free, and must be completed before August 5—register

here

.
The call for projects will be open from June 4 until August 19 at noon (Montreal time) and 6:00 pm (Paris time).
Proposals will be evaluated on concept, form, originality, and feasibility.
The twelve (12) prize winners will receive a lump sum of money in the form of a license worth twelve thousand Canadian dollars ($12,000)
Any questions or requests for clarification should be addressed directly and by email only to info@interactivehaiku.com. Questions can be asked in French or English. Proposals must be submitted in French or English.
The goals
We're looking for creative producers who think outside the box. The goals of these short projects are to inspire viewsers* to experience the world in which they live differently. We want projects to be accessible and comprehensible to an international audience on a variety of platforms. We're looking for creative and innovative applications of digital technologies by experienced creators. A compelling narrative, a deep artistic process, the relation between form, content, and authorial intention—these are all seminal to a successful proposal.
Think you've got what it takes? Get started now! Visit nfb.ca/interactivehaiku for all the details and to start your registration process.
The call for proposals has been open for only a few days, and we've already received registrations from such diverse places as Macedonia, Belgium, the Cayman Islands, Argentina, Algeria, and Japan. Good luck to all the competitors—we can't contain our excitement as we're about to see what kinds of exciting and thought-provoking proposals roll in from all over the world!
 —
*Yes, "viewser" is totally a word now: a contraction of the words "viewer" and "user", the term refers to a person who views and interacts with content online and in other new media environments. It's intended to highlight the participatory nature of such interaction.