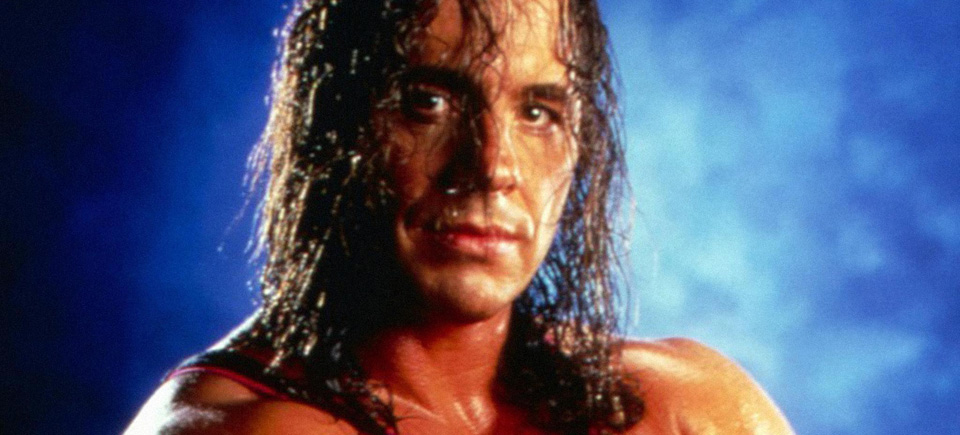 From slapstick to science and beyond: explore 5 cinematic biographies
Bret "the Hitman" Hart and Dr. Frederick Banting walk into a bar… but this is no joke! This week on NFB.ca, we've got some of Canada's (and the world's) most fascinating figures up on screen. 5 biographies, from feature documentary to Oscar®-winning short animation, profile the unique larger-than-life figures that capture our attention and hold a notable place in history—whether for better or for worse.
Let's explore!
Working at the NFB is an endless barrage of surprises, I swear—we've got over 2500 of our 13,000+ films available online for viewing, and even *I* haven't seen all of them. I came across this little gem last week, and was absolutely fascinated form the start.
"Dashan" is the stage name of Ottawa-born performer Mark Rowswell, who is relatively unknown on this side of the pond, but is an absolutely massive star in China. Check out his reflections on his adopted country and the cross-cultural comedic discourse that he's made entirely his own.
Dashan – Ambassador to China's Funny Bone, Guy Nantel, provided by the National Film Board of Canada
That's right: Rowswell is fluent in Mandarin and Cantonese, and he performs on Chinese television and at live events, mostly doing lyrical quips and puns in a back-and-forth dialogue with other domestic performers.
You can probably imagine how rare it is for a foreigner to be fluent in not only the Chinese languages, but also the Chinese culture. Dashan is practically an adopted Chinese national! This riveting portrait of him reveals his love for China (and the country's love for him), his path to stardom, and his reflections on inter-cultural relations of all kinds—including the power of humour to bring people together.
This Oscar®-winning animated short from Chris Landreth profiles the filmmaker's own encounter with Ryan Larkin, a Canadian animator who—decades ago—produced some of the most influential animated films of his time. When Landreth encounters him, Larkin is struggling with addiction and homelessness. Larkin's scattered thoughts and powerful reminiscences are sketched in Landreth's signature style of computer-generated psychological realism.
Ryan , Chris Landreth, provided by the National Film Board of Canada
Larkin passed away in 2007, but Ryan's aesthetic and emotional power—not to mention its critical success—helped reignite attention to Larkin's undeniable talent, one which glimmered brightly before his demons overtook him. His contribution to the art of animation was a game-changer.
It's always strange to see a silent film star actually, you know… speak. In this behind-the-scenes look at the filming of The Railrodder, one of Buster Keaton's last films in his long and storied career, the slapstick star himself relates anecdotes from his life as a silent film star.
Buster Keaton Rides Again, John Spotton, provided by the National Film Board of Canada
Directed by the great John Spotton, Buster Keaton Rides Again is a frank, revealing, and often hilarious portrait of one of the greatest cinematic comedians of all time. (Spotton is behind some of the NFB's best productions—for example, his editing and cinematography on Nobody Waved Good-bye helped pioneer the innovative cinéma direct style).
Where would modern medicine be today without the discovery of insulin by the brilliant Dr. Frederick Banting? Like many other innovators and outside-the-box thinkers, Banting and his assistant Charles Best had a tough time battling against the received wisdom of the day. Check out this short re-enactment of the tumultuous and ambitious year in their lives that would prove to result in one of the greatest discoveries of the 20th century.
The Quest, Stanley Jackson, provided by the National Film Board of Canada
I couldn't help saving the best for last, dear readers. This riveting feature doc takes us inside the dramatic, theatrical, and over-the-top world of professional wrestling. The great Bret "the Hitman" Hart is our tour guide: through wrestling rings, locker rooms, and media scrums and even into the reflective moments of Hart's downtime, we leave with a portrait of a world where the line between the real and unreal is very, very hard to find.
Hitman Hart: Wrestling with Shadows, Paul Jay, provided by the National Film Board of Canada
There you have it, readers: a few compelling and dramatic cinematic biographies to keep you glued to your screen this week on NFB.ca. We hope you enjoy getting to know some of the smartest, strongest, weirdest, and coolest folks around. Hit us up with your feedback in the comments below!