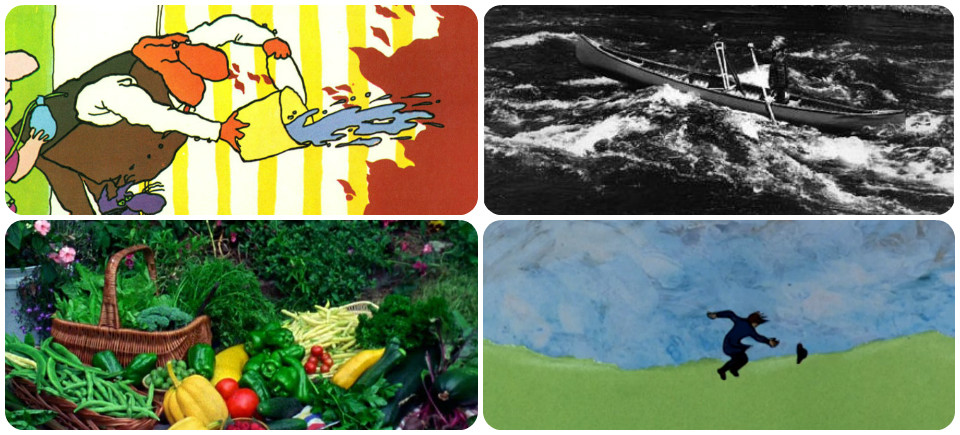 Fire, water, earth, air: explore the 4 elements in 5 films
Sure, the math doesn't quite add up, but we've programmed 5 fantastic films for you on NFB.ca all about the 4 elements: fire, water, earth, and air.
The 4 elements are ancient concepts from classical antiquity that were thought to make up all matter in the world. Nowadays, we know that's not true, but the archetypal elements still hold a powerful place in the imagination. Let's explore each one through the magic of cinema!
OK, I'm starting with my personal favourite element: fire! (No, I'm not quite a pyromaniac… but let's just say I once threw the wooden bench I was sitting on into the campfire in front of me. Oops!)
In Croatian animator Zlatko Grgic's Hot Stuff, we take a tour of the history of the dangers of fire. Produced for the Department of Public Works, this public service video is a colourful and entertaining look at the hazards that lay around every corner when fire is close by.
Check out the hilarious cavemen and women at the 4:54 mark, muttering "carry on and use it wisely!" while holding a torch. Yikes! Watch out!
Hot Stuff, Zlatko Grgic, provided by the National Film Board of Canada
My Urban Garden is one of my fave films in our collection. When I watched it for the first time last year, I promptly went out and bought some seeds and tried to grow plants in my apartment! Unfortunately, only the green beans survived, but that's probably because I'm a very inexperienced gardener who decided to just go for it on a whim. I probably should have done a bit more research. I was so proud of my little green beans that I just had to take a pic of my very first one:
In any case, Halifax gardener Carol Bowlby offers tips and tricks to make urban gardening work. She feeds her family with nutritious and delicious fruits and vegetables year-round, with only a small plot of land in her backyard. Impressive! And tasty. Check it out:
My Urban Garden, Polly Bennell, provided by the National Film Board of Canada
In The Underground Movie, your most absurd childhood dreams come true: a wacky scientist has invented a special drill that will bore all the way to the other side of the earth. Guess what? When you're traveling through the earth's molten core, you'll need to wear oven mitts! Lol.
The Underground Movie by Les Drew, National Film Board of Canada
Want to know more about this entertaining and educational film? Read all about it in this blog post. It was produced as part of an educational initiative on earth sciences, and the film we'll look at next was part of the same series. Read on!
Acclaimed outdoorsman Bill Mason (Waterwalker) usually travels across land and water with his trusty canoe. But can he actually travel through time?! Apparently, through the magic of cinema, he can indeed. In The Rise and Fall of the Great Lakes, Mason canoes through history as the changing geography of the Great Lakes is simulated over thousands of years.
The Rise and Fall of the Great Lakes, Bill Mason, provided by the National Film Board of Canada
Based on a classic Aesop fable, this short animation explores the difference between persuasion and force. The sun and the wind make a bet: which one of them can succeed in getting a man's coat off? Perhaps you already know how this timeless tale ends, but you've never seen it animated in such vibrant colours and with a lovely soundtrack to boot.
The North Wind and the Sun: A Fable by Aesop, Rhoda Leyer & Les Drew, provided by the National Film Board of Canada
That's it for the 4 elements in 5 of our best and brightest films! We hope you enjoyed watching, and maybe you even learned a thing or two.