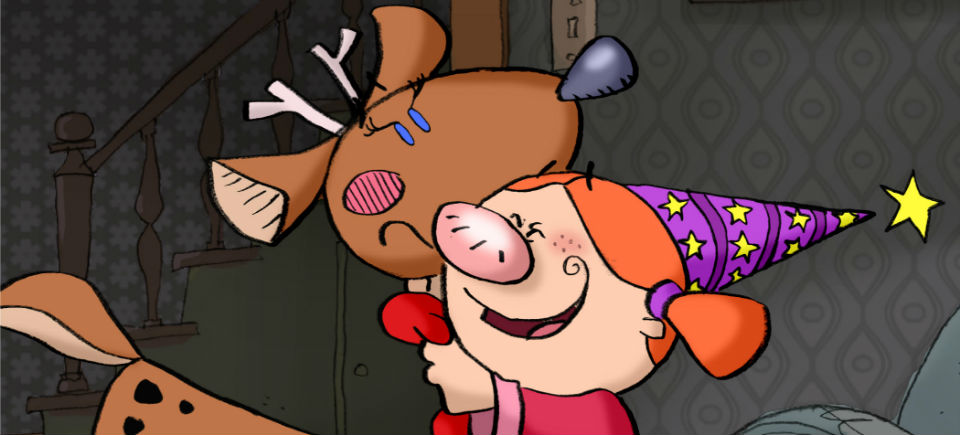 Larks and laughs: watch 5 Christmas films this week on NFB.ca
Well, it's that time of year again: for those celebrating Christmas, it's an overload of food, presents, songs, lights, and chaotic family time. What better way to spend the Christmas season than with 5 of our colourful short films about Christmas? With these 5 animations, the holiday fun won't end anytime soon.
Gather the family around and see which of the films below is your favourite!
OK, this is one of my personal favourites. Have you ever imagined Santa strolling around in the dry and dusty wild west? Well, he ends up getting into a little bit of trouble there with some non-law-abiding jerks who steal presents. Thankfully, a handsome and charming cowboy saves the day! (Or does he?) Watch this lovable idiot play the role of saviour in his white suit, white boots, and white ten-gallon hat.
The Great Toy Robbery, Jeff Hale, provided by the National Film Board of Canada
This short animation contains a powerful lesson about life and love. A grumpy old millionaire wants nothing more than to maintain a stubborn grip on his cash with a tight fist. But as The Beatles so infamously sang: money can't buy you love. Finally, crotchety old moneybags experiences the epiphany of a lifetime: happiness only comes when the heart is allowed to speak. Narrated by Leslie Nielsen, this film is a nutty and colourful heartwarmer.
Noël Noël , Nicola Lemay, provided by the National Film Board of Canada
Want to know more about celebrities like Leslie Nielsen who have either appeared in or voiced NFB films? Check out this blog post and get your fill of celebs!
This hilarious yet instructive short animation is particularly relevant today, even though it was produced decades ago. We're living in an era in which global warming caused by human activities like deforestation and the burning of fossil fuels is creating adverse environmental effects. In this short animation, we meet a wasteful tycoon who must visit his past, present, and future (a la Dickens) in order to finally understand the value of conservation.
The Energy Carol, Les Drew, provided by the National Film Board of Canada
Anyone with the Christmas blues—the unshakeable feeling that it's all a vast sham—will find company in this short animation. Our poor protagonist is laid off from his job right around the Christmas season, and he can't help being cynical about the meaning of it all. Drowning his sorrows in a bar, he meets an equally cynical Santa impersonator, and they comiserate toegther. But wait a minute… what if… what if this really is the real Santa?!
The Bear's Christmas, Hugh Foulds, provided by the National Film Board of Canada
This is the ultimate Christmas animation masterpiece! Created by four globally-acclaimed artists, the Oscar®-nominated short Christmas Cracker is composed of 3 segments that take a playful look at Christmas. There's a quirky rendition of "Jingle Bells" in which paper cut-out figures dance, a dime-store rodeo of tin toys, and a story of decorating the perfect Christmas tree. Since this is a musical film without dialogue, it's the perfect Christmas party back-drop for chatting and entertaining guests. Check it out!
Christmas Cracker, Jeff Hale, Norman McLaren, Grant Munro & Gerald Potterton, provided by the National Film Board of Canada
Share these delightful Christmas films widely with your loved ones over the holidays. And remember: whenever someone around you says, "I'm bored!" on a lazy Christmas day, pull out this blog post and watch a few films!