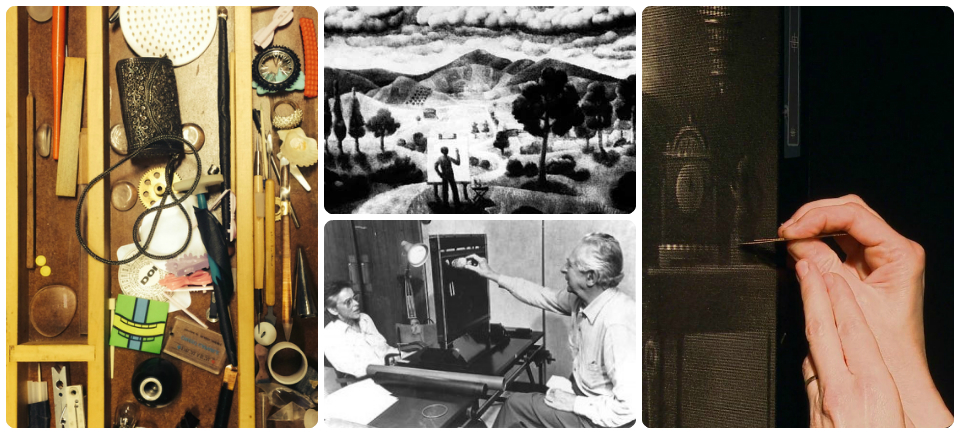 3 keys for understanding and appreciating pinscreen animation
* This post is a translation. Read the original French post here.
Though in use since the 1930s, the Alexeïeff-Parker pinscreen remains an enigmatic figure within the animation world.
An upright board pierced with hundreds of thousands of holes, each with a black retractable pin through it, the pinscreen is used vertically, in complete darkness. It is lit obliquely so that the pins, based on their depth, can project every tone from black to white.
To make a film, the animator pushes in groups of pins using various small instruments, to form an embossed design. Next, he takes a photo, and then modifies his design slightly before taking another photo, and so on. To make a single second of animation, 24 of these photos are required.
Although the method, which requires meticulousness, ambidexterity and detachment, is not for every animator, and its product, which is more dreamlike and hazy than narrative and precise, isn't right for every story, anyone can learn about pinscreen animation and fully appreciate it. Here are 3 keys.
1. Pinscreen animation is engraving in motion
Before inventing the pinscreen with his second wife, American artist Claire Parker, Alexandre Alexeïeff had earned a reputation for his brilliant engravings. Born in Russia, he arrived in Paris in the early 1920s and worked in the rare books and fine editions industry. He illustrated numerous collections of poems and stories, notably including a three-volume work The Brothers Karamazov by Dostoyevsky and The Queen of Spades, a short story by Pushkin. For Alexeïeff, the pinscreen was conceived of as a practical means to articulate engraving, to set it in motion.
By seeking to animate the engraved image, with its blacks, whites and infinite shades in between, Alexeïeff wished to explore the more artistic counterpart of animation. The instrument, as well as the films that stemmed from it, attest to this desire to move away from cartoons, which were at the time very focused on line precision, speed and buffoonery (consider for example the early days of the Walt Disney empire) to create something else: a more serious animated film, a more "fine art" product.
2. Pinscreen animation springs from the French first avant-garde
First avant-garde (sometimes called French Impressionist cinema) refers to films in which the visual language dominates the subject. This first avant-garde, typical of the early 1920s, is marked by striking works, often veritable visual symphonies in which the graphic possibilities of the medium (framing, rhythm, movement, lightness and darkness) are used to the fullest.
This primacy of image is combined with a great focus on the realm of the subconcious. The results are evocative, dramatic and poetic works in which symbols, dreams and desires meld together. The action is more often shaped by the fluctuations of a piece of music than by the unfolding of a given story. Alexeïeff's very first films, for example A Night on Bald Mountain, attest to the influence of this current in the genesis of the medium.