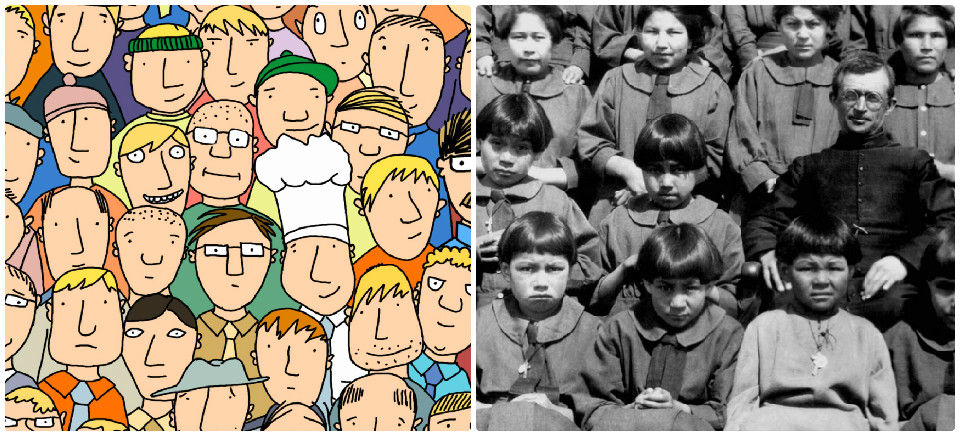 The NFB Film Club returns with stellar programming for spring 2015
This spring, the NFB Film Club is back with a fresh new season of programming. The Film Club works with public libraries to make the NFB's extensive collection accessible to communities and families across Canada. It offers a variety of free films programs for kids and grown-ups alike.
Read on for the Spring 2015 selection.
Captivating shorts, features and recent releases
When the Fort McMoney documentary game went online, it received worldwide acclaim. Now, the sequel to the web experience, Fort McMoney: The Film by David Dufresne, embarks on an immersive journey back to Fort McMurray, Alberta, the world's third largest oil reserve, and offers a reflection on democracy in ruins…
In the documentary Nothing Sacred, filmmaker Garry Beitel paints a revealing portrait of Aislin and Serge Chapleau, irreverent cartoonists at The Gazette and La Presse. The film is a tribute to the awesome talent of these iconoclastic artists whose hilarious caricatures are now a part of our collective imagination.
Trick or Treaty?, by the great Aboriginal filmmaker Alanis Obomsawin, follows the journey of Aboriginal leaders in their quest for justice as they seek to establish dialogue with the Canadian government. By tracing the history of their people since the 1905 signing of the controversial Treaty No. 9 on land rights, they are raising awareness about issues that concern them. Screened to mark National Aboriginal Day.
The Atlantic Islands are the theme of the short film program, which features: Tamara Segura's A Song for Cuba, an experimental documentary that follows a young Cuban couple charting a new course for their lives on an island in the North Atlantic; Sylvie Dauphinais' Something in the Air, about the dangers of pesticides used by PEI potato farmers, which have increased by 700 percent over the last 20 years; and Millefiore Clarkes' Island Green, a poignant story of hope and healthy promise for Canada's smallest province that asks, What if PEI went entirely organic? Watch the trailer below.