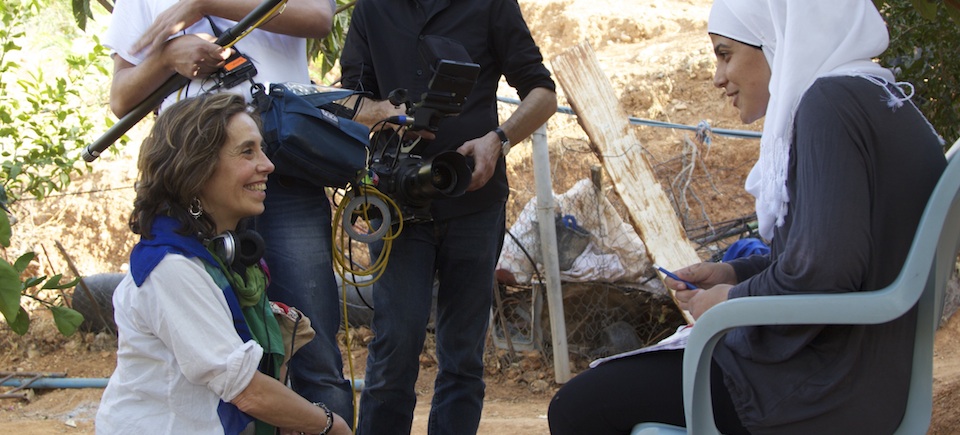 With Grassroots in Drylands, a new feature doc from Quebec-Atlantic Studio, Helene Klodawsky goes to the Middle East — and returns with a welcome message of hope.
The project brings her back to the region where she made her first feature doc in 1988 — Shoot and Cry, about a young Israeli conscript in the occupied territories. This time she's profiling a remarkable network of activists who are quietly building peace from the ground up, applying an innovative approach to social work that was pioneered at McGill University.
Jim Torczyner, a professor at McGill's School of Social Work, established the Middle East Program in Civil Society and Peace Building in 1997 with the aim of training students from Palestine, Israel and Jordan in "right-based community practice" — social work anchored in social justice.
Fast forward a decade or so, and graduates from the program are back in their respective countries, advancing universal human rights and civil society as they go about their day-to-day work with disadvantaged constituencies.
"Change is complicated: and politics is just one part of it," says Klodawsky "These are people working at the micro level. They're in it for the long haul, laying the foundations for peace one community at a time, one family at a time."
Working with DOP Alex Margineanu, Klodawsky shot in three main locations —Nablus, under Israeli occupation since 1967; Sderot, the frequent target of missile attacks from Gaza; and Amman, a city dealing with a massive influx of refugees.
"People can be bruised by history and still rise to generosity," says Klodawsky, herself the daughter of Holocaust survivors. "They can suffer terrible violence, even participate in it, and still manage to get beyond it. Revenge is a dead end."
In a career spanning 30 years, Klodawsky has made both documentary and fiction. Among titles she's made with the NFB are Motherland, No More Tears Sister, and Family Motel.
Grassroots was edited by Hannele Halm, and is co-produced by InformAction Films (Nathalie Barton, producer) and Quebec-Atlantic Studio (Kat Baulu and Ravida Din, producers). Watch for a summer release.
Pictured above: Helene Klodawsky, left, on location in Nablus. Photo by Najwa Mubarki.
Pictured below: Rimaa Muhamed, Amman, Jordan. Photo by Serene Husni.