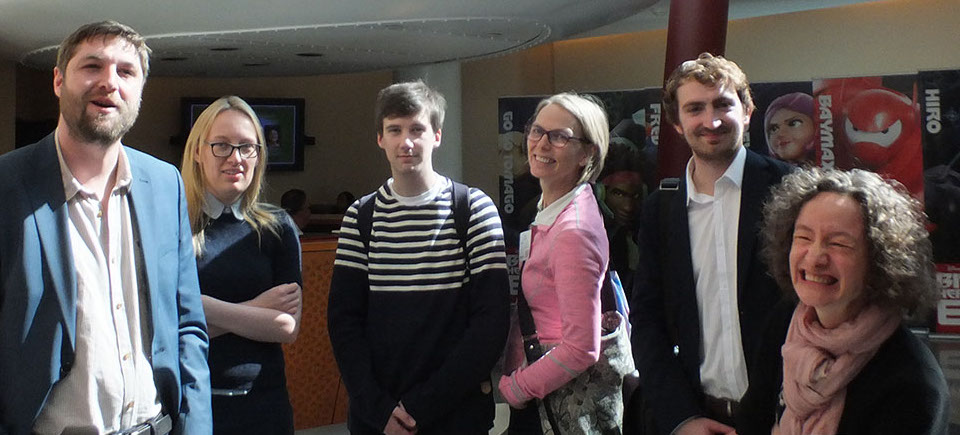 A Screening, A Tour, A Reflection
(This post is by Marcy Page, producer of Academy Award®-nominated, Me And My Moulton, who also took almost all the photos here)
**********
Tuesday evening, the Academy® put on a grand event honouring the short film nominees where we mingled with many Academy branch members. An impeccable projection of the short films followed where an extremely appreciative audience that filled the vast Samuel Goldwyn Theatre applauded and cheered the nominees.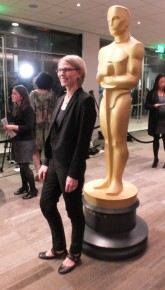 In his introductory remarks to the program, Jon Bloom (Short Films and Feature Animation Governor) underlined the commercial and outreach success of this year's Shorts International short film distribution. Shorts International hosted a small after-party where we met some of the fiction film directors and actresses.
Our next tour stop was the Disney Animation Research Library (ARL), where we were collectively awed by original artwork from Snow White, Pinocchio, Steam Boat Willie, Dumbo and Cinderella. One of the archivists carefully peeled tissues off of original pastel inspirational drawings for Fantasia and placed them in special frames for metadata collection, digitizing and storage. Their temperature-controlled vaults were filled with a vastness of boxes and folios of drawings and backgrounds from the features, and we saw the camera room where images were captured in resolutions suitable for covering the side of a building! Sequences of digitized animation are made available to animators working on Disney/Pixar productions for study and reference in an ever-growing research database. We watched a hilarious sequence of Goofy riding a horse in slow motion.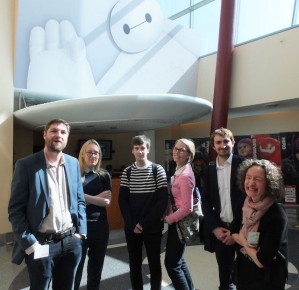 So many landmark creations, innovations, and so much cultural history have been glimpsed in each of our memorable tours in Northern and Southern California.
Many of the large campuses we visited were spacious, beautifully designed and abounded with employee perks. Free meals are an incentive to eat in closer proximity and get back to one's desk quicker, but finally seems better for both the employees and the corporate bottom line. Bicycles help get around the larger grounds at Google, and gyms and exercise courses offset animation's sedentary tendencies. Pixar even has a swimming pool. ILM provides daycare, allowing parents to have lunch with their children.
Steve Jobs' philosophy was that having a common space through which people had to pass or congregate, and that provided food, coffee and rest rooms, encouraged a free exchange of ideas and creativity—accidental meetings and inventive collisions of concepts. This philosophy permeates the Pixar plant and with the corporate Disney/Pixar marriage, is having its impact on the LA Disney facility, undergoing renovation to allow for more communal animation spaces.
The next few days have us visiting Columbia/Sony, Paramount and 20th Century Fox, and spotlighting Torill at a celebration of Canadian star power in LA hosted by Telefilm, the Canadian Academy and the Canadian Consulate General. Some intimate, convivial animation-friendly parties will round out the weekend before Sunday's gala. And there will be little rest.