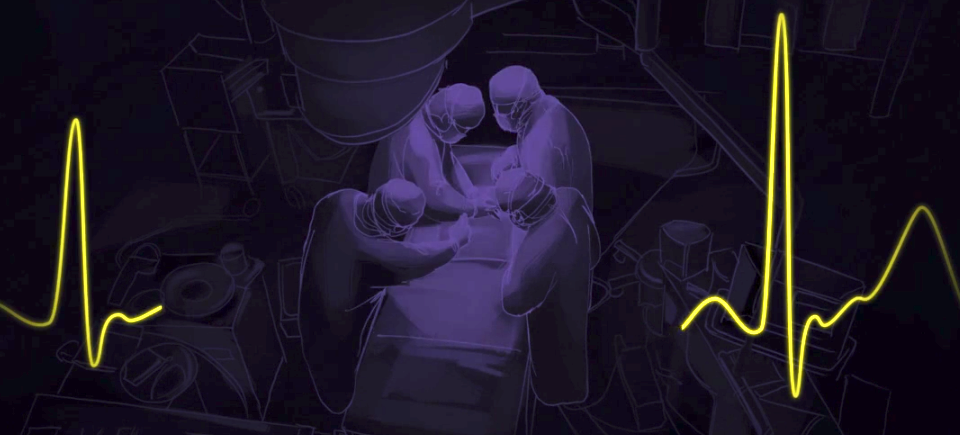 My Heart Attack: The Beat Goes On
It was a case of the World Wide Web unearthing treasure on the doorstep.
It was late, after midnight, and Sheldon Cohen was online conducting an increasingly urgent search. Everything was in place to start the sound mix on his new animated short My Heart Attack, but he was still looking for a theme song.
Suddenly, thanks be to Google, there it was — Heartbeats Accelerating, a song by Montreal's own Anna McGarrigle, first recorded by the McGarrigle Sisters back in 1990.
The wry and tender tale of a "nice Jewish boy with Buddhist inclinations" and his brush with mortality had found its theme song — a wry and tender tune from hometown musical royalty.
"I knew instantly," says Cohen. "I immediately sent out one of those crazy late night emails to the team. This is it!"
On February 23 Anna's children, Lily and Sylvan Lanken (aka The Mittenstrings, pictured below) came into the NFB to leave their own mark on their mother's song, recording a beautiful new arrangement by Judith Gruber-Stitzer, who's also composing original music and creating the sound design for the film.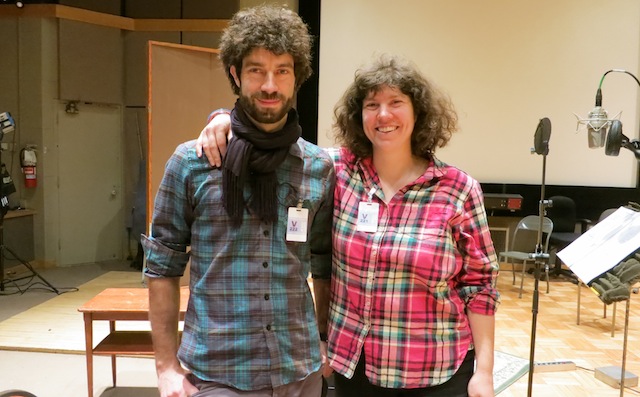 "When creating sound for animation, you build the entire soundscape from scratch — music, Foley, narration, everything," says producer Jelena Popovic. "At certain points in the story, Judith foregrounds Sheldon's own breath, mixing it with percussive vocals by the experimental musician Anant Jesse to evoke an intimate interior feeling." Pictured below: Jesse and Gruber-Stitzer in studio.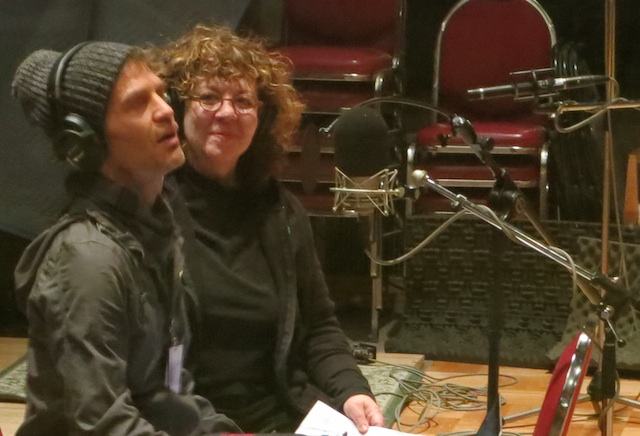 Cohen's autobiographical script, written in the first person, is voiced by the man himself. "Sheldon's not just a good storyteller, he's got great acting skills," says Popovic. "He shifts gears beautifully, from humour and drama to a more philosophical tone, voicing all the dialogue, always finding the right emotional colour."
The film brings Cohen back to animation after a prolonged absence. "I thought I'd said everything I wanted to say with animation – and then I had my heart attack," he says. "Initially I thought I'd write about it in a short story, or maybe in my memoirs. It was only later that I thought, well, maybe it's a film!"
"Our good fortune!" says Popovic. "Sheldon's roots are in old school filmmaking. He brings maturity to the project, experience and steadiness that serve all aspects of the film. What was it that Confucius said? We have two lives, and the second begins when we realize we only have one."
With My Heart Attack, Cohen begins his second animation life, and fans have cause to rejoice. His previous work with the Animation Studio includes The Sweater, based on the much-loved short story by Roch Carrier, one of the most popular films in the NFB catalogue.
Post-production continues on My Heart Attack into the spring, with a release planned for fall 2015. The film is written, directed and narrated by Sheldon Cohen. Art direction is by David Barlow-Krelina, and sound design by Olivier Calvert and Judith Gruber-Stitzer. Jelena Popovic and Marcy Page are producing for the NFB Animation Studio.