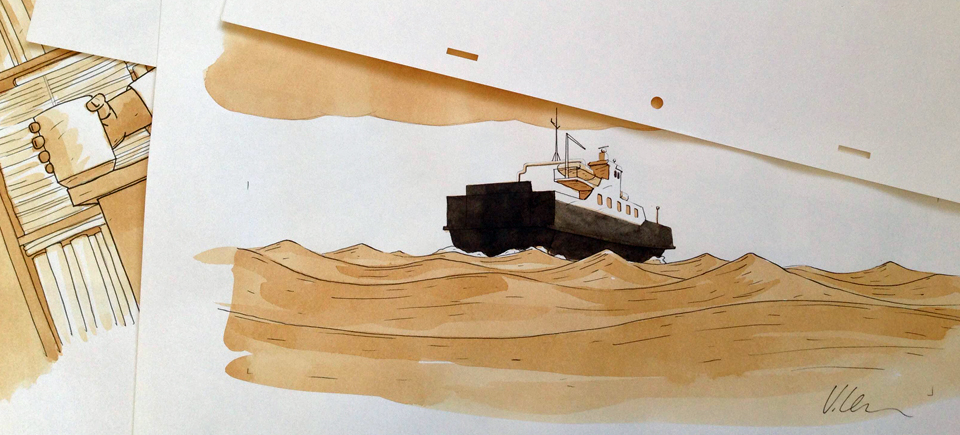 New on NFB.ca | Watch Vladimir Leschiov's Rainy Days
A well-known face at international animation festivals, Vladimir Leschiov is a celebrated animator from the Republic of Latvia. He recently completed Rainy Days (2014), a sepia-toned short on the theme of personal memory, which is now available for free viewing on NFB.ca.
Rainy Days, Vladimir Leschiov, provided by the National Film Board of Canada
Leschiov, who is known for artfully matching a film's technique to its storyline or mood, drew Rainy Days with black tea on paper.
"I like the golden warmth of the tea's colour," he said explaining this original choice, "and the monochromatic image was well suited to the subject matter of travel."
Because there is travel, in Rainy Days, that much is certain.
In the film, an elderly Japanese man boards a ferry bound for an unknown island. As he looks over the water, the falling rain triggers a string of memories, including fragments from a childhood, in Fukuoka, and a brief encounter, several years later, aboard a smoke-filled seaside train cabin.
As for storyline or message, Rainy Days is a typical Leschiov films: the structure isn't linear, and imagined or remembered scenes merge with present-time action.
"I think it's natural that one remembers life's brightest moments," Leschiov muses, "though I don't think these memories have to be clear and logical."
The result is an atmospheric and visually invigorating short film, to be sipped quietly and pondered upon, much like a piping cup of black tea.