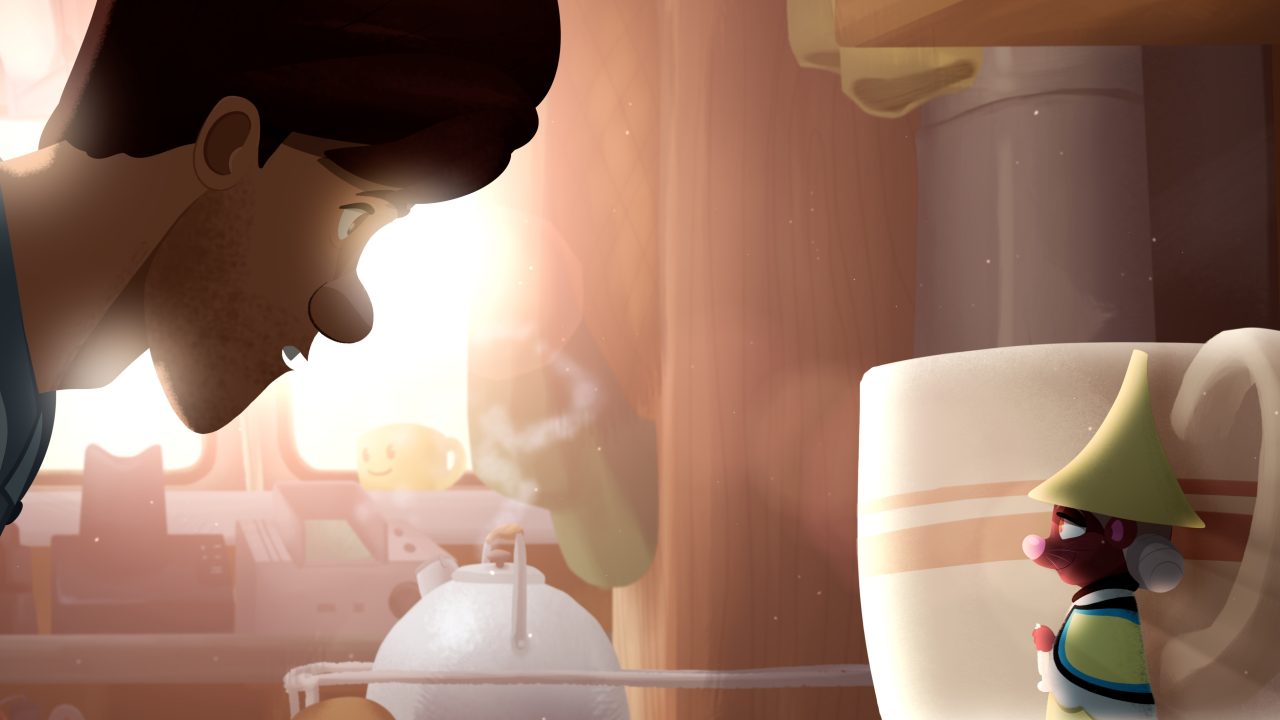 Take a Break. Watch Some Films. Chat Together.
It's July… finally. If the last few months at your house have been anything like mine, the warm sun must feel like a very welcome reminder that this incredibly strange school year is officially over.
Over the weeks, my kids and I have been riding rollercoasters of mixed emotions. We've felt the lows of missing vital face-to-face time with those we love, while enjoying the freedom of not having to wake up quite as early as we'd been used to. Sitting back and looking at how things have changed, it's kind of strange to realize that somehow, physically attending school and work seemed to make the moments we spent together as a family more intentional. It felt as if we were able to more clearly draw the line between what could and could not be accomplished in a day (sound familiar to anyone else?!).
In many ways I'm writing this blog post for myself, as a parent. It's a bit of a plea to remind my partner and myself to put down the phone, close the work laptop and enjoy some time together. My hope in sharing these great NFB films is that they will bring your household together for a few minutes to have some fun, get inspired, or have some meaningful conversations.
Each of the films discussed in this blog post is targeted to a specific age group, under 25 minutes in length, and accompanied by a few after-viewing questions. The intention of the questions is simply to provide conversation starters as you take a break, watch some films, and chat together. Enjoy!
Just for Fun
As a fun entry point into the NFB collection, gather your family and take a break from reality by journeying into the strange and often fantastical worlds of the first three films below.
The Girl Who Hated Books (Ages 6+)
The Girl Who Hated Books, Jo Meuris, provided by the National Film Board of Canada
Join Meena as she's reluctantly swept up into a whirlwind of stories and tries to escape the chaos that seems to be erupting all around her.
After viewing:
What is it about reading that people (like Meena's parents) love so much?
What do you like or dislike about reading?
Is there a type of book that you would like to read with other members of your family?
If I Was God… (Ages 11+)
If I Was God…, Cordell Barker, provided by the National Film Board of Canada
If I Was God takes us through some hilarious moments in Grade 7, proving that the adolescent brain is as unpredictable as science itself. A film suitable for Grade 6 and up, full of spitballs and frog guts.
After viewing:
How did Cordell feel about playing the part of God?
What funny things have happened to you while at school?
How has school changed since the adults in your household attended it?
Sleeping Betty (Ages 13+)
Sleeping Betty, Claude Cloutier, provided by the National Film Board of Canada
This fantastical mash-up of medieval and contemporary imagery leads us through the wild mind of director Claude Cloutier. Older kids will spot the playful nuances of this film and appreciate its bizarre humour.
After viewing:
Which characters were most memorable?
How does this film use over-exaggeration to create humour?
How did the lack of dialogue impact your enjoyment of the film?
Inspiring Imagery
Creativity comes in many different styles and presents itself in so many different ways. My family and I found the beautiful imagery and varied storytelling in the films below to be nothing short of inspirational.
An Artist (Ages 6+)
An Artist, Michèle Cournoyer, provided by the National Film Board of Canada
Sometimes we just can't contain the art we find within ourselves. I've seen this in the creative messes at our house! An Artist depicts how creativity can be an explosive process that will make its way to the surface.
After viewing:
What do you think the girl loved about music?
How did her dad change in the film?
What types of art do you love to make?
The Mountain of SGaana (Ages 11+)
The Mountain of SGaana, Christopher Auchter, provided by the National Film Board of Canada
Join Haida filmmaker Christopher Auchter as he spins this fable using stunning animation infused with elements of Haida art. The images in this one were my kids' favourite.
After viewing:
What was your favourite scene in the film?
Was there anything that surprised you or that was unexpected?
What were some of the artistic details that caught your attention?
My Little Underground (Ages 13+)
My Little Underground, Élise Simard, provided by the National Film Board of Canada
Inspiration can be found in the dark moments of our lives. Watch My Little Underground and discover beauty in the simple yet haunting details of human existence.
After viewing:
What did you enjoy about the style of this film?
Was there a moment that really captured your attention?
Did the film help you see something differently than you did before?
Sparking Meaningful Conversation
These days we're all a little more aware that life can suddenly throw some challenging circumstances our way. In our family, we've all had moments of unsettledness that can be hard to understand or navigate. The next four films provided a springboard for some meaningful conversations in our house. I'm not suggesting that the content in these films is light, and I actually felt some fear at the thought of not having the right words for my family after our screenings. It was helpful to realize that my kids don't always need my perspective, but rather just a different perspective. These films showed us that another's story could be quite helpful in understanding the world we find ourselves in.
Before diving into the films below, I think it's important to understand that though the after-viewing questions provided for each of these titles were valuable to me and my family, you will want to use them as you see fit, within your own unique circumstances and context. I hope that they are helpful but recognize that many of them might not be.
Jaime Lo, Small and Shy (Ages 6+)
Jaime Lo, Small and Shy, Lillian Chan, provided by the National Film Board of Canada
Jaime misses her dad, who has had to leave her and go to Hong Kong to work. This is Jaime's story of dealing with sadness and hope, and finding a way through disappointment.
After viewing:
What are some things that you would miss if you didn't have them?
What things help you feel better when you are sad or angry?
How can we show others we are thinking of them even when they are far away?
Ice Breakers (Ages 10+)
Ice Breakers, Sandamini Rankaduwa, provided by the National Film Board of Canada
Follow Josh Crooks and his family as they navigate the white-dominated world of ice hockey. See how a lost identity can be a source of strength when facing difficulty.
After viewing:
When have you felt different from everyone else?
Did you feel anger while watching this film?
How could this story change the way you see the world around you?
Beauty (Ages 14+)
Beauty, Christina Willings, provided by the National Film Board of Canada
Listen to the stories of five kids as they struggle through the gender-binary world surrounding them. Recognize that their stories are part of the larger human story that we all are writing together.
After viewing:
What were some of the feelings you had as you watched the film?
Was there something one of the kids said in the film that stood out to you?
How could these stories change/challenge your thinking?
Flawed (Ages 13+)
Flawed, Andrea Dorfman, provided by the National Film Board of Canada
The whimsical water colours in Flawed tell a story about dealing with aspects of ourselves that we wish we could change. This film led to a great conversation about acceptance with my three almost-teenagers.
After viewing:
Were there times when you felt uncomfortable watching the film?
Have you ever felt like you wanted to change something about yourself?
What might be helpful to remember when thinking about our physical appearances
With so many incredible NFB films available online, I always find it hard to choose which ones to watch with my family. Even in writing this post, it was really difficult to decide which titles to include. I do hope that curating these films for you helped you in your own efforts to find interesting content and maybe even led to some equally interesting conversations. But if it didn't (my feelings aren't hurt!), head on over to the films section at NFB.ca, where there are so many more titles you and your youngsters can watch together.
Jon Lewis has been in education for over 16 years. He lives in Barrie, Ontario, with his wife Marlisha and three kids. He spent many years of his career teaching visual arts, media and language arts in the Grade 8 classroom. Jon's love of art, technology, and design has led to many unique opportunities in his career, including co-founding a community art space in Barrie and, recently, joining the NFB Educator Network. As a curriculum coordinator, Jon develops and pursues opportunities for the integration of technology and design into teaching pedagogy.
Pour lire cet article en français, cliquez ici.
Discover more Educational blog posts | Watch educational films on NFB Education | Subscribe to the NFB Education Newsletter | Follow NFB Education on Facebook | Follow NFB Education on Twitter | Follow NFB Education on Pinterest