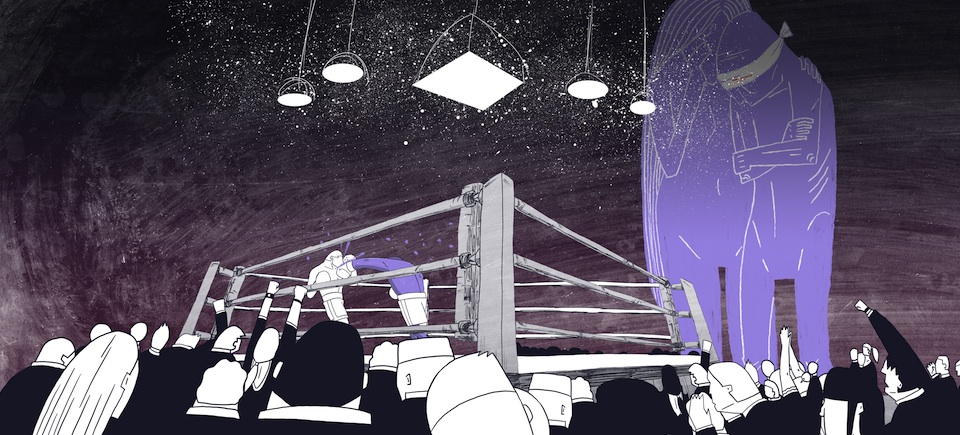 Hercules Enters the Ring: New NFB Animation
An anime-inflected retelling of the Hercules story and brand new work from the Dutch-Canadian master Paul Driessen are among projects currently in the works at the Montreal-based Animation Studio.
Noir meets Anime in Tale of Youthful Rage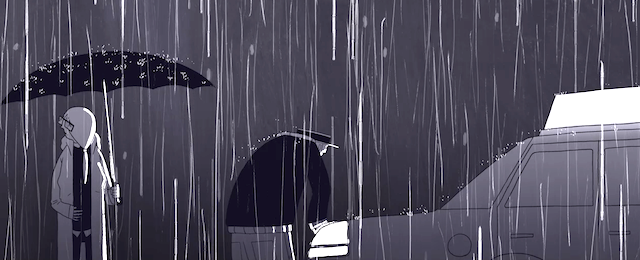 The tale of a conflicted young boxer unfolds against a dark urban backdrop in BAM, the latest work from Howie Shia, one of the early graduates of Hothouse, the NFB's apprenticeship program for emerging young animators.
"Howie is a highly accomplished artist," says producer Maral Mohammadian. "Working within the disciplined structure of short-form animation, he brings operatic flair to his own sophisticated take on the Hercules myth."
Due for completion this summer, BAM is one of the first batch of NFB films to be created entirely in 4K UltraHD, from start to finish. The format offers animators an expanded canvas, showcasing Shia's distinctive drawings and brushwork – images that conjure up a moody nocturnal universe of subway stations and boxing rings.
"I consider myself lucky to have some of the most exciting animators of my generation on my team — people like Malcolm Sutherland, Jonathan Ng and Lillian Chan," says Shia. Sutherland, who also cut his teeth in Hothouse, went on to make The Forming Game, and Ng and Chan both made films for the NFB Tale spinners Series — Asthma Tech and Jaime Lo, Small and Shy. 
Shia gets help and inspiration from family. His musical brothers — hip-hop artist Leo Shia (aka LEO37) and composer Tim Shia — are co-creating the film's soundtrack. Reflecting on the complexities of masculine identity, he draws from the experience of his Taiwanese grandfather, who was a top ranking police official as well as an acclaimed calligrapher and poet.
"There's a lot of ambition and subtlety in this film," says Mohammadian. "Howie's exploring the false dichotomy of values in modern culture — a dichotomy which makes it difficult for someone like his grandfather, a poet cop, to exist in contemporary society."
Howie's previous work for the NFB includes Flutter, the first non-Asian film to win the coveted Tokyo Anime Award, and Peggy Baker: Four Phrases, a short film honouring the dancer on the occasion of her Governor General's Award. He is the co-founder of PPF House, a music/design/animation studio whose clients include Nike, Disney and UN-Habitat.
BAM is produced by Maral Mohammadian and Michael Fukushima, and is due for release in fall of 2015.
Beastly Behaviour from Paul Driessen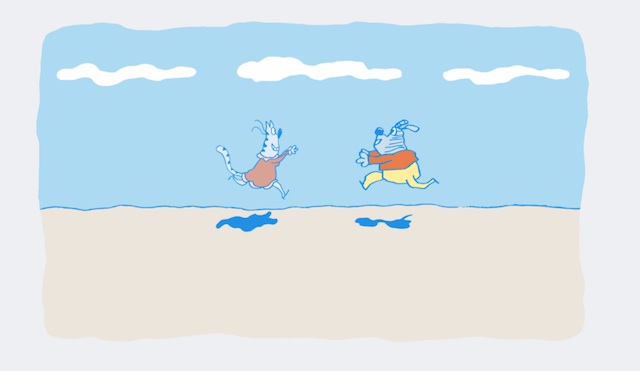 Animators have been anthropomorphising our furred and feathered friends ever since Mickey Mouse put on a pair of short pants.
But few filmmakers take such wicked pleasure in dressing – and undressing – his animal characters as Paul Driessen in his new animated short.
Cat Meets Dog, the latest visual riddle from the seasoned Dutch-Canadian animator, premiered at the Holland Animation Film Festival as part of a Driessen retrospective, and is due for Canadian release this fall.
Driessen's wry and ingenious drawings, executed on paper and planned out on traditional dope sheets, have been imported into animation software and then playfully shuffled to juxtapose catastrophe with comedy – all showcasing the dazzling splitscreen aesthetic that's become his trademark.
"Paul loves to innovate with the very idea of narrative, to present viewers with puzzles," says frequent collaborator Randall Finnerty, the senior computer graphics animator in the Montreal studio. "He possesses complete mastery of his craft and a unique style – and that gives him licence to have fun with multiple intersecting storylines."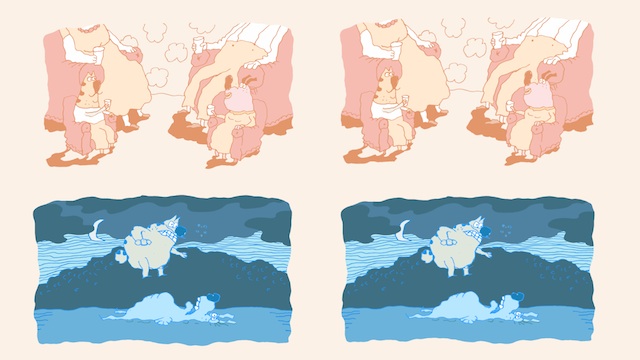 One of the animators on George Dunning's 1968 landmark feature Yellow Submarine, Driessen has made over 20 films in a long and remarkable career. His work at the NFB includes classic animation like The Boy Who Saw the Iceberg and The End of the World in Four Seasons.
Cat Meets Dog was produced by the NFB (Marcy Page and Maral Mohammadian, producers), in co-production with Il Luster Films (Holland) and the Belgian company S.O.I.L. (Sight of an Ignored Landscape).