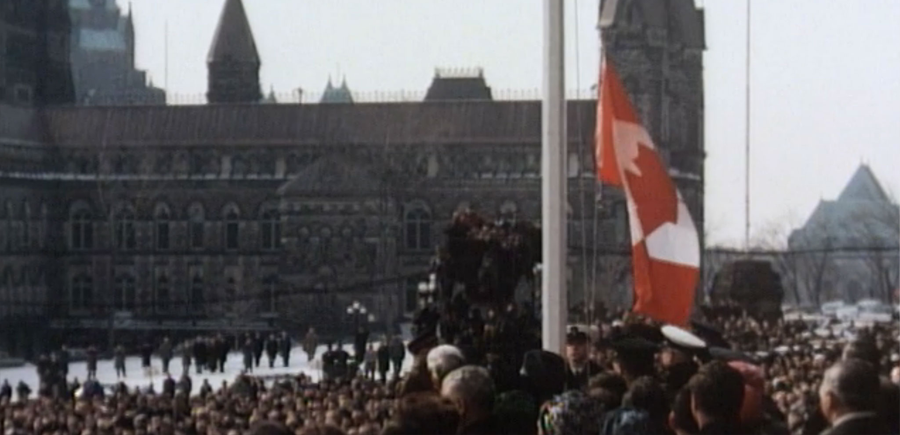 Canadian History in 10 NFB Films
In fifteen hundred and thirty-four, Jacques Cartier landed on the Canadian shore. Despite not being as catchy as its Columbus-inspired counterpart, that little rhyme did the trick while I was cramming for my Canadian History final.
At 148 years, Canada has an incredibly rich and fascinating history. And, of course, you can learn about the highlights of Canadian history in the NFB archives. In honour of Canada Day, let's take a little journey back in time and learn about the history of this nation, as presented 10 NFB films.
WARNING: While historically accurate, I do not suggest that any procrastinating students use this as a reference for a research paper. Though, if you do, let me know what grade you get.
Let's start off at the very beginning (unfortunately not an NFB original).
This iconic Heritage Moment, while a little silly, actually summarizes historical events quite aptly.  In 1534, Jacques Cartier erroneously sailed into the St. Lawrence River (believing it was a route to Asia) and unwittingly became the first European to set foot on what we now call Canada. While there, Cartier was guided by the sons of Chief Donnacona to their canada (the Iroquoian word for village) thus leading Cartier and his men to believe the land was called Canada.
The Fur Trade
The Other Side of the Ledger: An Indian View of the Hudson's Bay Company, Martin Defalco & Willie Dunn, provided by the National Film Board of Canada
Ever wondered why the beaver is the official animal of Canada?
For close to 250 years, the fur trade was the biggest economic staple in Canada. In the early 17th century, beaver-lined hats were the hottest fashion accessory in Europe, prompting thousands and thousands of unemployed French citizens to immigrate to the colonies and become fur trappers. You can pretty much thank the beaver for the religious, economic and geographical settlement of Canada, as the rival fur trappers went on to expand within the territory and establish economic ties to the Indigenous peoples of the land. When England decided to get in on the fur trade, they formed Canada's oldest incorporated joint-stock merchandising company, a little mom and pop shop called the Hudson's Bay Company.
The Seven Years' War
Wolfe and Montcalm , Allan Wargon, provided by the National Film Board of Canada
In a true show of battling superpowers, France and Great Britain instigated the first-ever globally-fought war (Europe, French occupied North America and British-occupied India) in 1756. Two of the most historic figures of the Seven Years' War, British Commander-in-Chief James Wolfe and French commander Louis-Joseph de Montcalm, clashed in a pivotal moment during the Seven Years' War at the Battle of the Plains of Abraham, before dying within a day of each other. A few years later, France and Great Britain signed The Treaty of Paris ending the war with Canada being effectively declared an official British colony.
Confederation
John A. Macdonald: The Impossible Idea, Gordon Burwash, provided by the National Film Board of Canada
At last, on July 1, 1867, the Dominion of Canada was born, uniting the provinces of Ontario, Quebec, New Brunswick and Nova Scotia, with the Right Honourable Sir John A Macdonald acting as our first Prime Minister. Macdonald, a Father of Confederation, would serve in office as PM for 19 years, during which time the creation of the Canadian Pacific Railway, Canada's first transcontinental railway, would take place.
Indigenous Peoples
We Were Children, Tim Wolochatiuk, provided by the National Film Board of Canada
Indigenous peoples have been instrumental in shaping Canada into the land we know and love today. Whether it was assisting in our country's profitable fur trapping business, or helping Canada burn down the White House, we literally would not be half the nation we are today without their contribution, guidance, and strength. Indigenous peoples have faces many challenges over the years.  Way back in 1885, Canadian politician and Métis political leader Louis Riel was hanged for high treason due to his part in the North-West Rebellion: an unsuccessful military uprising by the Métis people who believed that the Canadian government failed to protect their rights, land, and culture.
A century later, at the behest of the Canadian Government, Indigenous children were forcibly removed from their homes and placed in residential schools where their culture and heritage were stripped away and replaced by a strict Christian curriculum. In 2008, Prime Minister Stephen Harper issued a formal apology on behalf of the government for the abuse suffered by aboriginals in the residential school system.
World War I
Front Lines, Claude Guilmain, provided by the National Film Board of Canada
On June 28, 1914, Franz Ferdinand (not the band) was assassinated in Bosnia by a Serbian radical, prompting the Central Powers (Germany and Austro-Hungary) to declare war on the Entente powers (Great Britain, France, Serbia, Russia, and Italy). As a British colony, Canada was officially engaged in The Great War; a war so bloody that Canada would lose 65,000 troops in only four years. During the war, a Canadian medic named John McCrae wrote In Flanders Fields, the war poem that would become an international ode to war remembrance.
Women's Rights
Status Quo? The Unfinished Business of Feminism in Canada, Karen Cho, provided by the National Film Board of Canada
When Mrs. Banks sang "Sister Suffragette", she was singing about equal rights for women—especially the voting rights they were denied. In 1918, women won the right to vote in federal elections but still could not run for senate since (fun fact) the Supreme Court ruled women that weren't considered people. Thankfully, history was kinder to women, especially in the case of abortion rights, when in 1988, the Supreme Court (now recognizing women as people!) gave females the right to choose their own reproductive rights.
World War II
Canada Remembers Part One: Turning the Tide , Terence Macartney-Filgate, provided by the National Film Board of Canada
If you've stepped foot in a movie theatre at any point in the last 20 years, chances are you've stumbled upon a film set during World War II. In 1939, Adolph Hitler invaded Poland, setting off a chain of events that would plunge the world into another war just 21 years after the devastating economical and political effects of World War I. On June 6, 1944, allied forces would storm the beaches of Normandy in what became the most crucial victory of the Second World War, with Canadian soldiers credited for taking Juno Beach. Not even a year later, on May 7, 1945, the Axis powers would surrender, signalling the end of the war.
Expo 67
Impressions of Expo 67, William Brind, provided by the National Film Board of Canada
It's a celebration!
In 1967, Canada celebrated her centennial by hosting a World Fair in Montreal. The fair featured 90 pavilions that celebrated the 62 nations who participated in the Man and His World theme, and hundreds of thousands of people partook in the six-month-long festivities in record numbers (approximately 50 million attendees!).
During Expo 67, Roman Kroitor, Colin Low, and Hugh O'Connor projected their film In the Labyrinth in 35mm and 70mm film simultaneously—a film technique that was unheard of for the time.
Today, we call this technique IMAX.
The October Crisis
Action: The October Crisis of 1970, Robin Spry, provided by the National Film Board of Canada
Sometimes, life does imitate an episode of 24. In October 1970, the Front de Liberation du Quebec (FLQ), a paramilitary separatist group, kidnapped British Trade Commissioner James Cross and murdered Quebec Labour Minister Pierre Laporte. Prime Minister Pierre Elliot Trudeau, was forced to invoke the War Measures Act—a law very much like the U.S Patriot Act that temporarily suspended civil liberties and habeas corpus rights for all Canadian citizens.
To give you an idea how monumental this was, the War Measures Act was only invoked two other times in all of Canadian history: during World War I and World War II.
The Constitution
1867 and After, Donald Peters, provided by the National Film Board of Canada
As every teenage boy bitten by a radioactive spider knows: with great power comes great responsibility. In Canada's case, the great responsibility became the Constitution. On April 17, 1982, 219 years after being declared a British colony, Queen Elizabeth signed the Canadian Constitution into law, freeing Canada from British political rule and officially declaring Canada an independent country.
The Canadian Constitution contains the Canadian Charter of Rights and Freedoms: that laws that outline the civil liberties of every Canadian citizen, like the freedom of religion and the freedom of expression, which allows us to (very proudly) do a little something like this:
William Shatner Sings O Canada , Jacob Medjuck, provided by the National Film Board of Canada
Happy Canada Day, Everyone!