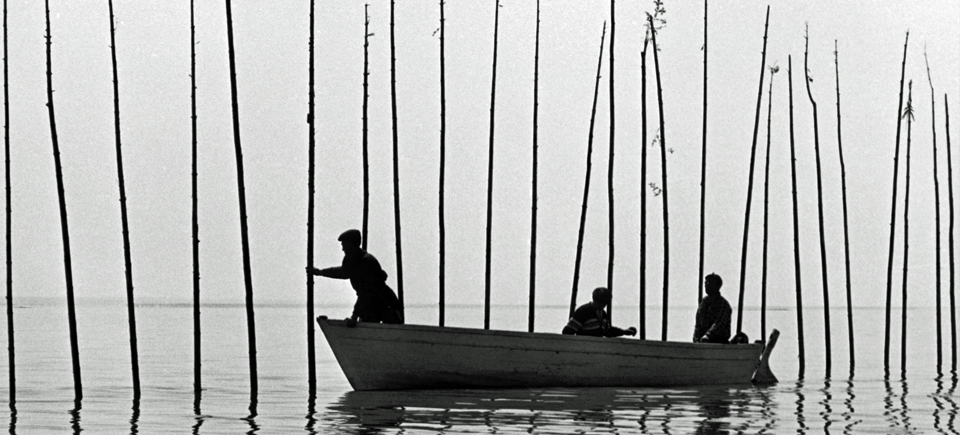 Innovation, Eh? | Watch 3 Films on Canadian Inventions
Canada is an amazing country.
Yes, we're all feeling patriotic due to last week's Canada Day festivities, and the fact that it's summer and the weather is finally beautiful, but that's not why I'm saying this.
Canada is a country filled with really intelligent and resourceful people, and as a result, we are responsible for a large number of inventions and innovations that make our lives easier, better and much more interesting.
We're responsible for things like Trivial Pursuit and the egg carton. We also invented food items like poutine, Nanaimo Bars and butter tarts (I have it on great authority that butter tarts are taken very seriously in Ontario). And we can also take credit for the snowmobile, the Canadarm and the electric wheelchair.
Here at the NFB, we have several films in our collection about innovation in Canada. In this post, I'll share three – one that depicts an important discovery, and two others that are important discoveries.
Ready to take your patriotic pride up a notch?
The Quest
In 1921, an Ontario surgeon had the crazy notion that if he could isolate the pancreas, resulting in concentrated secretions, and then extract that secretion, he would have a cure for diabetes. I say crazy because many researchers and scientists before him had the same idea, and failed every time.
But Dr. Frederick Banting was insistent, and managed to convince the University of Toronto to provide him with a research lab, 10 dogs and an associate. The catch was that he would have to dedicate an entire two months to the experiment, meaning he would have to leave his practice and go with no pay in order to prove his theory.
Banting was joined by Charles Best, a chemist who agreed to work under gruelling conditions for free solely because he had lost a dear aunt to diabetes. It goes to show that personal loss can be a strong motivator.
The craziest part of the whole thing was that the powers that be at U of T didn't even believe in the experiment. They had a completely different agenda – they were hoping to prove for once and for all that this experiment was nonsense and put an end to the entire theory.
Instead, Banting and Best discovered insulin.
The Quest, Stanley Jackson, provided by the National Film Board of Canada
Pour la suite du monde (English Version)
The 1950s saw the birth of a new form of documentary filmmaking – direct cinema. This is an art form that was was being developed in several countries at once, out of a need and desire to capture the moment while it was happening. So while it's true that Canada isn't solely responsible for this new art form, we did play a major role in its development.
Many agree that the movement got its start in the mid-50s, with the release of Karl Reisz and Tony Richardson's film, "Momma Don't Allow," which focuses on an evening at the Wood Green Jazz Club in north London. The film was presented under the banner of "Free Cinema."
Canada, along with other countries, were also experimenting with the form at this time. Filmmakers like Tom Daly, Wolf Koenig, Roman Kroiter, Terence McCartney Filgate and Michel Brault were all heavily involved.
The movement really resonated with Quebecois filmmakers, as the late 50s saw the birth of the Quiet Revolution, a time of social and political change. The province was moving from the hands of the Roman Catholic Church to a secularized society while at the same time the francophone population was in the early stages of pushing for political independence. It was only a decade later that the Parti Quebecois was formed.
Brault, who joined the NFB in 1956, worked with English filmmakers on a series called The Candid Eye, which exposed him to this whole new method of making documentaries. In 1958, he directed Les Raquetteurs, a 14-minute short film about an annual gathering of snowshoers in Sherbrooke that was the precursor of direct cinema in Canada. The art form was quickly adopted by his peers.
In 1963, Brault, along with Pierre Perrault, directed Pour la suite du monde, which is widely considered a masterpiece of direct cinema.
Pour la suite du monde (English Version), Pierre Perrault & Michel Brault, provided by the National Film Board of Canada
In the Labyrinth
This film is widely hailed as the film that led to the founding of IMAX, but that's only a partial truth.
Graeme Ferguson, a Canadian living in the United States was approached by the Expo Committee to produce a large screen film for Expo '67. After calling upon Robert Kerr to produce, he directed a film called Polar Life, which was screened at the Man the Explorer pavilion.
The NFB was also heavily involved in Expo '67. In the Labyrinth, directed by Roman Kroiter, Colin Low and Hugh O'Connor, was an experimental, multi-screen experience which was produced specifically for the Labyrinth Pavilion, a five-storey structure that cost $4.5 million to build.
Both projects were highly ambitious, but very well-received. But they left Ferguson, Kerr and Kroiter scratching their heads and wondering if there was an easier way to recreate the same type of large screen experience.
Shortly after Expo '67, Kroiter left the Board and joined up with Ferguson, Kerr and later Bill Shaw to found Multi-Screen Corporation. Over the next three years they worked tirelessly to find that "better way." By 1970, they found it, and their film Tiger Child became the first-ever IMAX film, screening in Osaka, Japan at Expo '70. A true Canadian innovation.
Today, there are 934 IMAX theatres in 62 different countries. Watch the film that started it all.
In the Labyrinth, Roman Kroitor, Colin Low & Hugh O'Connor, provided by the National Film Board of Canada