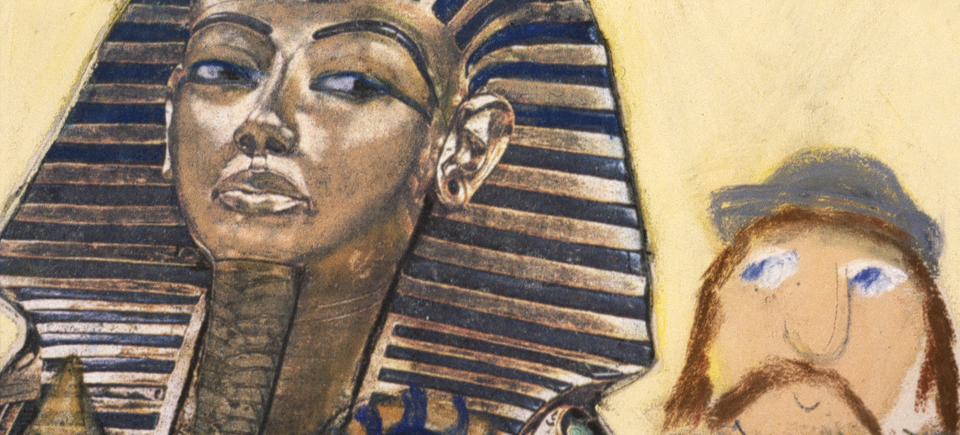 Watch 6 Unconventional Films About Art
Browsing through our online collection, you'll find a lot of films about art. Exploring that collection, you might ask yourself, "What makes something art?"
Art, and artists, come in many different forms. For a change, I thought it would be fun to feature some of our more "out of the box" films that deal with this very prestigious subject matter, but in a very accessible way.
So with that in mind, I present you with 6 unconventional films about art.
Animando
Animando, Marcos Magalhães, provided by the National Film Board of Canada
Here at the NFB we consider animation to be one of the highest art forms. There are so many different styles of animation, and this great little short by Brazilian artist Marcos Magalhães addresses many of them.
The film was produced as part of an apprenticeship program in the late 1980s and features Magalhães seated at a drawing table and experimenting with form, colour and movement in a variety of animation techniques, including drawing, painting on glass, sand, found object animation and more.
The crazy thing is, he makes it look so simple.
Waterwalker
Waterwalker, Bill Mason, provided by the National Film Board of Canada
This film, by filmmaker and artist Bill Mason, is a favourite among many at the NFB and with good reason.
Waterwalker is the last film that Mason made after a 20-year career with the Board. His intention was to make an "ode to the majesty of nature" and there is absolutely no doubt that he succeeded.
Amongst Mason's many passions was painting. For him, it was the perfect way to capture and share the beauty he found in the wilderness. So this film sees Mason set off in his canoe, armed with his paints, brushes and canvases, and follows him as he navigates Lake Superior, painting the scenes that speak to him.
For me, the charm of this film lies in its intimacy. Yes, the scenery is spectacular but it's impossible not to love Mason himself. Serving as the film's narrator, he forms an immediate connection with the audience as he takes them along on this journey. As he says, "There's just you and me, paddling the most spectacular lake in the world."
Added bonus? A killer soundtrack by Bruce Cockburn.
This Is Your Museum Speaking
This Is Your Museum Speaking, Lynn Smith, provided by the National Film Board of Canada
It's a starry night when our protagonist begins his shift as overnight watchman at the local museum.
Initially, our animated hero finds the museum to be the equivalent of a morgue, filled with old, dusty, lifeless artefacts. But it's not long before his own personal muse appears, and acts as his guide through the museum's collections, showing him the wonders of Rembrandt, Van Gogh and da Vinci. The paintings literally begin speaking to him, and pointing out their importance and significance.
Continuing through the musuem, our hero visits a turn-of-the-century homestead, ancient Egyptian times and Native lands, all the while gaining an appreciation for the connection that our past has to the present.
This film is like a crash course in art history. And thanks to the humorous animation, it's great for both adults and kids.
And there's no Ben Stiller. I promise.
Varley
Varley, Allan Wargon, provided by the National Film Board of Canada
At first glance, you might think this is one of those films about art that does fall under the category of conventional biopic, but you would be sorely mistaken.
This 15-minute short was filmed, edited and scored like a feature film. Possibly even a thriller. The narration, the music, the visuals – they all work together to give the impression that we're on the road to uncovering a huge mystery. And we are – that mystery being Frederick Varley.
One of the members of the prestigious Group of Seven, Varley was different from the others. At one time a Canadian war artist, he was very affected by the war. He felt that nature had been "caught and torn from her original intention" and went on to paint damaged wilderness scenes throughout his career. He struggled constantly between the beauty of nature and what he saw as the futility of life.
So what we're left with is not a retrospective of Varley's work, but, as filmmaker Allan Wargon describes it, "a psychological study of the artist as seen through his work."
Eldon Rathburn: They Shoot… He Scores
Eldon Rathburn: They Shoot… He Scores, Louis Hone, provided by the National Film Board of Canada
Okay. So this one is kind of a conventional film about art, but I chose it because it's an art form that's often overlooked – composing music for films.
Some people are born with a passion so overwhelming it nearly consumes them. Eldon Rathburn is one of those people. Near the beginning of this film, he recounts how when he used to go to the movies a child, his mother would ask him how the show was, and he'd reply, "I don't know. I was too busy listening to the music."
In 1947, Rathburn left his job for what he figured would be "a couple of days" so that he could compose the soundtrack for a movie at the National Film Board of Canada.
He stayed for more than 40 years.
During that time, he scored over 300 films and documentaries, including classics like The Back-Breaking Leaf, Universe, Railrodder and Drylanders. And his love for his work is apparent though them all.
The Devil You Know: Inside the Mind of Todd McFarlane
The Devil You Know: Inside the Mind of Todd McFarlane, Kenton Vaughan, provided by the National Film Board of Canada
Earlier, I spoke about animation as art. Here at the NFB, we produce auteur animation, which essentially means that someone has an idea, and then works tirelessly, often for years, to bring their idea to the screen. But there are different forms of animation which require a much bigger infrastructure, such as the comic book industry.
Todd McFarlane is the creator of Spawn, an anti-hero who first made his appearance  in comic books in 1992. Spawn has gone on to star in a feature film, an HBO animated series, has appeared in crossovers with other comic book heroes and has even has his own line of action figures.
This film offers a fantastic profile of McFarlane, both the artist and the businessman. He's outspoken, controversial, driven and one of the most intriguing players in popular entertainment.
And – something you'd never guess from his infamous anti-hero – he lives a happy, suburban life married to his childhood sweetheart.