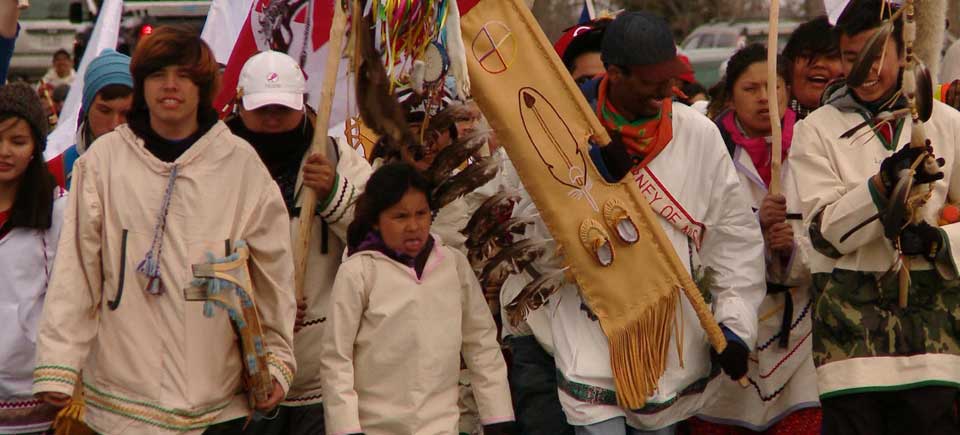 Indigenous Youth – Changing the Way We Think!
Alanis Obomsawin's documentaries Trick or Treaty? and Hi-Ho Mistahey! explore the effects of the James Bay Treaty, the validity of oral versus written history, and the availability of quality education for First Nations people. The films look at how the Treaty was negotiated and how Indigenous youth are challenging the government to fulfill its obligations.
Here's an overview of these documentaries with reference to four key concepts.
Hi-Ho Mistahey!
In this feature-length documentary, Alanis Obomsawin tells the story of Shannen's Dream, a national campaign to provide equitable access to education in safe and suitable schools for First Nations children. Strong participation in this initiative eventually brings Shannen's Dream all the way to the United Nations in Geneva.
Hi-Ho Mistahey!, Alanis Obomsawin, provided by the National Film Board of Canada
Trick or Treaty?
Enlightening as it is entertaining, Trick or Treaty? succinctly and powerfully portrays one community's attempts to enforce their treaty rights and protect their lands, while also revealing the complexities of contemporary treaty agreements.
Trick or Treaty?, Alanis Obomsawin, provided by the National Film Board of Canada
Power
Trick or Treaty? and Hi-Ho Mistahey! provide examples of how powerful the voice and actions of Indigenous youth can be, and how they can lead to change. The term "powerful" resonates with a desire to change and to make one's life more meaningful.
Hi-Ho Mistahey! illustrates the case study of Shannen's Dream to demonstrate how Indigenous youth can bring about change, in their own communities and in Canada as a whole. Power is empowering!
History
The documentaries highlight the historical knowledge of the Treaty process that Indigenous youth acquired in order to understand the promises that were made by the government to their ancestors. The films show that history was interpreted in two different ways by two different cultural groups, Indigenous vs. non-Indigenous, revealing the power and value of oral history to Canadians of all cultural backgrounds.
Influence
The films illustrate that one person or group can indeed be influential.
The Indigenous youth in the films compelled local, provincial and federal governments to fulfill long-ignored Treaty obligations and brought these issues to all Canadians, which transformed the issues into a Canadian concern, not just an Indigenous one.
The films are also timely as an educational tool to support the Truth and Reconciliation Commission process and recommendations. All Canadians, Indigenous and non-Indigenous, need to be willing to acknowledge and discuss what has happened and what is happening in Indigenous communities.
Pride
The films are sure to instill a sense of pride in Indigenous youth, who will see that it's possible to make a positive change in their own wellbeing and that of their people. The recognition of the rich history of the Indigenous people by today's Indigenous youth will also lead to a sense of pride in who they are and where they come from, which will inform the ongoing and empowering process of making life in Canada better for all.
Discover more great films by Alanis Obomsawin here.
Click here to find out if you have a CAMPUS subscription.
This post was written in 2015 by Brad Baker and Stephanie Maki. Brad Baker was the District Principal in North Vancouver School District, overseeing the Aboriginal Programs for all students, and now holds the position of Associate Superintendent of Indigenous Education at the Ministry of Education BC.  Stephanie Maki is a First Nations Support Teacher at Carson Graham Secondary School in North Vancouver and Vice Principle for North Vancouver School District #44.
Discover more Educational blog posts | Watch educational films on NFB Education | Subscribe to the NFB Education Newsletter| Follow NFB Education on Facebook | Follow NFB Education on Twitter | Follow NFB Education on Pinterest