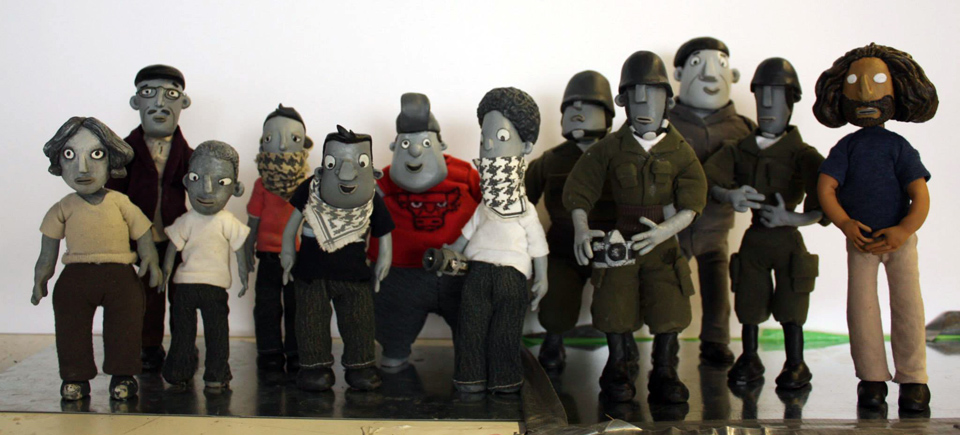 NFB Film Club: Check Out the Winter 2016 Programming
Another exciting season of cinema awaits you this winter at the NFB Film Club, with a brand-new selection of diverse shorts and features just waiting to be discovered. The winter lineup offers five programs for general audiences, plus a program of children's films—perfect opportunities to learn, be moved… and even amazed. Happy viewing!
The Sex Trade
The Sex Trade (Trailer), Eve Lamont, provided by the National Film Board of Canada
The Sex Trade, an investigative doc by Ève Lamont, takes a behind-the-scenes look at a brutal industry that often operates legally. The trade is sprawling, and has even spread its tentacles beyond major urban areas—but who is benefiting from this phenomenon? Preceded by Rock the Box, a short film by Katherine Monk.
The Wanted 18
The Wanted 18 (Trailer), Amer Shomali & Paul Cowan, provided by the National Film Board of Canada
Amer Shomali and Paul Cowan's The Wanted 18 recounts one of the strangest chapters in the Israeli-Palestinian conflict. During the 1987 Intifada, Palestinians in the town of Beit Sahour embarked on a bizarre adventure involving 18 cows. The animals became a thorn in the side of Israeli authorities, who were determined to find the illegal bovines. Preceded by All the Rage, an animated short by Alexandra Lemay.
Seth's Dominion
Seth's Dominion (Trailer), Luc Chamberland, provided by the National Film Board of Canada
Seth's Dominion by Luc Chamberland sheds light on Canadian cartoonist Seth, mixing insightful biography with vivid animation in an artful fusion of filmmaking techniques. In this deft portrait of one of our most unique artists, Seth proves to be a wry and engaging narrator of his own life story and artistic process. Preceded by two other animated shorts by Chamberland, The Death of Kao-Kuk and The Great Machine, both narrated by Seth.
Nowhere Land 
Nowhere Land (Trailer), Rosie Bonnie Ammaaq, provided by the National Film Board of Canada
The winter lineup also includes a program of four short documentaries: Nowhere Land by Bonnie Ammaaq, who as a child moved from nowhere—the government-manufactured community of Igloolik—to somewhere: the vast interior of Baffin Island; Eva Colmers and Heidi Janz's We Regret to Inform You, an unsentimental and unapologetic look at what it means to be both "disabled" and "productive"; Mike Maryniuk's Home Cooked Music, a one-of-a-kind portrait of a man who cobbles together whimsical instruments; and Letters from Pyongyang by Jason Lee, who tells his father's emotional story of a family torn apart by the Korean War.
Plus, a selection of short films focuses on recipients of the Governor General's Performing Arts Award, the country's foremost distinction for excellence, which recognizes remarkable artists for their outstanding contribution to Canada's cultural life. You'll see Rush, Mary Walsh, Deepa Mehta, William Shatner, Margie Gillis, the Tragically Hip, Eugene Levy, Buffy Sainte-Marie, Bryan Adams and Paul Gross in a new light.
Lastly, kids will be captivated by our fantastic program of three animated shorts by renowned filmmakers: Snow Cat by Sheldon Cohen, Paradise by Ishu Patel and Marianne's Theatre by Co Hoedeman.
For more details on NFB Film Club programming, and to watch clips from the films, click HERE.
The NFB Film Club is a turnkey initiative created specifically for public libraries. It grants free access to new and thought-provoking documentaries as well as award-winning and entertaining animation for the whole family.
For more information on the NFB Film Club, contact:
Marianne Di Domenico | 514-283-8953 | m.didomenico@nfb.ca