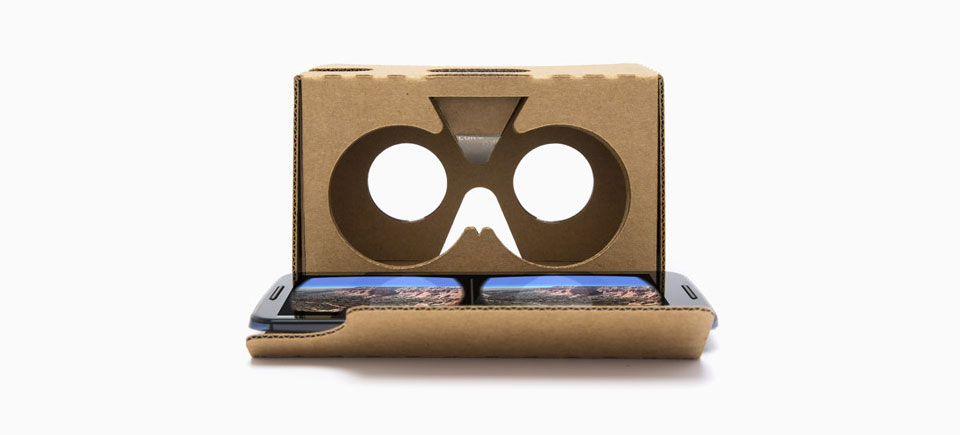 Sometimes, technology takes such a massive leap forward that it starts looking like magic. Sometimes, the revolutionary element is obvious — think "iPhone launch" — but other times, the revolution is much more discreet.
May 2014: Without much ado, Google launches their Google Cardboard module. The idea is quite simple: these days, almost everyone has a high-definition portable flat screen in their pockets. Sure, it's attached to a phone, but that's not important. Why not use this screen as basis for a VR headset, instead of creating custom-made, expensive gear?
It's deceptively simple: create a cardboard "headset" with two lenses and a slot for a smartphone, and create apps that separate 3D images on the phone's screen. Voilà! Something that looks very close to a VR headset for less than a tenth of the cost of a dedicated machine like the Oculus Rift.
https://www.youtube.com/watch?v=EHkOnsvpHiA 
The principle, it turns out, is quite easy: the Google Cardboard site has plans you can download to make one yourself. Sure, the assembly calls for a few specialty items (lenses and magnets), but nothing you won't be able to pick up for a few dollars. If you're not into arts and crafts, you can also buy the whole thing for twenty bucks. 
The Cardboard movement has recently been picking up steam. A few weeks ago, the New York Times actually gave away a Cardboard module to all its subscribers with its Saturday edition, to celebrate the launch of their VR app for Android and iOS. Last week, Google launched the Google Cardboard Camera app. Now, anyone can use any Android smartphone and instantly create an immersive, 360° VR, 3D panorama. The app is free and the whole process takes a mere 90 seconds. 
A few years ago, virtual reality was still for many of us a vision of a distant future. Today, anyone with a smartphone, a few bits of cardboard and a little patience (or twenty dollars) can explore immersive journalism, visit faraway lands, discover an untold Star Wars story, … and who knows what is coming in the next few days, weeks or months! NFB productions such as Vincent Morrisset's Way To Go are still too processor-intensive to work on mobile devices, but it is probably just a matter of time… 
Explore Way To Go here!
Who could've predicted a cardboard revolution?