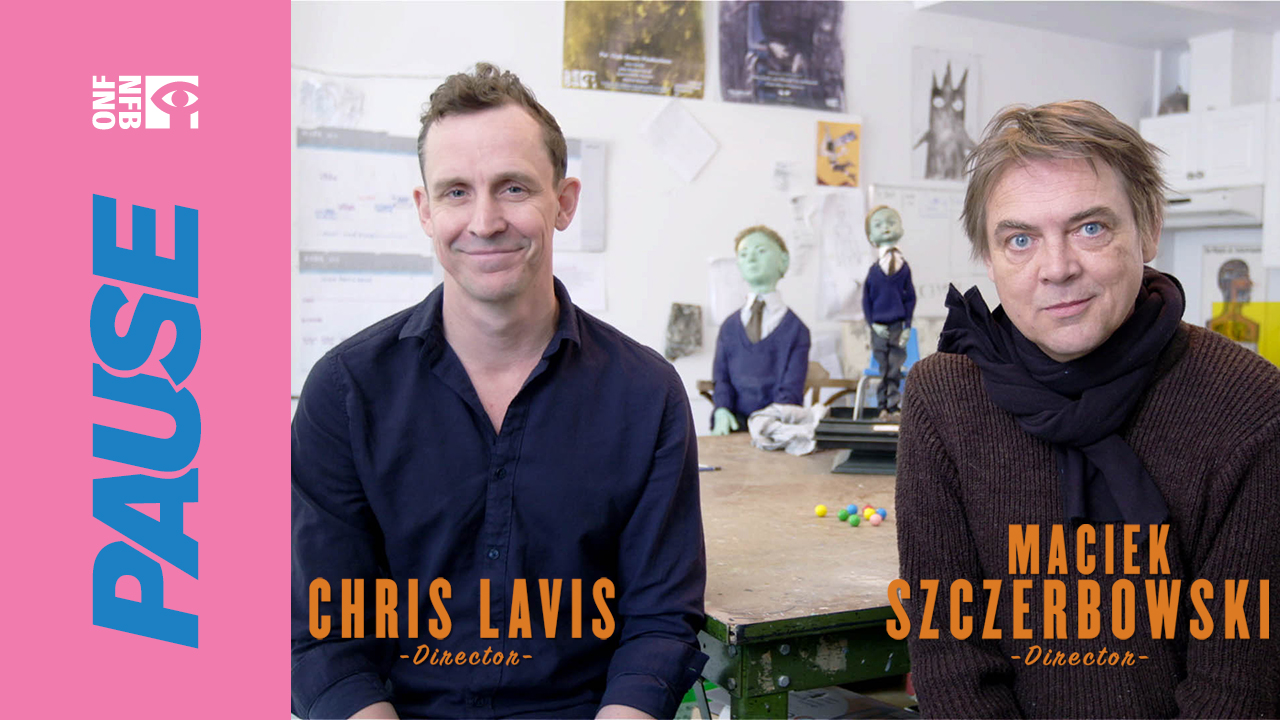 NFB Pause: Chris Lavis and Maciek Szczerbowski talk Gymnasia
Gymnasia, the latest brainchild from Clyde Henry Productions (Madame Tutli-Putli), had its world premiere in April at the 2019 Tribeca Film Festival in New York City. A collaboration between Clyde Henry Productions, Felix and Paul Studios, and the NFB, Gymnasia is a VR experience that takes you back to a lost childhood.
Set in the stillness of an abandoned school gymnasium, the ghostly ephemera of a lost childhood await you. Through the use of a VR headset, you enter the space and experience all the sights and sounds of a child's world through the echoes of ball games, school lessons, and choir recitals.
According to Chris Lavis and Maciek Szczerbowski (Clyde Henry Productions), Gymnasia was a natural extension of the relationships they already had with both the NFB and Felix and Paul. With the NFB, they'd been pushing at the art of stop-motion puppetry, while they'd been experimenting with VR films making Strangers with Patrick Watson with Felix and Paul. This project combines both of those elements.
The Appeal of VR
"This is as exciting as it is daunting."
Chris and Maciek first made their foray into VR with the Patrick Watson piece, and immediately saw a kinship between their methodology and aesthetic (which has never been particularly story based) and VR, which rejects traditional storytelling altogether.
As they put it, "Immersion and a self-directed experience replaces montage and the collective experience, thus the poetics of catharsis and act structure that apply to traditional drama do not apply at all and you have to re-think all your assumptions. This is as exciting as it is daunting."
Watch: NFB Pause with Felix & Paul Studios
The Creative Process
The duo found the process with VR to be quite similar to their usual process. The major difference was that shots are much longer with VR. There are other technical considerations, as well. The foley must be perfect – the relationship between space and sound is essential to good experience.
Creatively, Chris and Maciek found the process to be quite similar to what they're used to.
"Because our ideas are free-flowing – we trust our subconscious and our collective symbolic language – the loose structure of VR was an easier process for us in some ways. Sometimes the process of making a film imposes a structure on ideas that gets you further and further from the initial inspiration. In VR there is a shorter distance between the dream and the product."
"This is work done by four hands and one brain."
The two of them collaborate on everything. As they say, "This is work done by four hands and one brain." They say this also applies to their work with composer Patrick Watson and art director Brigitte Henry. They consider them as co-writers and see no clear line between their work and their own.
The Big Picture
There is an undeniable haunting beauty to Clyde Henry Productions' films. Even though Gymnasia is a clear break from their earlier work, it still feels like there's a strong connection to it.
"Gymnasia ties into our earlier work in every way. Our obsession is the language of puppets and this is a further exploration of that theme. Also, it continues our interest in symbolic storytelling, the shared language of our subconscious lives."
Where to Catch Gymnasia
If you're in Montreal this summer, you can experience Gymnasia as part of the Human exhibit at the Phi Centre. The exhibit runs until September 15, 2019.