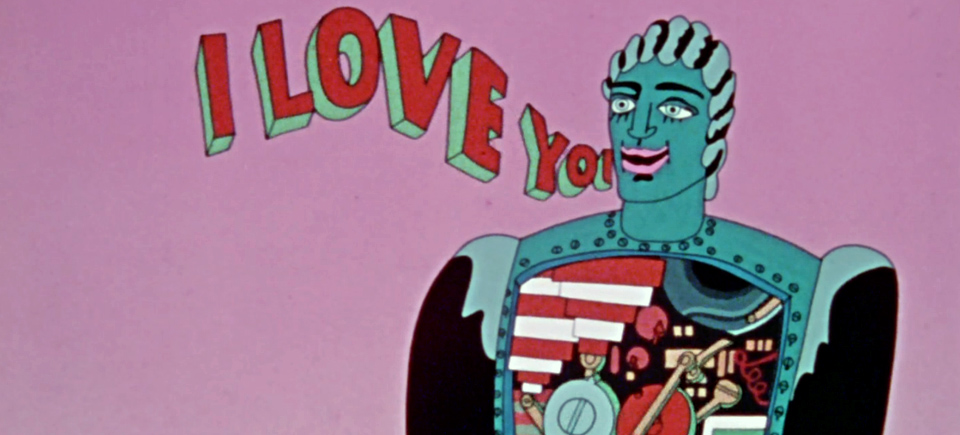 Man the Polluter: Man's Ridiculous Solutions to the Problem of Pollution
Just in time for Earth Day, I want to let you know about an offbeat animated feature film about pollution that the NFB made some 43 years ago and recently digitized. Not surprisingly, we are still dealing with some of the issues raised in this film. As Man the Polluter points out, sometimes our solutions to pollution problems are ridiculous to the extreme.
But first, a little history on the fascinating genesis of this film.
In the late 1960s, filmmakers at the NFB were interested in making a film on the environment that would involve animators from 10 different countries (including the USSR and Korea). The idea was that each country would produce a segment of an animated feature film, each focusing on one aspect of pollution. Legendary animator Chuck Jones (the man who created the Roadrunner and Wile E. Coyote) was to produce the American segment. Unfortunately, this project was just too complicated, and eventually only Zagreb Films in Yugoslavia decided to participate. The NFB and Zagreb Films signed an agreement to co-produce the film and split the animation fifty-fifty.
Chuck Jones, who worked at ABC at the time, brought the project to his superiors, who were interested in buying an option on it. An agreement was quickly signed, stating that the NFB and Zagreb Films would produce a storyboard and, upon approval, ABC would invest in the film to get it produced. Afterwards, the network would have 60 days to decide whether they would broadcast it or not. Many at the NFB were unhappy with this arrangement. They felt that ABC took very little of the risk and had the potential to make most of the money. It was decided, however, that exposure on ABC's network was just too important to let this project collapse. Grudgingly, the deal was signed.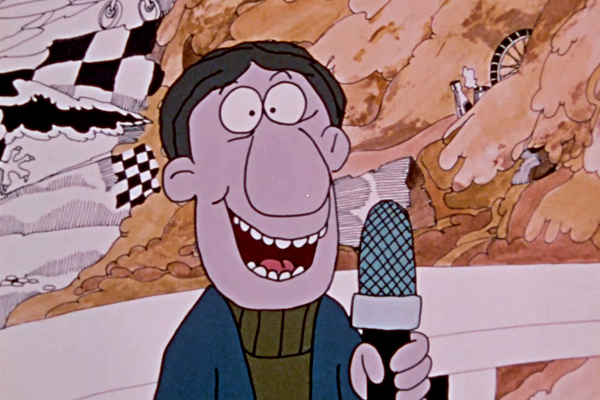 Animators at both agencies worked around the clock to produce the film in just nine months! This was very complicated as it involved coordinating a project in two countries, thousands of miles apart (this, of course, was in the era before the Internet simplified communication). Nevertheless, with the animators working a great deal of overtime, the finished film was submitted to ABC in July 1972. Unfortunately, after the 60 days was up, ABC passed on the film.
I could not find any explanation in our archives of why ABC passed on the film, but I can guess that they deemed it too critical of the culture of over-consumption and, by extension, American culture. It is really too bad, as the film is fascinating. It consists of 14 separate segments that present different viewpoints on popular theories at that time on how to best deal with pollution. This is all commented on by Dr. Fred Knelman, a specialist on human rights, the environment and social justice. The original idea was to have actors portray an "optimist" and a "pessimist." A screenplay was written for these characters and some sequences were shot in a studio, but I can only speculate that the final result was not very good, as the idea was dropped in favour of using Knelman's comments.
There are three segments I want to highlight, as I feel they best illustrate the film:
One segment shows that man has always been resilient in dealing with problems. As it points out, he will be able to adapt just as well when dealing with pollution. Since the air is so polluted, man's lungs will expand to allow more oxygen to be absorbed. To support this extra weight, his legs will have to strengthen and his neck will grow longer to be able to get to the clean air above the pollution. It certainly seems like this "new" man would have to take a few steps back down the evolutionary ladder.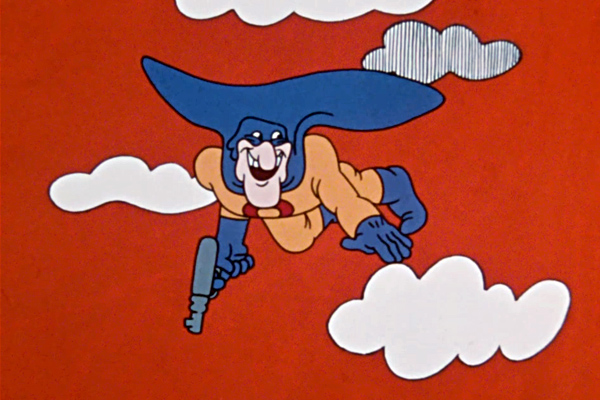 Another segment came from Zagreb Film. The animation is a cross between the creepiness of Yellow Submarine and the cold expressionism of Fritz Lang's Metropolis. In this segment, a man is dying because of pollution. His sweetheart lives in a domed city protected from the pollution. She begs her rich, industrialist father to save her beloved. He pays for a team of scientists to operate on the man so that he can survive. The result is some kind of Franken-cyborg, much to the horror of his sweetheart.
The final segment in the film depicts, in tongue-in-cheek style, a news broadcast reporting on the final drop of water to come off Niagara Falls. The event is given extensive coverage and viewers are told that without those annoying falls, there will be more room for people to walk around and explore the area. Quite the twisted message, wouldn't you say?
All 14 segments are interesting in their own right. What I found fascinating is that we are still grappling with some of the problems illustrated in this film, including how to deal with noise pollution.
After the ABC deal fell through, the film was sold to the CBC, where it would eventually premiere on August 8, 1973. It was also broadcast on several European TV networks. Critical reaction was good in all cases. It did not get the exposure that a broadcast on ABC would have generated, but I suspect ABC would have buried it in some terrible timeslot anyway. If you are looking for something offbeat with a mix of animation styles, I invite you to watch this fascinating film, now available on NFB.ca.
Enjoy the film, and Happy Earth Day.
Man: The Polluter, Don Arioli, Hugh Foulds, Chuck Jones, Wolf Koenig, Kaj Pindal, Frank Nissen, Pino Van Lamsweerde, Milan Blazekovic, Zlatko Bourek, Nedeljko Dragic, Boris Kolar, Aleksandar Marks, Vladimir Jutrisa, Dusan Vukotic & Ante Zaninovic, provided by the National Film Board of Canada