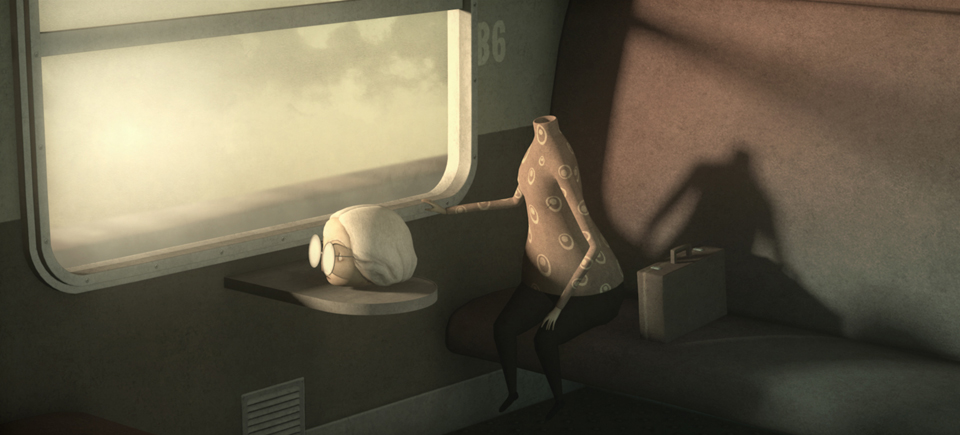 The Head Vanishes | An Interview with Animator Franck Dion
* This post is a translation. Read the original French post here.
Franck Dion's The Head Vanishes was part of the official selection of the prestigious Annecy International Animation Film Festival, which ran until June 18. Produced in collaboration with the NFB, Arte and Papy 3D (the filmmaker's own production company), the film was partially produced in the NFB's studios in Montréal.
We met with the talented French filmmaker and producer.
What story does The Head Vanishes tell?
The film tells the story of Jacqueline, an older woman who's very vibrant and takes the train to the seaside every year on her birthday. She goes there to eat fish, enjoy a small glass of white wine and look at the North Sea. Soon, we notice Jacqueline is carrying her head under her arm. She even forgets it at the train station pub! She is also being followed by a very tall woman, who came to fetch her from the retirement home. Jacqueline is not very fond of being followed by this woman, who annoys her terribly and who, furthermore, calls her… mother.
What was your motivation to make this film?
The Head Vanishes is in some ways an escape from a project that I was involved in. After my third short film, I was contacted to co-produce a feature-length project. It was a mega production, wherein I was neither the author nor the graphic designer, nor the screenwriter. I worked on it for about a year and a half. I very quickly realized that I was very unhappy because I couldn't do what I wanted. It just wasn't my thing. I like making auteur short films and I missed that.
The idea of The Head Vanishes came to me almost urgently as a reason to leave the production I was working on and write a new short film screenplay.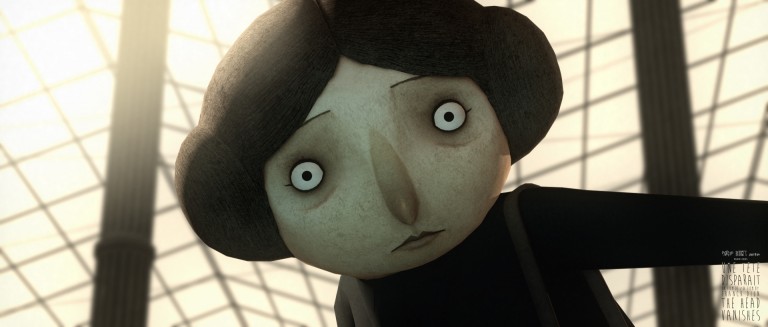 Jacqueline's daughter
And your inspiration?
First, I wanted to make a film with women. In my three previous films, the main characters were essentially men. Because although she does not appear much in the story, I had really enjoyed working on the character that was Edmond's wife. I wanted to talk about women and adopt their viewpoint. They don't scare me!
I wanted to make a love story, but I wasn't finding the connections. During this time in my life, I was also dealing with a case of degenerative mental illness in my close circle. So I was a witness to the pain that this type of illness could create. I wanted to talk about it. At the same time, I was telling myself that talking about memory loss is as original as talking about world hunger. It's a hyper-exploited subject! When I see advice about Alzheimer's, I'm the first one to roll my eyes.
But, it's a universal subject, like love…
Well, that's just it! Unfortunately, we are all faced with senility at one time or another in our life. All the more so since we are living increasingly longer. So, I wanted to address the subject in my own way.
And I wasn't at all interested in making a depressing film. So I started from the viewpoint of the person with the illness, in this case Jacqueline. She's a woman of a certain age, who is very vibrant and very dignified. She's also very annoyed, because she considers herself an adult, and rightly so, and she does not need anyone to accompany her on the train. I was really pleased with this idea too: talking about a woman who, when even she no longer has her faculties, wants to conserve some sort of dignity.
Where did this idea of carrying her head under her arm come from?                                                             
It comes from a story that my mother told me about my great-grandmother. At the end of her life, she started to lose her mind. One day, my mother went into her hospital room and my great-grandmother, very serious, said to her: "Oh, Nicole, would you mind fetching my head, it's rolled under the sink, please?" She was very serious.
It's such a strong image, so symbolic…
I know, just incredible! And my mother was extremely shocked by these words, because she had been very close to her grandmother and just like that, she was completely losing it. It was very surprising.
The image stayed with me and I said to myself: so to draw a person who is losing her mind, we're in animation, she REALLY should lose her head. It has to get away from her, she has to forget it and at some point, this head has to vanish completely.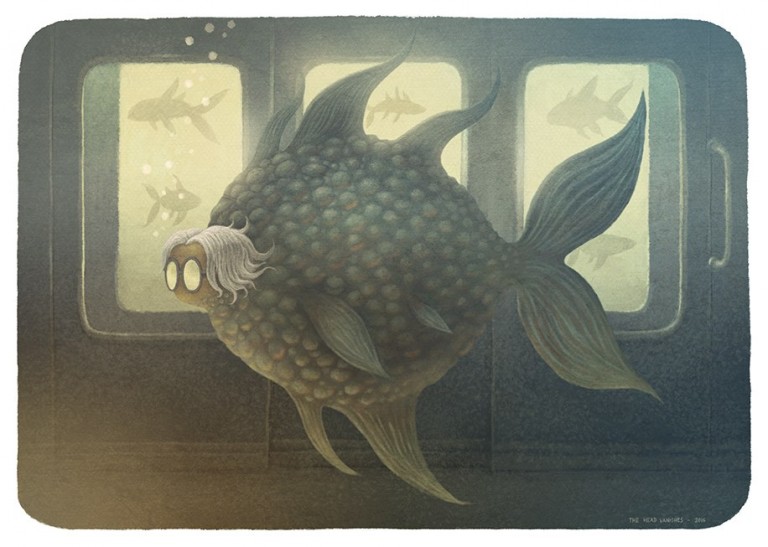 Illustration taken from Les voyages imaginaires de Franck Dion
What were your aesthetic inspirations?
More than ever, I am leaning toward a fantastical and poetic imagination. It's quite soft. I wanted to move closer to illustrations that I did every day for a time and that I published on my Facebook page, Les voyages imaginaires de Franck Dion. These illustrations are drawn slightly differently than my usual drawings. They are more poetic.
During an NFB master class, you said that the character of Jacqueline was "a peculiar character, the way I like them." Can you elaborate on this idea?
For me, the characters are at the centre of the story. I am increasingly realizing that I love my characters. I'm very attached to them. It's funny. It's as if they were entities. Some people believe in Santa Claus, and me, I believe in my characters! Even if I'm making a short film, I like to give them some complexities and some faults. So that they are somewhat human, which… I think that might be what makes them endearing.
Let's talk a bit about the creative process. How would you describe your animation technique for this film? How does it fit in in relation to your previous projects?
First, everything always starts from a paper drawing at home. Then, since I knew that this was a film in which I wanted to make use of 3D a little differently, a little pared down, I very quickly made a model of the main character to have an idea of what it was like. I also wanted to start with the lighting, the textural renderings, etc. After that I came back to the paper illustration. My usual method is to do a drawing, scan it and then add the colour in Photoshop. The colouring is entirely digital. What makes this film different from my previous projects in particular in the fact that I dwelled on my 3D research more.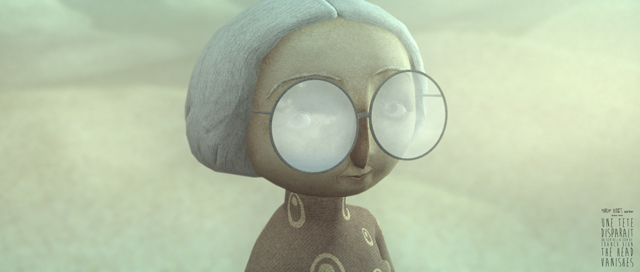 Jacqueline, the film's main character
You wear the hats of screenwriter, director and producer. How did you manage to perform these three roles at the same time? Do the director and producer argue with each other sometimes?
Yes, absolutely. That's why I'm a little crazy. There are some split personalities at work! (laughs) On this film, for example, I experienced some producer frustrations. Let's just say I wasn't a very pugnacious producer. I blame myself for it. I could have been more persistent in seeking funding, for example. There was one that failed me and that got me into trouble. I had to decrease the animation time and the number of positions. After, I was able to recover by rebalancing the budget so that the film was made in decent conditions. To me, it is out of the question to make films where the people are not paid at union rates. At Papy 3D, my production company, that's how we work. So, I had fewer means and less time to experiment with the 3D and the various subjects.
Did you feel it in the final version of the film?
Yes, of course. I think the film is half of what I would have liked it to become. These are normal frustrations, as a filmmaker and producer. We can't escape them. Making a film also means making choices.
Who composed and interpreted the film score?
My usual accomplice Pierre Caillet composed the film score. Then we sought the help of Akosh, an outstanding Hungarian saxophonist, known for his work with Noir Désir. I wanted music that comes close to free jazz, unstructured, even violent.
The sound phase was completed entirely in Montréal, in postproduction, with the NFB sound team. How did this collaboration go?
Wonderfully well. The quality of the hospitality at the NFB is second to none and since this was the second time that I worked with them, I knew everyone and we valued each other. I love arriving at the NFB studios when the image is done, because it's a wonderful way to decompress. I hand myself over to the sound specialists and all I have to do is give my opinion. It's relaxing and that gives new energy to the film. I felt like I was rediscovering it after the sound was made.
We're also very excited to discover your film. Best of luck at Annecy! Thank you, Franck Dion.