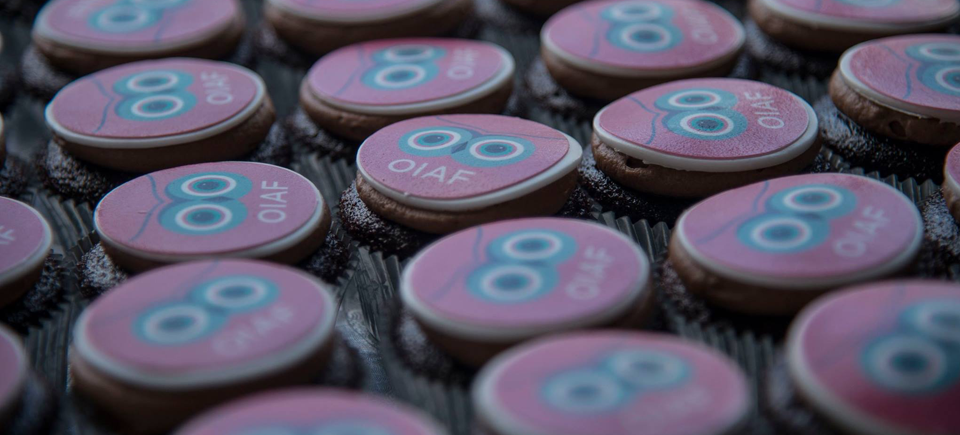 Cheer and Loathing at OIAF 16
* This guest post was written by NFB producer Jelena Popović.
OIAF is like an acid trip, all at once euphoric and excruciating.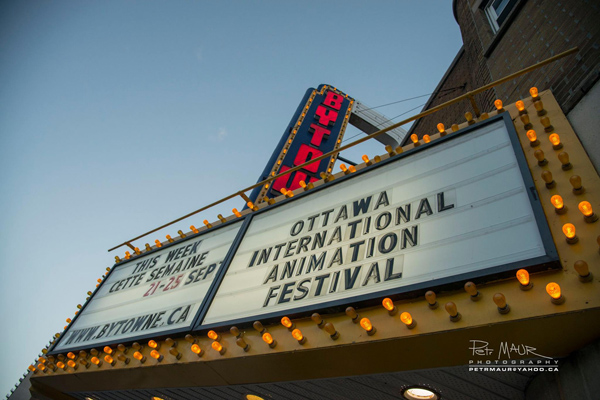 It was no different this year – hours of orchestrated madness in the Competition and Panorama programs, plus 11 moving thoughts by the Honorary President, plus 6 previous Grand Prize winners programs, plus Meet the Filmmakers, plus Professional Development Day – what a trip!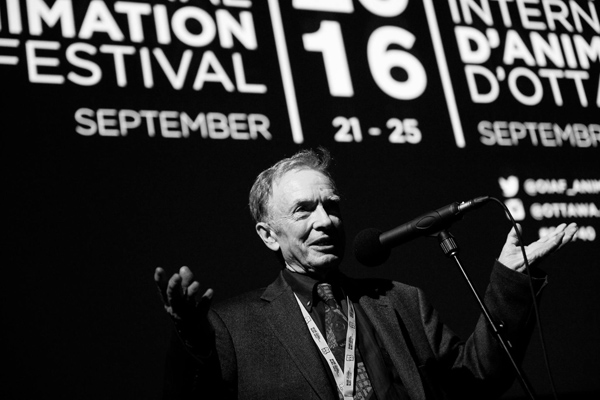 Pictured: Don McWilliams. Photo credit: James Park Photography.
2016 was the 40th anniversary of the festival, officially declared opened by our one and only Don McWilliams at Bytowne Cinema. The anniversary party Night Owl, held at the fabulous Rideau Falls, steps from the NFB's original Ottawa home, was spiced up by Transformers-garbed band Cybertronic Spree and a doodle boogie event using Lines, a kind of software homage to Norman McLaren that allows for simultaneous and interactive animation on the same digital filmstrip.
The festivities were held under the sign of Evelyn the Owl, a mascot named after the Ottawa-born NFB legend Evelyn Lambart. And we all love Evelyn, right?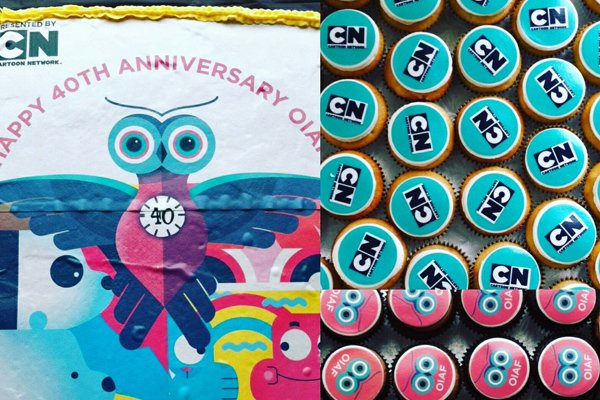 Photo credit: Petr Maur.
The Feature Film Grand Prize was announced extremely slowly to honor the delicateness of the winner: Louise en hiver by Jean-François Laguionie. The jury called it "one of the greatest animation features ever."
­The Shorts jury – 100% female – attributed the Grand Prize to Diane Obomsawin's I Like Girls, a tender kaleidoscope of first lesbian loves produced by the NFB's French Animation Studio. The film is based on the eponymous comic book published by Drawn&Quarterly. Obom's charming anthropomorphic characters were augmented by pencil-drawn animation, 2D colors and four authentic voices.
Blind Vaysha (Trailer), Theodore Ushev, provided by the National Film Board of Canada
Theodore Ushev's Blind Vaysha, another NFB French Animation Studio production, won the Best Narrative Short Prize and the Best Canadian Animation film! The NFB crews were cheering euphorically, obviously. Vaysha is a postmodernist fairytale about a girl who sees nothing but the past or the future, depending on which eye she looks through. Ushev carved time and the theory of relativity into his digital linocuts.
Best Experimental Animation: Datum Point (Ryo Orikasa, Japan) – a hypnotic surf on the wave of clay searching for a landscape. It was all shot on less than a square meter set! Ishihara's poem needed no subtitles – we all somehow knew.
Best Script: Fired on Mars (Nick Vokey, Nate Sherman, USA). Pure cheer of dystopian realism, with a rigorous comedic timing.
Best Design: The Absence of Eddy Table (Rune Spaans, Norway). Here comes the loathing part: perfectly designed ugliness by Ottawa artist Dave Cooper.
Best Animation Technique: Velodrool (Sander Joon, Estonia). A refreshing graduate film about a nicotine addiction-driven bicycle competition. Sleek design, animation, storytelling curve, rhythm. Bravely cutting through dimensions. Bravo.
My honorable mentions go to Happy End, a dramaturgical tour de force by a FAMU graduate Jan Saska, and to Endgame by Phil Mulloy – you shouldn't find any weekend relaxation in playing this war game.
There was obviously Before Love by Igor Kovalyov, in all its splendor and confusion until love. As well as Witch Doctor, and Bird Flu, and Monkey.
And two filmmakers who proved, yet again, that animation is the sum and the summit of all of the arts:
Impossible Figures and other stories II (Marta Pajek, Poland) about a woman juggling eggs, perspectives and patterns, and some men in the closet. The 2nd part of a upcoming triptych. We can hardly wait.
Nighthawk (Špela Čadež, Slovenia/Croatia) cutouts shot on multiplane about a badger behind the wheel of a car who gets drunk on a ripe pear. And then we wait for the story to unfold but there won't, and can't be more than one infinitely blurry drive.
No need for mind-altering drugs, friends. Just go to OIAF.
Header image credit: Petr Maur.