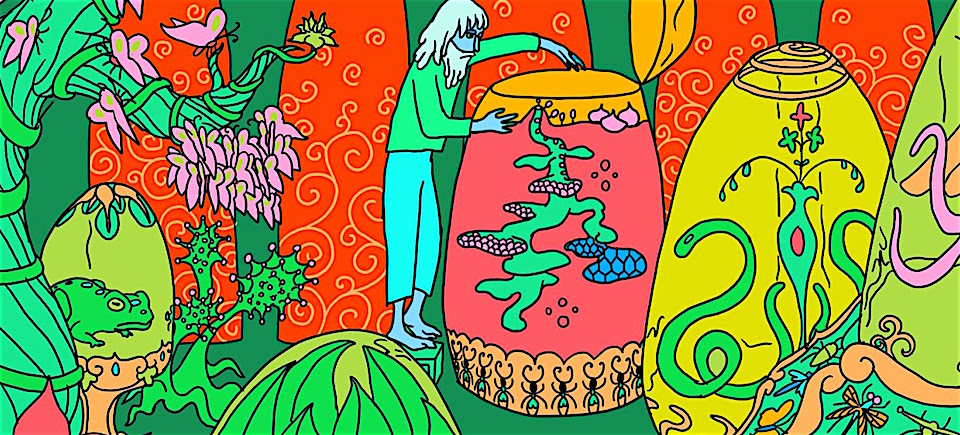 Q&A: Paloma Dawkins at Play in the VR Zone
Look out. Paloma Dawkins has just entered the VR playhouse. An autodidact who's as adept in cinema as she is in comix or game design, Dawkins is part of a young posse that's joyously shaking things up at the NFB Animation Studio. An alumna of Hothouse, the NFB animation mentorship program preparing for its 12th incarnation, she's now making her first foray into the up-for-grabs world of VR animation. Her current project, produced by Maral Mohammadian under the working title of Museum of Symmetry, is conceived as a kaleidoscopic interactive game…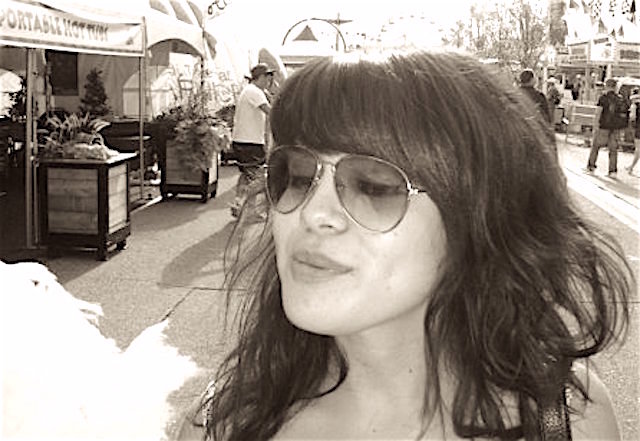 What was the path that brought you to the NFB?
It all started with Hothouse 9, back in 2013. I'd been playing around with animation for a while — a friend had shown me how to use TVPaint — and I was getting into hand-drawn animation. But I was pretty much self-taught at that point, just doing it for fun. And then I heard about Hothouse. I was still confused about what I wanted to do. I knew I didn't want to go back to school. I'd just finished a year at NSCAD and school wasn't giving me the impetus I needed. So I decided to apply for Hothouse.
After I sent in the application, I went on a four-month camping trip to BC with a friend, and it was during that time that I got word that I was accepted. The theme of that year's program was abstract storytelling, so I immediately got thinking about what that could mean. I guess I saw myself more as a figurative artist: I like forms and lines, clear definition. So I started looking for abstract shapes at our campsites. There was one place in particular, Raft Cove, that felt like a sacred site — ocean, estuary, rainforest. I began seeing patterns in the tides, the way it shaped the sand, and started sketching. I used a lot of those drawings in Scientifiq Piqniq, my Hothouse film.
Scientifiq Piqniq, Paloma Dawkins, provided by the National Film Board of Canada
Hothouse really bumped me up. I loved the workflow, the nine-to-five routine, the rigour. I went from being confused to being completely inspired, so when Hothouse 9 ended, I immediately started talking to Maral about doing another project. I wanted to make some kind of interactive project, maybe a video game. Maral was interested: it would be something different for the Animation Studio. So here I am.
This is your first VR project. How did you get started?
When I first proposed the project, I didn't know much about video games, so I enrolled in an incubator program at the Hand Eye Society — a great not-for-profit videogame group in Toronto. Participants had six weeks to make a game, and I made one that I could use as a pitch for this project, Museum of Symmetry.
I started really getting my hands into it, making video games and getting invited to festivals. I came across a few cool VR games that pushed the boundaries — Dreams, which I saw at the GDC (Game Developers Conference) was great — but most of them didn't really stand out for me. That says something about my background, I guess. I'm not into most Triple-A games. They feel repetitive to me, too mechanical. They're not really memorable experiences, not telling compelling stories that stay with you.
I want this project to be something different, to have a rhythmic sense of storytelling. Rhythm is something I've been interested since Hothouse. And I want it to be fun. It bugs me how people want to refer to games as "experiences" — the same way they refer to comics as graphic novels. It's like they don't want to be seen as lowbrow. But I like the word 'game'. It implies fun.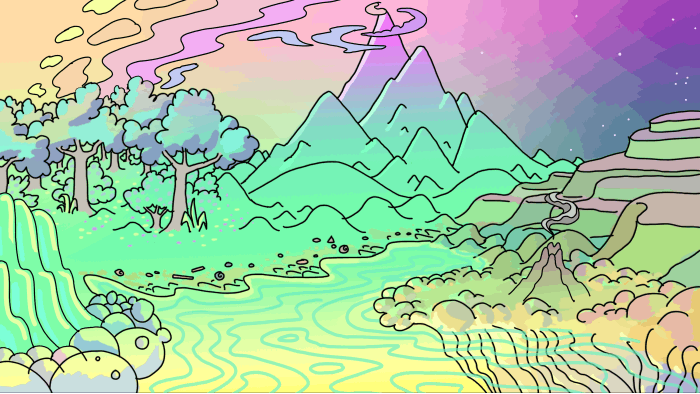 You're largely self-taught. An advantage?
Yes, I think it's been a huge advantage. I did one year at Sheridan in technical drawing and then I studied at NSCAD, where I took theory classes, learning about the meaning and power of art. Later I enrolled in the animation program at Concordia, but after one week I knew it wasn't going to work for me. I kept thinking, 'This is WAY too slow. I want to make films now."
So I took my education into my own hands, and started learning stuff on my own. I began doing online tutorials, tons of them, watching them over and over again. I'd watch a tutorial once and think, 'Wow, I don't get this,' but then I'd watch it again.
I did lots of Photoshop and TVPaint tutorials. And then I moved on to Unity, the 3D software I'm using on this project. I also looked into open source software — which is a huge community. I used to look to other people to do the hard parts for me, but then I realized, 'Wait a minute, I can do this myself.'
It's exciting. I've come so far by teaching myself stuff. I feel so empowered. I like calling myself a hacker artist. The whole game community is pretty insular, and I sometimes feel like I'm infiltrating.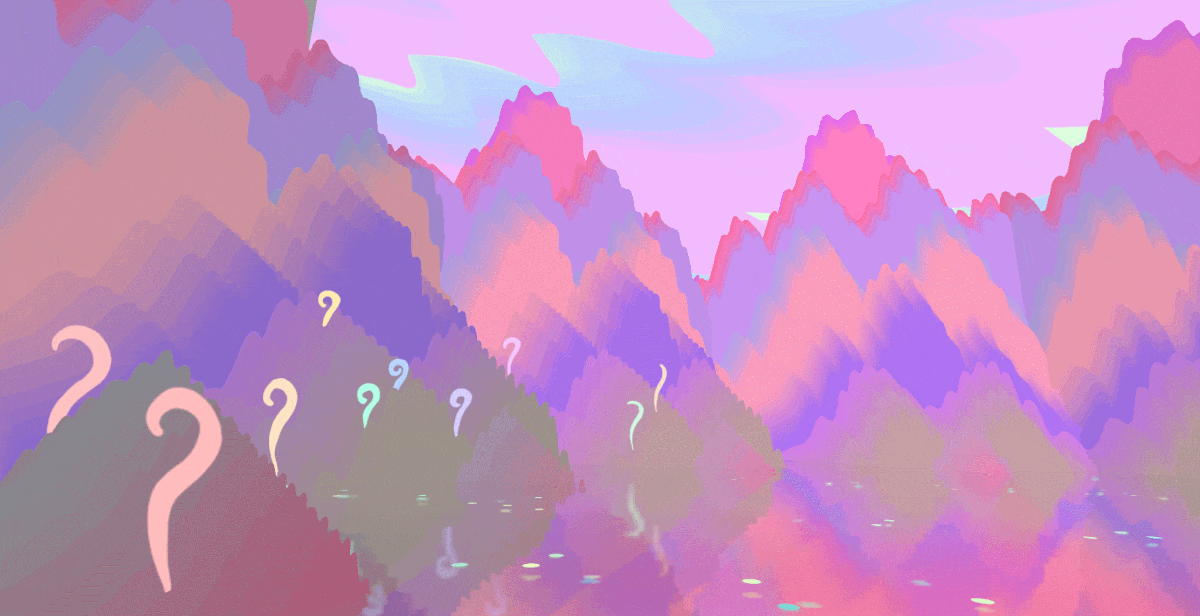 You work in different mediums and collaborate with other artists. How do those activities come into play here?
It all informs me. All those activities inform each other. Sometimes when I'm animating, I want to stop and concentrate on one frame, as if it's a drawing, but I can't really do that. It wouldn't work. But then I think, 'this would make a cool comic.' So if it doesn't work as a game, I can put that energy into another kind of project. Working in different areas gives me freedom.
Music is a big part of what inspires me. My musical understanding has totally exploded since I did Hothouse. It's like I finally get it. Now I know what to ask for. So I've been working with musicians — creating sound or music for loops or video games.
What kind of music are you listening to right now?
I listen to lots of classical and techno — and lately I've also been getting into rock, which has been refreshing. Right now I'm collaborating with Mozart's Sister, an amazing artist who just got signed to Arbutus Records. Her music is amazing. The way she edits her vocals is so original.
My friend Catherine Colas just started a non-profit platform to promote electronic music called Discorde, and all the music that comes out of that is top notch.
Tell us more about your creative process on this project.
I want to explore rhythmic storytelling, something I started doing in Hothouse, and I'm working with this really talented writer, Ashley Obscura. It's the story of a young girl in a make-belief world. She's on her way to the Museum of Natural History, and she keeps discovering all these mind-blowing natural patterns and dynamics. The whole story is inspired by rhythm, but we just want to hint at it, not make it too explanatory. We want you to feel it in your body as you progress through the story.
Ashley's really interested in poetry and geometry and space. For me, it's about colours and math. I think it comes from trying to understand music and rhythm, the precision of beats: math and music are related. Rhythm is so important; it's how we experience music in our bodies. I want to make something that's fun and adventurous, hypnotic and rhythmic.
Another key collaborator is Osman Zeki, a super talented programmer who I'm working with to design the interactions. We're working closely to make sure the mechanics evolve organically with the story and vice versa. At the beginning it was going to be a desktop game, but at a certain point Maral suggested VR. We wanted to get around videogame conventions — to avoid overcomplicating things with rules and cause-and-effect structure. So Osman and I did some quick tests in VR and it immediately felt right — more experiential and visceral. Players will get to explore an alternate world using very simple mechanics. It allows me to focus more on design and colour, rhythm and movement — to tell the story in a less constrained and more creative way.
Right now we are working in HTC Vive. It will be a headset experience, but I want it to feel like a kind of play, almost like a theatre piece. Up to now I've been mostly a 2D artist and this is my first VR project. That's a huge challenge. Anything large like a character that I draw in 2D seems too obvious, like a piece of suspended paper. Small things work really well. You get these great effects, almost like optical illusions.
Body movement will be important in how players experience the game. So I'm thinking about which kind of movement would be fun — and how body movement can generate new environments. How you can use your body to play the game? There's an aspect of dance to this project.
Dancing again…
Yes! I love dancing. Always will. I love clubs and celebratory environments where people come together to dance and have fun. I want to bring that culture into my creation process. It's one of the reasons I love Montreal so much. There are so many creative people here — getting together and sharing their projects.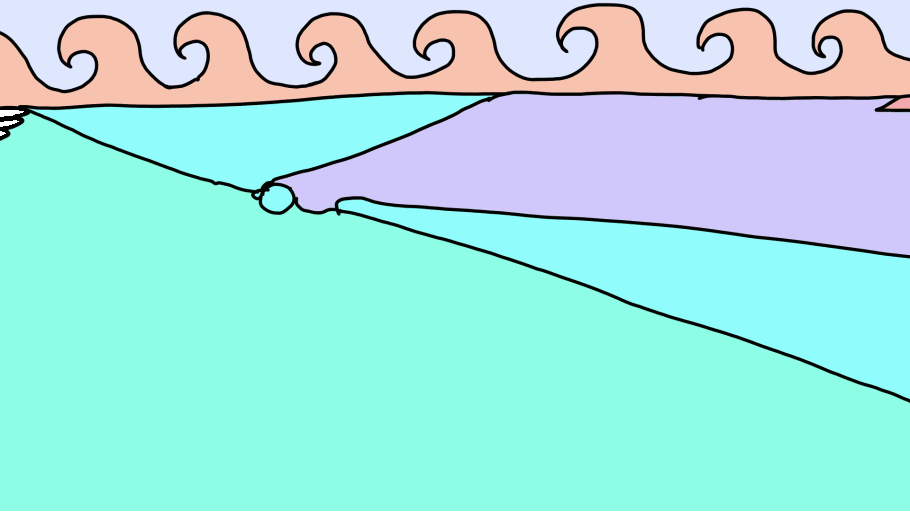 Do you think Hothouse has changed the Canadian animation scene?
Absolutely. When I was first starting out, the National Film Board was always on my radar, and Hothouse was the only thing I wanted. I remember telling myself, 'I am just going to apply for Hothouse every year until I get in.' And then I got in the first time! It was the coolest thing. Hothouse is the best way for animators to get their foot in the door at the NFB. Most of the people working in the studio right now came through Hothouse. It's great for the NFB — to have this constant stream of new energy coming through — and it's great for the animation community at large. It gives young filmmakers a great opportunity.
What visual art inspires you these days?
There's lots of women I admire. I love the work of Jen Stark. She rocks. And social media artists like Molly Soda and Lauren Alice Avery really inspire me. Signe Pierce, who's a multimedia artist and performer, is brilliant, and my friend Adina Boom has launched a clothing label named YoloForLife Apparel that's gonna take over the world. Ladies killing it.
As far as cartoons go, I love Moebius. He's SO good. And a lot of Manga artists blow my mind – people like Yuichi Yokoyama.
The NFB short The Cat Came Back was huge for me. When I was a kid in Ottawa it was screening at the Museum of Nature and I could sit there for hours, watching it over and over again. I love everything about it. It's so funny, so alive. So rhythmic. And I loved Higglety Pigglety Pop for its costumes and surrealist feel.
The Cat Came Back, Cordell Barker, provided by the National Film Board of Canada
Museum Of Symmetry is produced by Maral Mohammadian for the NFB Animation Studio. Executive producer is Michael Fukushima. It is scheduled to launch in 2017. All featured artwork is by Paloma Dawkins.  More information on Hothouse: http://films.nfb.ca/hothouse/