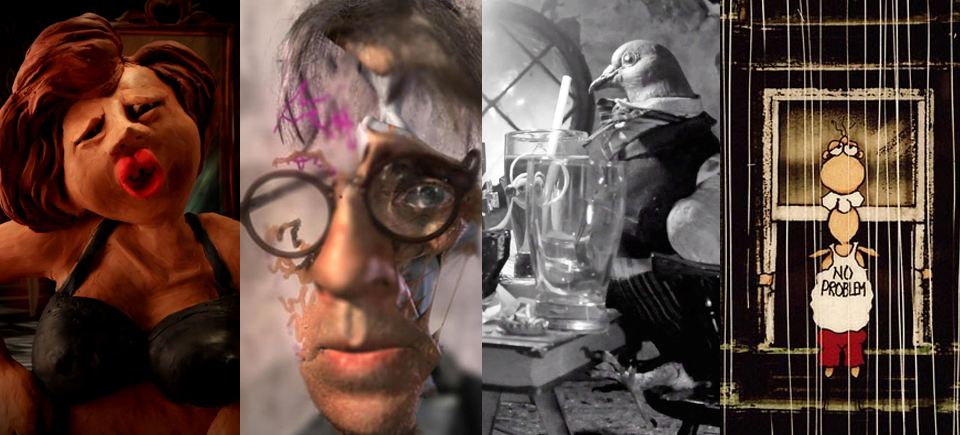 Adult Animation | 5 Films To Watch After The Kids Go To Sleep
Animation is an incredibly diverse art form. There are so many different techniques and methods that it's a medium well-suited for a wide range of storytelling. While much of the animation on our site is geared towards children, we do have a collection of films intended solely for adults.
Here are 5 animated films created just for grown-ups. Each of them addresses a different theme, from sex to addiction to living beyond our means. Enjoy!
Sexy Laundry
After 25 years of marriage, Alice and Henry are in a sexual rut. This erotic comedy, done entirely with modelling clay, takes us straight into the hearts (and hotel room) of this older couple desperately trying to get their groove back.
Sexy Laundry, Izabela Plucinska, provided by the National Film Board of Canada
Ryan
Ryan Larkin was an Oscar-nominated animator who spent his last years living out every artist's worst nightmare – destitute, mired in addiction and begging for scraps in the street. In this exquisite film, filmmaker Chris Landreth animates one of his conversations with the late genius and presents a raw, hard look at what can happen when a brilliant career takes a wrong turn.
Ryan , Chris Landreth, provided by the National Film Board of Canada
Naked Island – We Drink Too Much
The entire Naked Island series is mandatory viewing if you haven't seen them already, but this little film is one of my favourites. From the team behind Madame Tutli-Putli comes this 50-second PSA that warns against the danger of consuming more than you earn.
Naked Island – We Drink Too Much, Chris Lavis & Maciek Szczerbowski, provided by the National Film Board of Canada
No Problem
This film is like the animated version of a mid-life crisis. Our poor hero is an aging bachelor who is trapped in his routine, and desperate to find love and companionship. The problem is, he's constantly being held back by his two alter egos who are intent on seeing him fail. Also? There's just something about the cartoon nudity in this short that's simply hysterical.
No Problem, Craig Welch, provided by the National Film Board of Canada
Special Delivery
This Oscar-winner from 1978 comes from the twisted minds of John Weldon and Eunice Macaulay. It tells the story of Ralph, an ordinary man who, like many husbands, neglected to listen to his wife. As a result, he's forced to deal with a dead mailman, a massive cover-up and the disappearance of his bride. But in the end, Ralph learns the fine art of letting go.
Special Delivery, Eunice Macaulay & John Weldon, provided by the National Film Board of Canada